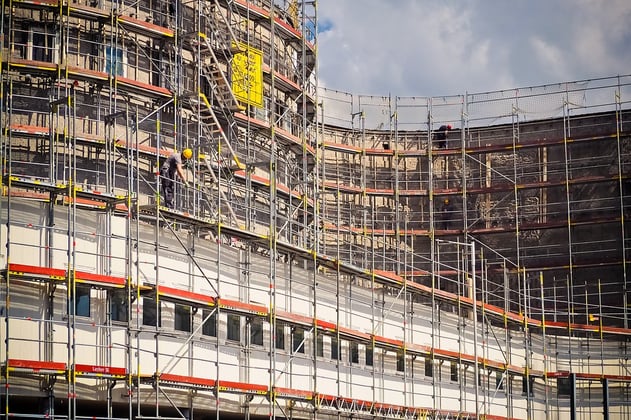 The short- and long-term impacts of the Trump administration's recently enacted steel and aluminum tariffs remain to be seen. To the hospitality industry, tariffs could either actually level the playing field between domestic companies and foreign competitors (as Trump intends) or create a greater overall struggle to build and produce (as tariff opponents fear).
So, what's reality? Are fears really overblown, as an op-ed in The Hill claims? Or is the U.S. really reliving catastrophic protectionist tariffs that exacerbated the Great Depression and destabilized the international order, as Bloomberg View economists warned in Industry Week?
Well, for hospitality, there could be some stumbling blocks and yet some silver linings. Here's what we know so far about the duties of 25% and 10%, respectively, on steel and aluminum.
Increased Hotel Construction Costs (But Silver Linings on Hotel Furniture & Alternative Metals)
We're familiar in hospitality with the never-ending tug of war between buying foreign and domestic, a decision which applies to hotel casegoods furniture just as it does cars, food, and heavy construction materials. Hospitality executives, project managers, procurement specialists, and designers consistently seek quality American-made products but are understandably swayed by tight budgets and the allure of cheaper foreign options.
You're in the business of building big, beautiful buildings to attract, accommodate, and delight swaths of people. Building them just got more expensive, although economists continue to clash over the true long-term impact the tariffs will have on construction.
Building & Renovating Hotels
Shortly after President Trump announced the tariffs, the American Institute of Architects (AIA) issued a statement claiming it would "drastically increase the prices of many building materials specified by architects." Indeed, construction (including new hotels and renovations) relies heavily on steel and aluminum for structural metal beams, exterior adornments, frames, and mechanical systems.
The Coalition for a Prosperous America (CPA) forecast prices for steel to increase about 6% and aluminum roughly 2.5%.
Prices for Other Precious and Abundant Metals
You may use silver, copper, or bronze to decorate or assemble elements within your hotel design. There's your silver lining. The current tariffs do not impact more precious or abundant metals like these, so they'll seem comparatively more affordable than in the past. Being bold with a fancier aesthetic might not seem so pricey on your next hotel build or renovation.
Hotel Furniture & Other Decor Options
Yes, this most certainly has a seat at the table for the discussion. When it comes to your hotel furniture -- typically larger wooden elements sometimes adorned or built with metal components -- expect buying domestic to remain competitive for its:
FF&E fixtures on smaller scales (think curtain rods and electrical components) should see little appreciable price increase.
Steel & Aluminum Tariffs: Expect the Hospitality Industry to Adjust
Tariffs aren't unprecedented. In 2002, then-President Bush enacted a steel tariff that turned out to be temporary and largely ineffective. The World Trade Organization (WTO) later ruled the United States had violated international trade agreements.
Net GDP growth and job gains as a result of the tariffs should be negligible. Domestic steel and aluminum production will increase overall prices and federal revenue slightly, while job gains in those industries will be mostly offset by job losses in other metal-consuming industries.
We're no expert on trade and foreign policy. We're a hospitality furniture manufacturer with down-home values and a desire for a fair playing field. It looks like we (both you and us) will be fine in the end.