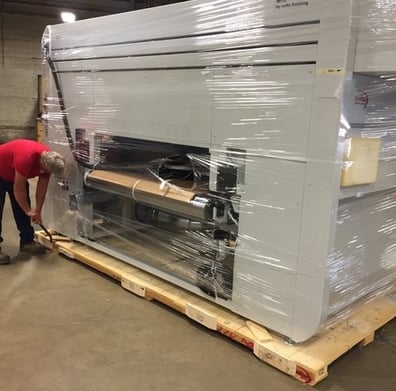 Differences of opinion and preference are common when it comes to deciding between laminate and wood veneer for modern hospitality furniture. Ultimately, it's important to let your project's scale and long-term needs coupled with hotel guest expectations dictate the choice.
Wood Veneer vs Laminate Casegoods: A Matter of Guest Perspective
It's true: You're more likely to find veneer furniture in a 4-star or greater hotel. With its rich, "homey" look and feel, wood veneer furniture tends to be a more natural fit for upscale establishments. Patrons of these higher-end hotels also often expect this aesthetic and experience because they are paying a premium for their stay.
But will this always be the trend? Industry experts say the tangible differences between laminate and wood veneer have become more subtle through the years.
"Nowadays, you walk into a hotel room and have to look pretty hard to tell if it's laminate or veneer. I can't tell sometimes. That's how good laminates are getting. They have texture and depth. In the end, that gap is really closing."
-- Michael Calimeri, Artone President
WOOD VENEER HOTEL FURNITURE
Contrary to popular belief, wood veneer furniture is not made from just solid wood. Wood veneer furniture is made with a thin layer of real wood (usually around .6mm) that is bonded or glued, to a less expensive piece of manufactured wood, such as plywood. Because it's a natural material, veneer has a richer and more varied look, allowing its wood gains and striations to make each piece unique.
More effort goes into constructing veneer pieces, so they are usually priced higher than laminate alternatives.
Meeting Wood Veneer Furniture Demands
As the boutique/themed hotel market continues to grow, hoteliers and designers alike strive to come up with "the next big design trend" to remain competitive in their market. This goal and philosophy often includes wood veneer. Using this century-old woodworking technique can help give their design the unique look and feel guests crave.
As an experienced hospitality furniture vendor, we recognize, respect, and accommodate these demands. To better serve this market dichotomy, we've invested in a new Cefla Flatline Finishing system, which improves current (traditional spray booth) wood veneer finishing processes.
"This equipment will allow us to be competitive in our pricing of finished casegoods. For us, it's about being more efficient and environmentally friendly. It's a state-of-the-art finishing line that we feel is one of the best out there and we are excited to be able to offer this improved (more competitive) process to our current and future customers." -- Michael Calimeri, Artone President
LAMINATE HOTEL FURNITURE
Laminate casegoods are a man-made product comprising synthetic and natural materials (usually many layers of kraft paper saturated with phenolic resin and pressed under extreme pressure). Laminates can be made to give the appearance of a finished, natural wood product. It's durable and tends to be heat- and scratch-resistant, making it a great long-term investment that's easier to care for. It's also easier to produce laminate products, making the price of laminate furniture usually more economical.
While it's still subject to some wear and tear that's expected at every hotel and with every piece of furniture over time, its synthetic properties typically last much longer than the average 8-year hotel renovation cycle. Because of its longer lifecycle and durability, laminate casegoods are viewed as a much more sound investment.
With so many laminate options available, you can choose value engineering to be more cost-effective and improve future upkeep to best serve and delight your guests. Keep in mind, the staff also must work around and with the furniture long after your hotel project is done. A durable product that's easy to maneuver, clean, and maintain is ideal.
The Choice: Wood Veneer vs. Laminate Casegoods
Though there have been great strides made in the world of laminate, there is still a big demand for new furniture designs in wood veneer. Both are valuable options but depend on the size and scope of your hotel project.
The choice between both comes down to weighing guest expectations vs. furniture casegood cost and lifespan.
Laminate is a durable choice with ever-expanding styles and colors. Wood veneer is also a strong, upscale choice for the most genuine look and feels, short of solid hardwood.
Related reading: 8 Supply Chain Benefits of Domestic Hotel Furniture