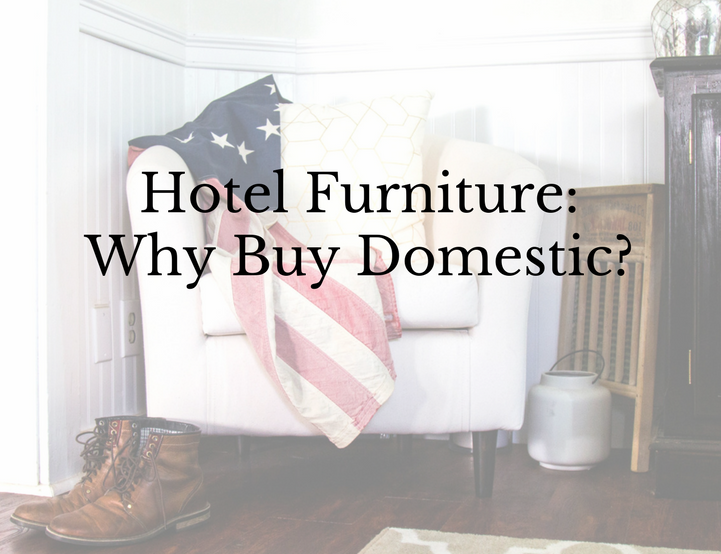 Tightening your budget sometimes makes it hard to pass up cheap manufacturing from overseas.
However, offshore manufacturing is only cheap on the surface. All things considered, there are a number of reasons to purchase from an American manufacturer instead. Here are a few to consider as you craft your dream hotel project:
Order Domestic Furniture to Solidify Your Supply Chain
1. Shorter Lead Times
Domestic orders are turned around faster and shipped sooner because they eliminate the hassle of customs tariffs and the wait for international shipping time. You have a better chance to complete your project on time. A timely project makes a happy customer.
2. Reduced Risk
There are a number of risks associated with offshoring, including:
IP Protection -

Not every nation cares about intellectual property rights. You can fill out international patents, but there's no guarantee they'll be enforced. This is especially important to protect your trendy, industry-leading plans.
Counterfeits -

You're more likely to run into counterfeit products overseas

.

It's easier to prevent the spread of counterfeit products when your supply chain is close to home.
Defects -

You won't know if there's a defective product in your shipment until it arrives. After waiting over 10 weeks, can you or your client afford to wait another few months to receive a replacement?
These are only a few of the offshoring risks.
3. Quicker Access to Replacement Parts
Accidents can and do happen. Replacement parts must be available. And shipping needs to take a few days, not a few weeks.
You have high standards. So do your customers. If you have to delay a project because of a lost shipment, you won't be happy. Neither will your customers.
4. Increased Product Quality
Manufacturing on American soil gives you the opportunity to quality check every stage of the production process and oversee control. You can be absolutely sure you're acquiring the highest quality product.
You need a company whose philosophy is built around meeting your needs. This enables:
You - to

achieve

your project vision

General contractors - to

cut costs

and

surpass

project completion goals

Hotel owners - to

enhance

their brand

Visitors - to

enjoy

a unique hospitality experience.
5. Responsiveness
The furniture market is constantly changing. Trends spring up and evolve overnight. Your customers' needs may change just as quickly. If your manufacturer is overseas you can't react to these changes in a reasonable time period.
You should be able to rely on your vendor to be agile and meet new demands quickly. Don't let your competitors gain that edge.
6. Safer Materials & Products
In the United States, the Toxic Substances Control Act (TSCA) regulates the use of new and existing chemicals. This includes the toxic flame retardant chemicals often found in imported furniture.
Fire retardants (PBDEs) are added to furniture containing flammable polyurethane foam. Such as couches, upholstered chairs, futons, and carpet padding.
Health effects of flame retardants include:
Fertility problems

Birth defects

Hormone disruptions

Cancer
Certain studies have linked flame retardants to genetic mutations - but they're still used in overseas furniture production. These chemicals also affect our pets, wildlife, and the environment as a whole.
Your furniture shouldn't pose a threat to users' health and safety.
7. Meet Face-to-Face
If there are any issues, you can meet with your manufacturer in person. You won't have to worry about different times zones, language barriers, or cultural missteps.
And an added bonus: your manufacturer can be there in person to help with installation and other post-manufacturing needs.
8. Made in the USA
Studies show that discerning hotel owners would rather buy an American-made product. They're even willing to pay more for them.
Keeping your manufacturing at home will not only win you major PR points, but it will also increase your overall ROI.
Remember, your upfront costs might be cheaper with an international manufacturer, but they may end up costing you more in the long run. For more info on total cost of ownership, check out this TCO calculator from the Reshoring Initiative.
(Editor's note: This is a revised edition of a blog originally posted Jan. 10, 2017.)