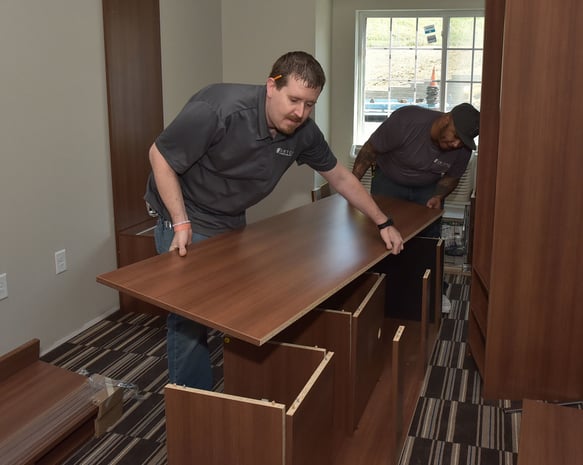 Your design has been approved, your furniture has been manufactured and is ready for delivery and installation. A casegoods manufacturer with a furniture installation service can be a valuable partner, especially if your project is strapped for time and resources.
An experienced hotel furniture manufacturer will work with you to establish a fixed shipment date or determine a phasing plan to meet your timeline (and, if you choose, coordinate with an associated company on-site to tackle transportation, assembly, and installation).
Meet Your Deadline with Hotel Furniture Installation Services
The benefits are clear and immediately obvious:
Coordinate installation before the final shipment

Minimize damage risk

Quick, easy, clean installation from

years of experience – to minimize finger pointing!
Coordinate Before Shipment
If you've chosen the right hotel furniture manufacturer, after your order has been placed, you'll be assigned a dedicated Project Manager (PM) to oversee your furniture's construction in the factory and delivery at the site.
As the order nears completion, the PM will work with you to confirm your delivery date(s). The PM, if you choose, can also coordinate an installation team to be on site as the shipment arrives to:
Unload

Transport

Assemble

Clean up
Don't let the critical punch-list stage become disorganized. Disorganization is time consuming; time costs money.
Minimize Damage Risk
The risk of damage is always present during any project; however, the goal should always be to take all necessary steps to minimize that risk of damage. Any knowledgeable casegoods manufacturer should always tell you the fewer times you handle your hotel furniture before installation and the fewer people handling your hotel furniture equal fewer damages.
For efficiency and practicality, your PM will also help determine if some pieces are best assembled on site or at the factory. Once safely delivered on-site, an experienced installation team is skilled with overcoming obstacles that often lead to drops, nicks, and breaks. Let's face it, some furniture is heavy and unwieldy, and even the best hotel floor plans have unaccounted for tight/cramped spaces requiring skillful maneuvering.
Stairwells

Elevators

Doorways

Tight corners
So choose a capable team that'll move your furniture safely from A to B.
Another valuable step is securing a standard 5-year warranty. A responsible hotel furniture manufacturer will provide you with detailed documentation on your furniture warranty, so you aren't met with surprises when installation begins.
Quick, Easy, & Clean
The right custom hotel furniture manufacturer will build your furniture with the installation in mind. Prior to installation and delivery (and depending upon the size and scope of the project), your furniture manufacturer and installation team should complete field surveys, which factor in variables like blocking and electrical. This ensures there will be no questions when it comes time to installation the furniture – especially for those pieces that are affixed to the walls.
When on-site, an expert installation team will work quickly and efficiently and ensure your product is assembled correctly. This saves or prevents:
Long-term maintenance

Risk of damage

Costly errors
Finally, cleanup should be quick and complete. Once the installation team leaves, the room should resemble your original napkin sketch brought to life.