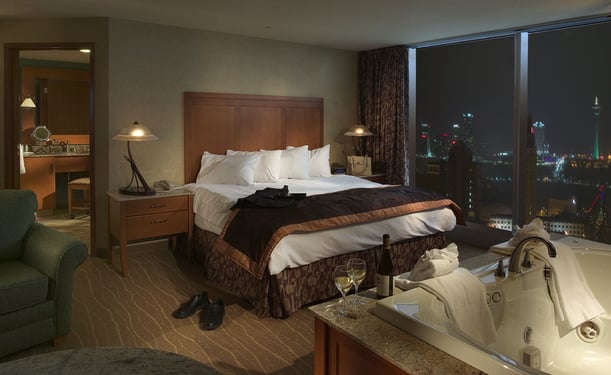 Hotel guests today want to experience the best of many different worlds. Hotel guests of tomorrow will want the same experience. Future guests, however, will want even more streamlined and technologically tailored to them during their stay.
How do you please anticipated guests and their needs? How do you reimagine hotel furniture to cover a range of form-and-function experiences? Incorporate these design trends into your hotel rooms and casegoods furniture:
Style
Comfort
Technology
Wellness
Personal preference
Following these design trends will help you delight guests today and prepare for their needs tomorrow. Let's think outside the box.
'Home Sweet Hotel' (Or Should We Say 'Home Suite Hotel'?) Courtesy Casegoods Furniture
The good thing about custom hotel casegoods furniture is it's, well, customizable. An order -- whether it's for 1 guestroom or 100 -- can be made to whatever specifications you need it to be.
The comforts and amenities that are in a guest's mind should be what's foremost in your mind: feeling home while away from home.
Needless to say, creating an experience that lends itself to feeling at home helps guests feel comfortable and encourages them to book another stay with your hotel brand.
WORK AND LIVING SPACE OPTIMIZATION
Typical hotel rooms don't provide a lot of space to create that "home-away-from-home" feeling. That's where optimization comes in. Block out areas for the essentials and rethink what isn't essential anymore.
Do business travelers even use in-room desks anymore?
Not really. They're more likely to work on the move and require constant, connectivity. What they do need are ample, easily accessible power and data sources - both electrical outlets and USB ports. Reliable Wifi is a must.
Do guests fill the drawers of bedside stands with their personal effects anymore?
Not really. They could, however, use a small pull-out platform to set their laptop or tablet device on to charge, though.
Casegoods furniture like headboards, cupboards, and stands can be mounted to the wall to save floor space.
HEALTH AND WELLNESS
More than 70% of American adults are overweight. Many 21st-century hotel guests are fighting back against sedentary lifestyles and fatty foods and adopting better health habits.
Does your hotel design and casegoods furniture incorporate their fitness and other health needs? Could you optimize space or reconceptualize furniture to fit healthier lifestyles?
Guests also prize privacy and are more likely to prefer working out in their rooms, if given the option. Remember the following key points:
In the world of multifunctionality, a luggage bench can also be a weight bench
Streaming technology lets guests watch their favorite exercise programs anytime, anywhere
Vertical space is workout space (think wall mounts and resistance bands)
In hotel rooms of the near future, virtual reality will become mainstream. Guests could run through the 3D environments like the Grand Canyon from the comfort of their rooms. The furniture and other elements of your design must provide the space and tech accessories to do so.
MASS CUSTOMIZATION
A guest walks into Room 216 on a Tuesday and it's a comfortable 68 degrees, just as he likes it. Another guest walks into Room 216 on a Wednesday and it's a comfortable 71 degrees, just as she likes it.
Sound like something that's ahead by a century? Nope. Customizable environments via cloud technology will await guests of the future, too. Techy hotel design trends could also include individualized:
Circadian LED lighting
Entertainment options
Interior decor
ENVIRONMENTAL SUSTAINABILITY
More than 60 percent of U.S. travelers consider environmental impacts before booking a hotel. They want to know your brand prioritizes green initiatives, especially when it comes to hotel furniture. They're not entirely interested in just reusing towels.
The good news: Many hotels actively seek casegoods furniture manufacturers that are Forest Stewardship Council (FSC) certified. This will likely remain the case for hotel design trends for years to come as guests seek peace of mind knowing wood harvested for furniture is:
Sourced responsibly
Replenished to protect habitats
Free of harmful chemicals
Recycled
Hotel Design Trends: Creating 21st Century Custom Environments
Straight-line design and minimalist decor dominate today's hospitality design trends. They'll continue to well into the future. But understated doesn't have to mean under-functional. Sacrificing doesn't mean compromising guest experience.
An experienced hotel casegoods furniture manufacturer can factor useful elements and current trends into your design - from space optimization to health and wellness. Expect ROI from guest satisfaction.