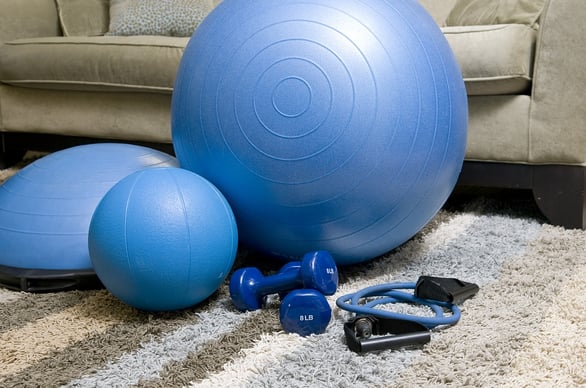 When was the last time you used a hotel gym while traveling? Do you make a fitness center part of your decision, but once you get there, can't be bothered to go?
If so, consider bringing fitness directly to your guests in your hotel interior design.
Nearly 50% of all guests plan to use the on-site gym, but less than half actually do.
Yet, as obesity levels continue to rise (with over 70% of Americans over 20 overweight), fitness is fighting back. From 2000 to 2016, the number of Americans holding gym memberships almost doubled. Treadmill desks are a strange new demand from a largely sentient society. And people want to keep being physical when they leave their treadmill desk for business trips or vacations.
Experts forecast the wellness tourism market to eclipse $675 billion this year. Wellness tourism includes facilitation of:
Fitness

Relaxation

Work

Play

Eating well
Other health-focused activities
Hospitality Interior Design Trends Demand Health and Wellness Options
A new category of guestrooms focused on in-room fitness has emerged at the forefront of hotel interior design trends. Being away from home shouldn't mean putting exercise, diet, or other health routines on hold. A high-quality hotel will provide all the things they need for a comfortable, productive stay.
Still others are fitness junkies whose workouts rarely cease no matter where they go.
Room design can still be compact while making room for basic fitness equipment:
Exercise bikes
Yoga mats
Resistance bands
Core-strengthening balls
These luxuries are no longer limited to suites and penthouses. You can install wellness options in a standard room with two queen-sized beds.
In-Room Fitness Equipment
Some people feel uncomfortable working out around others. Others traveling for business want to unwind on the treadmill without worrying about the boss stepping on the next machine. In-room equipment lets guests get as sweaty and uncomfortable as necessary - in private.
Health Technology
People don't check into hotel rooms to watch cable. Guests want the convenience of watching what they want when they want -- just like at home.
Prepare for sturdy wall mounts and plenty of wall space to accommodate large flat-screen TVs and monitors. Give them streaming options to their favorite Zumba, Pilates, or aerobics exercise programs.
This could be as in depth as an in-room digital fitness kiosk, complete with a touchscreen, that is capable of monitoring
Fitness activity

Heart rate

Rest time

Caloric intake

And more
Or as simple as a pull-out bike with a heart monitor. Guests should be able to (with your hotel's smart device or their own) click or press and get to work.
MULTI-FUNCTIONAL Items
You may be thinking of ergonomic desks, which are excellent. But think even beyond that.
Could the coat rack double as a makeshift pull-up bar?

Could the luggage bench also function as a weight bench?
Everyday objects have multi-functional assignments within your trendy plan. And, as with any compact space, make sure to utilize vertical space as well.
Wellness Enhancers
There's more to wellness than just working out -- a physical and emotional science behind feeling good. Even lights play a role in this:
Circadian rhythm lighting

regulates the sleep-promoting hormone melatonin to address jet lag and boost long-term energy

Pulsing blue wake-up lights rouse the senses

without jarring the guest
Also, well-known standards like HEPA air purification and water filtration systems rid the internal environment of allergens, mold, bacteria, and other contaminants
Outside-the-box additions (think even vitamin C infused in the shower) all enhance the guest experience. People value their mental health, too, so some hotels even offer adult coloring books.
Safe Materials
While pursuing their own health, many hotel guests also intensely value the environment's health. Choose an environmentally friendly hotel furniture manufacturer/vendor that opts for:
Recycled materials

Minimal waste

Low chemicals

Low toxins
In the U.S., the Toxic Substances Control Act controls the use of chemicals in furniture manufacturing. Those dangerous chemicals (some linked to genetic mutations) are still used in many overseas products.
Today's Hotel Interior Design Trends Demand Health Options
Your design should show you value guests' health and wellness. Small choices throughout the supply chain build up to an atmosphere of fitness and personal care.
Your design choices should show respect for safety and health needs, your manufacturer should be invested in the guests' experience, and installation should promote ample space and amenities for personal betterment. That's what makes hotel interior design a success.