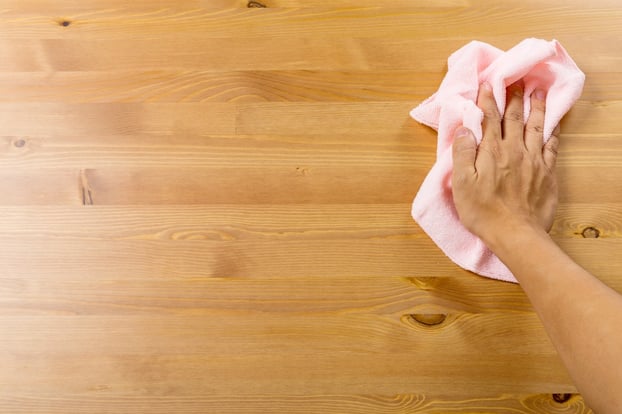 As suppliers to the hotel industry, we know that cleanliness is a top priority. In fact, the mantra of every hotel should be centered around these wise words: When you're finished cleaning – clean again!
Everything in a hotel needs to be cleaned on a regular basis, and your furniture is no exception. Just as there are a variety of different types of furniture, there are also different requirements for cleaning each of them.
Hotel cleanliness is more important than ever, as guests will remain concerned about exposure to COVID-19 for the foreseeable future.
As laminate and wood veneer are the two most commonly used materials in hotel furniture, it's important to understand how to properly clean and maintain both.

Veneer Vs. Laminate Hotel Furniture
Furniture is a huge part of any hotel -- it's one of the first things guests notice when they walk into a lobby or their room. Proper cleaning and maintenance of hotel furniture is critical to ensure it stays in the best shape possible for the comfort of guests and the budget of the hotel.
Before diving into the best way to clean each furniture material, it's important to understand the distinct differences between the two:


Laminate Casegoods
Laminate furnishings are a more affordable option than those made with wood veneer. Because of its durability, laminate furniture is perfect for high-traffic areas such as hotels.
Laminate furniture creates the look of real wood grain using synthetic materials that are lighter and much more scratch- and stain-resistant than wood.


Wood Veneer Furniture
While more costly than laminate casegoods, wood veneer furniture is a cost effective alternative to wood pieces.
Wood veneer furniture is made with less expensive materials, such as particle board, and then covered in a thin layer of real wood. Veneer pieces offer the look and feel of solid wood furniture with a much lower price tag.
With that said, wood veneer furniture should not be considered cheap or poor-quality -- some of the most popular names in furniture, such as Chippendale, are made with wood veneer.


Cleaning Laminate Casegoods
The first step in cleaning laminate furniture is to dust it regularly. This stops dust from accumulating and keeps guest allergies at bay.
Because laminate is not porous like wood, typical furniture polishes will not clean it. Believe it or not, the best way to clean laminate furniture is with soap and water. Using a warm, wet microfiber cloth, wipe down the surface to remove dust and dirt. Follow up with a dry microfiber cloth to soak up any moisture left behind.
For tough stains, mix some mild soap with the warm water and scrub small areas or a small amount of non-ammonia-based glass cleaner.
To further maintain laminate furniture and keep it looking its best:
Keep it out of direct sunlight to avoid fading
Avoid exposure to water of any type
Be careful with hot or cold drinks, as permanent rings can form and ruin the furniture

Cleaning Wood Veneer Furniture
Keeping wood veneer furniture clean follows many of the same rules as laminate furniture.
Like laminate furniture, the key to keeping wood veneer furniture clean is dusting it on a regular basis and avoiding abrasive cleaners and polishes that will cause wax build-up.
Wood veneer furniture is sensitive to water and can be seriously damaged by condensation. It's also susceptible to hot plates and cups, which can cause it to blister and damage the finish.
For the best cleaning results, use soap and water for cleaning with a microfiber cloth that will pick up dust particles instead of just pushing them around. Be sure to thoroughly dry a veneer surface to prevent water damage.
To repair small scratches on veneer furniture, simply apply oil polish to the area and massage with a soft microfiber cloth until the scratch fades away.
Protect your casegoods from the beginning
Our free e-book, Proper Care & Storage of Hospitality Casegoods, tells you everything you need to know to maintain your hotel furniture from before you receive it to long after it's installed.

What to Avoid When Cleaning Laminate and Wood Veneer Furniture
The most important cleaning tip for veneer and laminate is to avoid using ammonia-based cleaners. Ammonia is a harsh chemical and can cause lasting or irreparable surface damage to both types of furniture.
The Best Way to Care for Hotel Furniture? Ask Your Manufacturer
Whether you have laminate or wood veneer furniture in the hotel you manage, own, or designed, it's important to properly clean and maintain the furniture in common areas and guest rooms for the best visitor experience possible. The overall appearance of your furniture can set the stage for guests to have a positive first impression of your hotel.
While these cleaning tips are good to keep in mind, the best way to care for your unique hotel furniture is to ask your casegood manufacturer what's best for your specific pieces.
Want to take a deeper dive into the world of Laminate and Veneer Furinture?
Download our Veneer Vs. Laminate Consideration Guide for Hospitality Casegoods. Just click on the image below to get your copy!
(This article was originally published in October 2018 and was recently updated.)