In 2018, there was conversation surrounding how boutique hotels -- and the hotel industry in general -- would fare with the new wave of alternative guest options, such as Airbnb.
But, as a recent article from Hotel Online details, hotels not only stood their ground in the minds of consumers, the industry grew and flourished. This was true not only for major hotel chains, but for boutique hotels and hotel soft brands as well. One can attribute this growth to hotel brands closely monitoring hotel guests' preferred design trends, and renovating as needed.
And while the hospitality industry evolves to improve the guest experience, it also tries to hit a moving target as to what the boutique hotel represents. Is it merely a departure from cookie-cutter accommodations? Is it a holistic approach to comfort and satisfaction no matter where you are? Or, is it simply all about the personalized guest experience?
No matter how you define boutique hotels and their purpose, here are some boutique hotel design trends to stay ahead of in 2019, and maintain your hotel's growth.
7 Boutique Hotel Design Trends Boost Guest Experience
A strong first impression
Honoring local culture
Quality, American made furniture
Natural aesthetics
Reduce, reuse, recycle
Health & wellness
Smart hotel technology
No matter their theme, boutique hotels today aim to strike a balance between the excessive and essential, and between overdone and understated.
1. A Strong First Impression
This can mean a lot of things - from friendly customer service to the colors and scents bombarding guests' senses upon walking through the front door.
We'll borrow the old adage, "You never get a second chance at a good first impression." Boutique hoteliers aim to delight from check-in to the moment guests drive away and hopefully submit an online review. Orchestrating that delight takes a creative eye and a caring touch.
One way to foster a positive experience for a guests' whole stay is to ensure your lobby area and your guest room spaces have a cohesive design. This means ensuring that when you renovate guest rooms, the lobby is renovated as well using similar materials, colors, furniture arrangement, and more.
2. Honoring Local Culture
Each boutique hotel is destined to be different, but the local culture is the only thing each can claim almost exclusively. There's only one Atlanta, just as there's only one Boston. Off the beaten path, there are only so many places guests can go to experience Amish Country or world-class skiing.
The greatest boutique hotel brands recognize their important role in travel experiences. Their decor offers virtual snapshots of the local culture as guests get ready or wind down for the day.
For instance:
The

Aloft Philadelphia Downtown

channels the historic city's charm through the aging structure's "good bones" and artwork honoring our Founding Fathers.
(Source: Starwood Hotels)
The Drifter Hotel

in New Orleans touts its own "subculture" and appeal for today's travelers seeking the laid-back, nostalgic feel of "The Big Easy."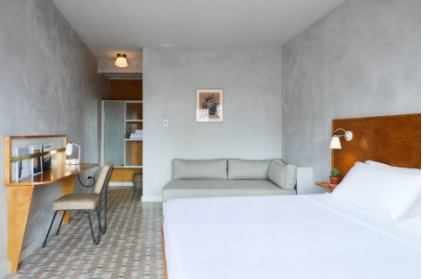 (Source: The Drifter Hotel)
Local culture is a hook. Boutique hotels contribute to the experience.
3. Quality, American-Made Furniture
The boutique hotel era is no time to be cheap or cut corners. However, American-made furniture that is value engineered can offer quality and an economical option for many hotel budgets.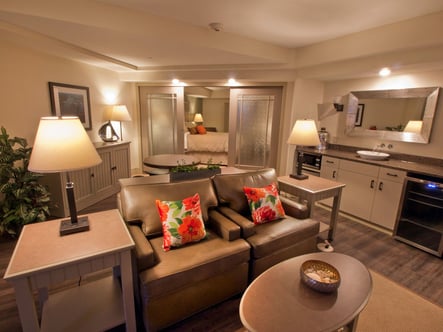 (Source: Watkins Glen Harbor Hotel)
Quality assurance is just one of several undeniable benefits associated with American casegoods furniture and FF&E components. Not only can it be stylish and trendy, but it can also stand the test of time in the high-traffic hospitality environment versus most foreign competitors.
4. Natural Aesthetics
People strive to get back to nature - if only for a little while. Perhaps that strong pull has a lot to do with the prevalence of technology around us. We'd like to see some greenery at least as a pleasant backdrop for daily life.
Consider biophilic design. It's more than putting a Ficus tree in the corner of a room and calling it good. It's an indoor approach including outdoor design that appeals to a range of guest desires and wellness needs:
Natural lighting

Living walls

A healthy connection with the natural world
Air Plants by Josh Rosen are popular today in the boutique hospitality scene. Designers can create living walls of decorative accent plants that require little water and soil.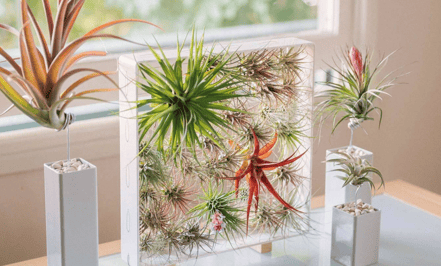 (Source: Airplantman)
A touch of green isn't limited to plants. Natural color schemes are immensely popular among 2018 hospitality trends.
5. Reduce, Reuse, Recycle
You'll often find boutique hotels using reclaimed woods, metals, brickwork, and stonework in their aesthetic appeal. In fact, these recycled materials may be given second life after spending decades or even centuries as the backbone of a structure from an earlier era.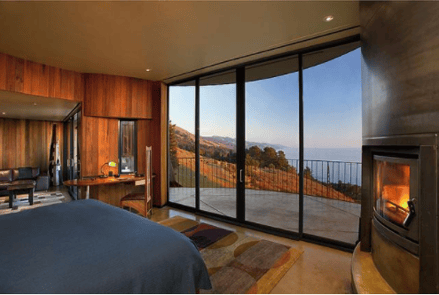 (Source: Post Ranch Inn)
You'll often find old materials that fell from surrounding forests or that once adorned local historic architecture. Not only does the practice reduce dependence on natural resources, but it also looks amazing - like here at Post Ranch Inn in Big Sur, CA.
6. Health & Wellness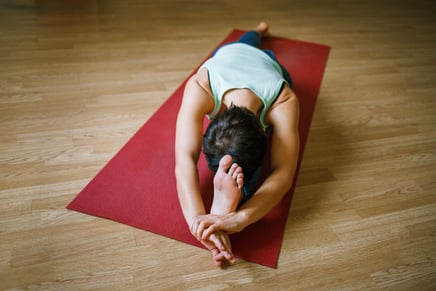 Guests today bring their fitness and health routines with them. Their on-the-go lifestyles, in both work and play, demand access to what the fitness equipment they need when they need it. People enjoy their 20-minute workouts - and they often enjoy them from the privacy of their guest rooms.
With over 70% of American adults tipping the scales as overweight, people are fighting to take their fitness back. (Helpful hint: The millennial crowd is particularly health conscious and willing to spend to ensure their health requirements are met.)
7. Smart Hotel Technology
It's our pleasure to introduce you to the Internet of Things. Or maybe you've already met.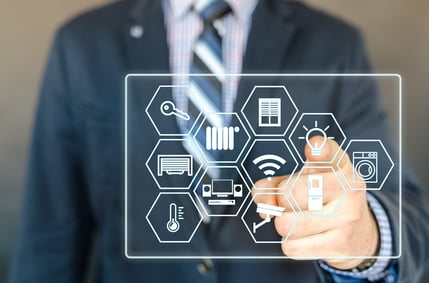 Guests could check in to find their favorite bottle of wine or magazine waiting for them. Or how about lighting or in-room atmospheric conditions mimicking their home preferences? Technology knows your guests - and knows them very well.
At the very least, contemporary hotel technology personalizes and streamlines the guest experience. At the most, it can be almost entirely automated (think: robot concierges).
The Boutique Hotel: A Holistic Approach to Guest Satisfaction
Stagnation is a death sentence for your hotel brand. Guests want to feel you're invested in continual improvements in comfort and wellness.
Essentially, they want to know you're truly invested in the human beings you serve. If you've invested financially in the technology, aesthetics, comforts, and amenities to enhance their stay, they'll invest in your brand.
Publisher's Note: This article was originally published on February 27th, 2018 and was updated in February of 2019 to reflect modern trends in the boutique hotel industry.