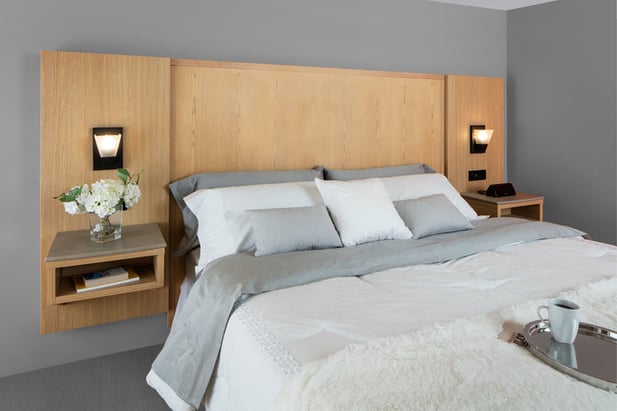 The industry evolves subtly each year. Small changes in business practices, design, and philosophy become vogues and trends. You might barely recognize a concept from even 5 years ago.
How will you make your mark on the hospitality world in 2018? Are you planning to break ground on a new boutique hotel project? Is a renovation in the works to update an outdated design?
Get inspired.
HOSPITALITY TRENDS TO REMEMBER FOR A SUCCESSFUL 2018
1. LOUD, YET SIMPLE DESIGN
Guests love it when you try - but don't look like you're trying too hard. Understated is the new loud.
Among other color trends in expert interior designs, pastels (soothing pinks, yellows, and greens) are becoming highly desirable. So are soft floral patterns on everything from carpeting to drapery, and bedspreads to wall art.
The idea is to stand out through simplicity. Sound like a tightrope balancing act? It doesn't have to be if you have a color wheel and a little imagination. Your hotel furniture design plays a central role in how the rest of the project comes together.
2. TECHNOLOGICAL TAKEOVER
Wifi is old news. If that is your most updated technology, you're already behind! Hop on board the Internet of Things in order to keep guests captivated and WOWed by how high-tech their hotel is.
Hotel guests not only desire constant connectivity and multiple places to charge their devices, but they also want the ability to stream their favorite programs. Cable and satellite providers are working toward room-by-room options with Google Chromecasts and Amazon Fire Sticks, allowing for a seamless, personalized entertainment transition from home to hotel.
Artificial intelligence will be mainstream sooner than we realize, and the hospitality industry will enter a period of automated mass customization:
Smartphone-activated room entry

Voice recognition

Personalized internal environments

Lighting adjustments via smartphone
Have a plan to implement newer technology as it becomes available and affordable.
3. HEALTHY LIVING
Many hotel guests crave fitness options so they can keep up their routine during their stay. Being able to provide guests with fitness options that can be done in the comfort of their own room promotes guest comfort, and the feeling that the hotel is homey.
Give them the tools they need:
Yoga mats

Free weights

Exercise balls

Resistance bands

Streaming capabilities for favorite fitness programs
The ROI benefits from doing so are obvious: The health and wellness hospitality market hit nearly $700 billion last year. And make sure you work with a casegoods manufacturer that has the ability, innovation and resources to incorporate these tools into the guest room furniture design.
4. HOME AWAY FROM HOME
What is it that people love so much about home-sharing hospitality services like Airbnb and HomeAway? The answer: they like being in an actual home.
Let's be honest. Does the average hotel room really feel like home?
No. But some simple adjustments can go a long way. Offer a personal touch and opt for quality, American-made materials. Guests are sensitive of getting their money's worth when it comes to hotel stays, and they feel cheated by cheap furniture. Make sure they feel appreciated, valued, and like they're getting a great deal by surrounding them in gorgeous craftsmanship.
5. WORKING SPACES
Modern professionals always seem to be working on something, even when they're outside of the office. In addition to tech that supports this (such as conveniently located charging ports), some hotel chains are investing in co-working space to offer all the necessities and perks of an office in a relaxed setting.
6. SAFETY FIRST
It's tough to imagine something bad happening in your hotel, but the reality is the trope of "it's better to be safe than sorry" can be true when it comes to security. Making sure you have ample employees who are properly trained for day-to-day security and in the event of an emergency, as well as having high-tech security measures can ensure that should something bad happen - your establishment is prepared.
FIND INSPIRATION IN HOSPITALITY TRENDS FOR 2018
Whether you're steaming toward a new project or reimagining an old design, taking advantage of trends can help guests feel like they're getting a great value. Your efforts will not go unnoticed.