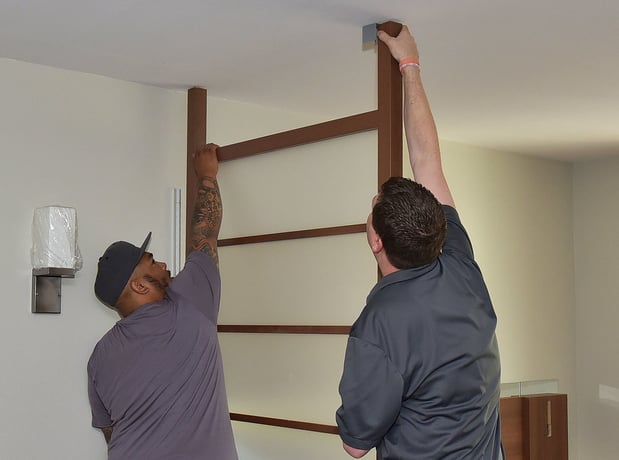 Your hotel project is approaching the finish line.
There's a fresh coat of paint on all the walls, all the utilities are in, and the flooring is going down throughout your entire facility.
It's been a long haul, but there's nothing like watching your hotel design vision come to life. All your hard work is becoming a reality.
But before cutting the ribbon and opening to guests, there's still the matter of your hotel's FF&E and its installation. What's a hotel without its FF&E? A really nice, but empty storage facility.
Like any other part of your project, there are a few things to be aware of with hotel FF&E installation to finish strong.
What Does FF&E Mean in Hospitality?
A common industry term, FF&E stands for "furniture, fixtures, & equipment" -- basically any accessory that isn't permanently affixed to the hotel structure.
Many components of a hotel's interior design fall under this classification, including:
Tables

Desks

Shelving

Window treatments
3 Considerations for Streamlined Hotel FF&E Installation
If you've seen one hotel room, you've seen them all, right?
Not necessarily.
Completing an aesthetically pleasing, ergonomically designed layout for your guests' comfort involves more than placing a bed here and a dresser there.
FF&E installation takes careful planning -- it's not just grabbing your favorite Allen wrench or Phillips-head screwdriver and getting to work. Most hotel FF&E projects are large undertakings involving multiple rooms, room types, and casegood configurations. And not just anyone can install your FF&E the right way (we'll talk more about this later).
Choosing an experienced installation team whose focus is FF&E is vital to bringing your hotel project to a successful conclusion.
In preparing for your hotel FF&E to arrive on-site, talk to your installer about:
Delivery & assembly

Placement

Communication plans


FF&E Installation Consideration #1: Delivery & Assembly
The heavy lifting of moving your products from A to B and then putting them together takes a special touch. You expect your guests to enjoy high-quality components that are free from nicks, scratches, and other blemishes incurred during transport and assembly.
Your installation team shouldn't cause you to break a sweat as they complete their work and meet your FF&E schedule. You should be able to trust they'll:
Efficiently unpack, assemble, and clean up

Properly document, track, and report your furniture order
It may seem easy, but transferring orders from the delivery truck to the guest room is fraught with danger. Each stairwell, elevator, narrow hall, and door frame is an obstacle capable of damaging your product. An experienced installation team will know how to safely maneuver heavy materials through tight spaces. The only evidence of their work should be a fully furnished room that's exactly as you envisioned it.


Hotel FF&E Installation Consideration #2: Placement
The average hotel room is 325 sq. ft. (25x13). That space goes quickly once you factor in all the living, comfort, and luxury amenities guests expect. Keep in mind, two queen-sized beds (roughly 7x5) claim nearly 70 sq. ft. together.
Add other FF&E into the mix and a hotel room can go from feeling spacious and open to cramped and quickly.
While you may have the vision of a perfect guest room or common area in your hotel, the reality is that casegoods installation may change that. Your hotel FF&E installer can help you avoid having furnishings take a space from comfortable to claustrophobic.
FF&E placement isn't just about making sure it doesn't overtake a space. The furnishing must easily fit within and around the other must-haves in a room, such as:
Electrical outlets

Cable/fiber optics

Plumbing

HVAC
Your FF&E placement also shouldn't be an impediment to meeting hotel safety and ADA compliance regulations.


FF&E Installation Consideration #3: Communication
Trained FF&E installers should be comfortable following plans, notes, and drawings that tie in some form back to your initial designs. But FF&E elements are not typically included in construction design blueprints. More often, they're expressed as a general idea for perspective and scale.
If there's an issue, that's where communication comes in. Your FF&E installer shouldn't go on radio silence or tell you after it's too late.
Collaboration between your design team, furniture manufacturer, and install team needs to happen early in the project. Proactive communication saves your project from costly change orders and ensures long-term success.

Who Should Install Your Hotel FF&E?
Aside from you, there's no one who knows your hotel's new FF&E better than its manufacturer – they're the ones who built each piece, after all. With their involvement in your order from the beginning of your FF&E procurement, there's no better choice for an installer than your manufacturer.
As a partner who's also spent the time to understand your project and facility, your manufacturer knows exactly what it will take to get your casegoods where they need to be. They also have first-hand knowledge of any special considerations for putting together or installing your FF&E.
Not all manufacturers offer installation. If working with a third-party installer is your only option, check with your manufacturer to see if they have any recommendations. Some manufacturers may have third-party firms they've worked with in the past and are trustworthy to handle completing the last part of your FF&E project.
FF&E Installation: The Final Step to Your Hotel Project Becoming Reality
There's nothing more annoying than having a project go south in the home stretch.
With proper planning and preparation, your hotel FF&E installation can be one of the easiest elements of your project. Your FF&E installer should play a big role in guaranteeing a smooth completion.
This blog post was originally published in 2018 and was recently updated to reflect industry trends.