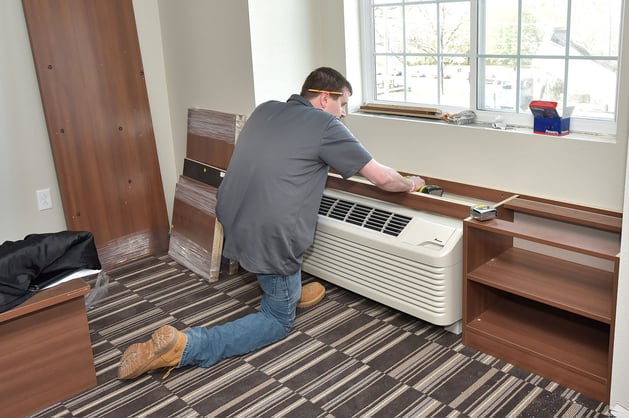 Your hotel design began as a napkin sketch, and now all the pieces are coming into focus.
It was a lengthy, detailed process to get this point - months or perhaps even years in the making. But what if the most important piece was yet to come? Choosing a manufacturer that offers furniture installation services can prove to be one of the most significant decisions you make.
Fulfill Your Design with Furniture Installation Services
It's optional. But having that option will prove to be extremely valuable. Maybe your design is simplistic, or perhaps you would benefit from more experienced eyes trained toward the finish line.
Either way, furniture installation services are your key to punching out a successful project.
There are several important factors to consider. Left undone, they can hamstring your project or result in guest dissatisfaction. In the worst-case scenario, assembly and installation errors could lead to lawsuits. Here's how to do it right.
The Best-Laid Plans
Your furniture should be crafted with installation in mind. Obstacles commonly encountered in shipping and installation include:
Space limitations for assembly

Maneuverability in stairwells, elevators, and hallways

Insufficient equipment or resources for unloading

Limited communication between vendors
Choose a hospitality furniture manufacturer that'll work with your plans to consider potential issues before the final shipment. Solutions may require site visits by the manufacturer to complete field surveys (including blocking and electrical) and deciding whether to assemble certain pieces at the factory rather than the site.
Efficient Unpacking, Assembly, and Cleanup
With your hotel furniture at the site, it's now time to put it all together. That can be difficult, with dozens or even hundreds of guestrooms to complete, even with ample access to the right equipment.
An experienced furniture installation team will efficiently assemble the end products to be functional and sturdy. Cleanup should be quick and thorough, the right furniture manufacture and install team understand, finished rooms equal revenue.
Attention to Detail
You might have a unique design. If it's not unique, it's certainly crafted with a purpose. Your team has blocked out spaces to:
Fit the furniture perfectly

Accommodate necessary components like HVAC, cable, electrical, plumbing, and safety features
Space matters. Skillful installers will understand every square inch in your plan.
Proper Documentation, Tracking, and Reporting
A chain of documentation begins when your order is placed. From financial agreements to product specifications, everything should be recorded and presented for your records.
You should expect regular communications from a dedicated Project Manager (PM). This PM will be your point-of-contact with the manufacturer throughout, and often beyond, the life of your project. Expect this person to answer any questions, visit the project site, and provide status updates as the order progresses. A responsive hospitality furniture manufacturer should be able to provide photos and even videos of your products' as they are being developed.
When it comes time for delivery and installation, you should have a complete package of info including:
Estimates/order summaries

Order adjustments

Delivery dates

Installation recommendations or instructions
Hospitality Furniture From 'Napkin Sketch' to Installation
When your project's at the finish line, you need a one-stop-shop hospitality furniture manufacturer capable of making, delivering, and installing your order.