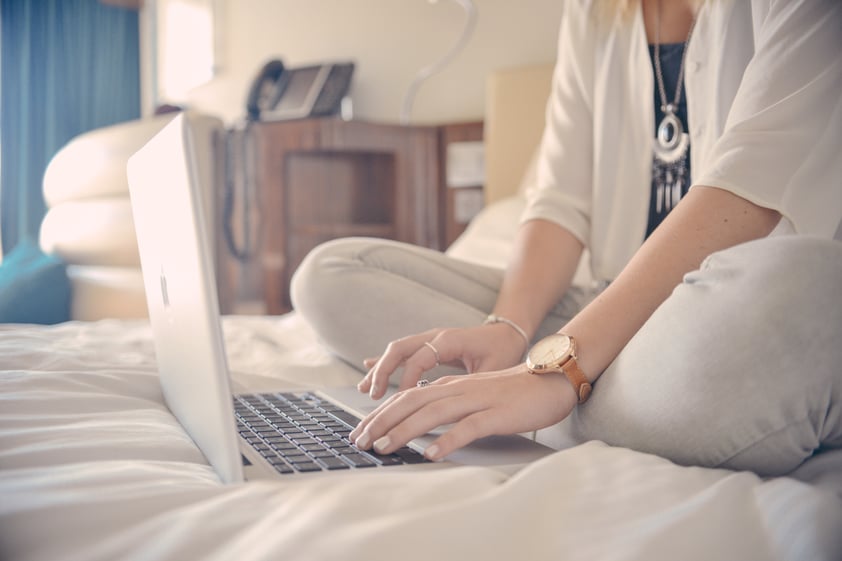 There are certain amenities guests expect beyond free wifi and a continental breakfast at your hotel.
Particularly in the U.S., society has placed a higher priority on leading a more health-conscious lifestyle. When booking a hotel stay, guests expectations are that hotels provide:
24-hour access to a fitness space
Nutritious food options
Access to health technologies
It's no surprise the hotel industry has responded to this lifestyle demand. We're seeing this firsthand.
As a custom furniture manufacturer of hotel guestroom casegoods, we're often asked by our clients to incorporate these new guest requirements into our furniture.
1. Optimize Your Lighting
Circadian Lighting is a proven science governing how our bodies function in response to natural light cycles. Humans are built to perform at their best while exposed to varying intensities, shades, and hues of light directly correlating to the sun.
It goes beyond installing lights with "warm" and "cool" tones. Hotel guests need the ability to customize their lighting to meet their needs.
Warmer colors (yellows, oranges, and reds) closely matching the sun boost alertness, productivity, cognitive function, and memory.
Cooler colors (blues and greens) enhance relaxation and promote a natural sleep cycle
Design your guestrooms accordingly with circadian lighting options ideal for:
Study
Work
Exercise
Meditation/deep relaxation
Rest/shutdown
Take it a step further by offering NeuroDreaming. A mask worn at rest can stimulate guests' brainwaves and provide relaxing music and soft lighting to enhance mental function, meditation, and REM sleep.
Believe it or not, hotel casegoods such as a

hotel headboard

can serve as a hub for circadian lighting and other tools for rest and relaxation.
2. Emphasize Physical Activity and Posture
Many of your hotel's guests travel for business. They often spend their time sitting through long meetings or marathon work sessions in the privacy of their rooms.
Studies prove standing periodically while working provides many of the same physical benefits as light exercise. Use a standing desk (or even a treadmill desk) in your guestroom design.
Incorporating a standing desk into a hotel room allows guests to reduce their risks of:
Obesity
Diabetes
Different types of cancer
Standing desks even help guests improve posture, too, as do exercise ball chairs.
3. Install Smart Devices and Voice Recognition
Health-conscious guests likely have a favorite exercise routine. Perhaps it's a yoga or cardio program through an on-demand streaming service they subscribe to. Furnish rooms with smart TVs and other digital accessories to stream their favorite health programs from mobile apps.
Voice-recognition software, such as Cortana or Alexa, and devices, such as the Amazon Echo, could also be available in guest rooms for:
Internal atmosphere control
Video/audio controls
Set an alarm
Even ordering room service
Guests have dived head-first into our plugged-in, ever-connected world -- there's rarely one who doesn't use a mobile device to keep up with work, family, and friends. Ensure that your hotel design promotes easily accessible connectivity, data ports, and electrical outlets guests need.
4. Choose Environmentally Friendly Tech
Guests aren't concerned with just their own health -- many are just as concerned about the environment's health. Your hotel design must include green technology.
Use Energy Star appliances and electronics. You can find energy efficiency in anything from air purifiers to geothermal heating pumps. Guestroom bathrooms are also ripe for efficiency measures -- include fixtures that conserve water, such as digital shower and light controls.
Emphasize Health Technologies in Hotel Design
ncluding health and wellness technologies options in your hotel design takes some creativity. But hotel brands everywhere are looking to capitalize on those needs. Even well-known fitness centers are entering the hospitality realm (like Chicago's Midtown Athletic Club literally building a hotel atop its current expansive fitness facilities).
"Rather than being 98 hotel with 2 percent amenity, (the Midtown Athletic Club) will be 96 percent amenity and 4 percent hotel," said Dwayne MacEwen, founder and principal of DMAC architecture, which has headlined the design.
We understand that math, and you'll certainly benefit from the ROI. Your guests will love it, too.
(Editor's note: This is the second in an ongoing series on hotel health options leading up to the BDNY Trade Fair, Nov. 12-13, in NYC. Today: Technology. Next: Privacy. Stay tuned for Artone's submission for this year's show. NOTE: All data and information provided on this site is for informational purposes only. Artone LLC makes no representations as to accuracy, completeness, correctness, suitability, or validity of any information in this blog and will not be liable for any errors, omissions, or delays in this information or any losses, injuries, or damages arising from its display or use. All information is provided is based upon opinion.)