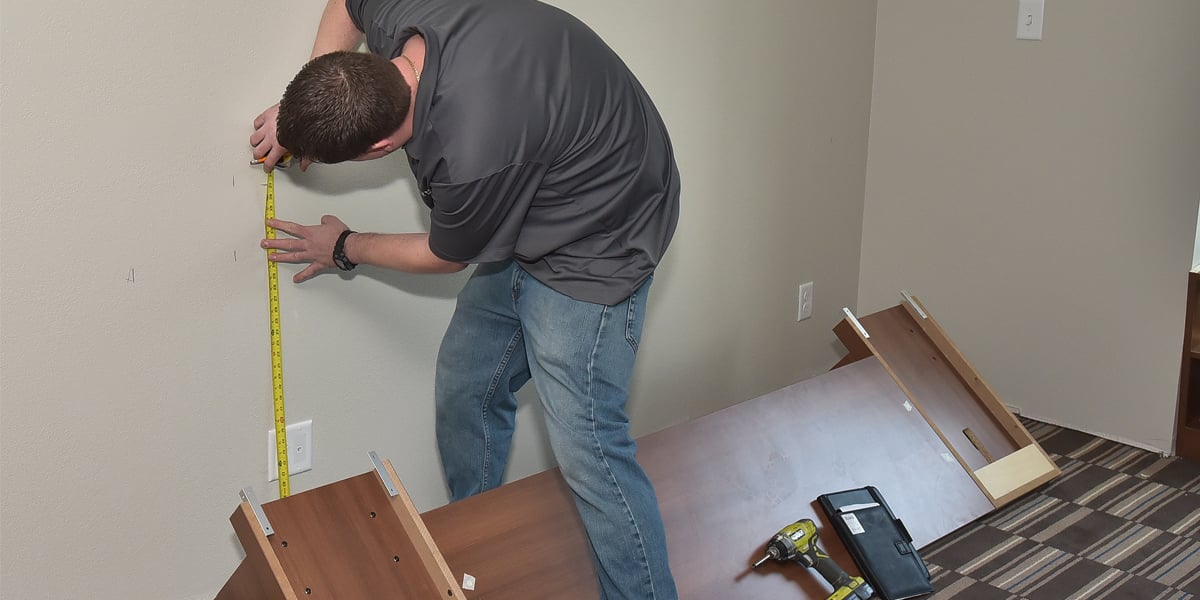 Imagine being one of the head NASA scientists working to send the Curiosity Rover to Mars.
After years of testing, planning, and working within a tight budget, the robot is just minutes away from being launched into space.
But hold on. Despite all your preparations, someone forgot to install its mechanical arms months ago. And they forgot to mention it. The rover's trip to another planet will have to wait. And your team now has to spend time and money to get the probe and launch ready for another time.
Like any major undertaking -- whether it's space exploration or building a hotel -- planning and organization between all those involved goes a long way.
As one of the finishing touches to a hotel construction or renovation project, installation of its casegoods takes some preparation.
Working cohesively with your hotel FF&E installer and provider ensures your casegoods have a smooth journey from the production floor to your facility.

5 WAYS TO HELP YOUR FF&E INSTALLER GET THE JOB DONE EASILY



A component of hospitality logistics, FF&E installation is a process you can help shepherd along by working hand-in-hand with your hospitality furniture vendor.
How? These five ways:
Communicate

Complete a pre-installation survey

Get prototypes

Agree on a schedule

Create a day-of attack plan
1. Communicate
Perhaps the most important thing you can do from the onset of your project is establish open lines of communication with your FF&E installer.
Nothing sets a project off on the wrong foot like a lapse in communication. And continued communication breakdowns only set the stage for or prolong issues unnecessarily.
Communication isn't just about the ability to speak to one another. It's also about making sure you understand each other. From the onset of working together, both you and your FF&E provider should be in sync on everything with your project, from expectations to potential impediments.
Remember:

communication is a two-way street.

If your hotel casegood provider leaves you feeling left in the dark on where things stand, speak up. The same goes for your casegoods provider with you. In other words, neither of you should feel out of the loop.
It's good to have a designated point-of-contact to interface directly with your FF&E installer. Should anything come up, there's no wasted time connecting the right people.
2. Complete a Pre-Installation Survey
A scouting mission of sorts, a pre-installation survey made long before your casegoods are built gives your FF&E installer a lay of the land. With a firsthand look at your property, they're able to figure out exactly how to get your order to where it needs to be.
During a pre-site survey, make sure your furniture installer is taking note of:
General building layout

Door and hallway dimensions

Stairwell and elevator locations

Room dimensions & layout

Staging & storage areas

Access points to the property

Any potential hazards/impediments
3. Get Prototypes
After a site survey is completed, ask your FF&E provider for prototypes of your order.
With a tangible, real-world example of your casegoods, you're able to do a test run of receiving the product -- from delivery to actual installation. It's much easier to find out there's an issue with a single casegood rather than having a truckload of items delivered that can't fit through your front door.
In addition, a prototype is an opportunity to see that your casegoods are exactly what you want before full-scale production begins. You may discover a small design element that needs tweaking or that the product just isn't a good fit for your hotel.
4. Agree on a Schedule
With a set schedule, your FF&E arrives and is installed when it should be, causing little interruption to the rest of your project or operation.
For the FF&E installer, a clear, defined schedule streamlines planning of:
FF&E production

Deliveries

The amount of manpower needed for installation
When creating your FF&E schedule, be as honest and realistic as possible. An overly ambitious timeframe -- or one that doesn't match progress -- adds needless chaos or costly delays to your project.
An experienced FF&E installer is a great resource for making sure your schedule is feasible. Having completed hotel casegood deliveries and installations at other facilities, they'll know what to expect and how to navigate the unexpected.
5. Create a Day-of Attack Plan
Taking an even more refined approach to creating a schedule, having an itinerary of the day(s) when your FF&E finally arrives on-site helps the installation process move along.
A point-by-point schedule keeps everyone on the same page as your FF&E reaches its final destination. Plus it reduces needless disruptions to the work at hand -- you'll minimize interferences.
CREATING AN EVENT-FREE INSTALLATION FOR YOUR FF&E PROVIDER
Getting hotel casegoods from the assembly line to their rightful place at your hotel is no small feat -- there are plenty of moving parts to be aware of. Working with your hotel casegood installer throughout the entire process -- from the FF&E procurement process to installation -- ensures your furniture isn't the reason for delays and overruns.
Ever wonder what goes on while your casegoods are being made?
Even though your hotel casegoods manufacturer is doing the heavy lifting to make your order a reality, you still play an important role in keeping it on track. Download and explore our Custom Hospitality Furniture Production Timeline for Scheduling, Planning & Tracking: