Editor's Note: This blog was originally published on February 6, 2018 and was updated on March 18th, 2019 to reflect updated information.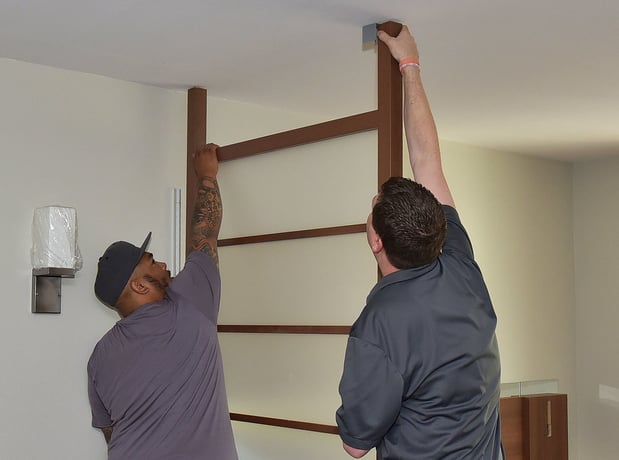 Your hotel project is approaching the finish line. All your hard work is becoming a reality.
As you're watching the final work get done on the flooring and wall covering within your rooms, you are probably also thinking about the design punch list, specifically the critical FF&E installation component. What is actually included in my FF&E installation package? Are my installers really qualified for guest room installation?
What does FF&E Stand For?
FF&E stands for furniture, fixtures, & equipment - basically any accessory that isn't permanently affixed to the hotel structure.
Among others, these could include:
Tables

Desks

Shelving

Window treatments
FF&E installation takes careful planning. In your case, choosing an experienced installation team whose focus is FF&E installs will prove to be a vital tool to bring your hotel project to a successful completion.
What is FF&E Installation? A Smooth (Cost-Saving) End to a Hotel Project
If you've seen one hotel room, you've seen them all, right? Not necessarily. Completing an aesthetically pleasing, ergonomically designed layout for your guests' comfort and convenience involves more than placing a bed here and a dresser there.
Here's how it works.
Optimizing Your Space
The average hotel room is 325 sq. ft. (25 ft. x 13 ft.). That space goes quickly once you factor all the living, comfort, and luxury necessities each room must offer. Keep in mind, 2 queen-sized beds (roughly 7 ft. by 5 ft.) claim nearly 70 sq. ft. together.
Ever inch matters - A LOT. And considering FF&E's 2 most easily overlooked components, fixtures and equipment, those inches come at a premium. The furniture must easily fit within and around the other must-haves in each room:
Electrical outlets should be unblocked and accessible without unnecessary stooping or reaching by your guests and staff (a headboard shouldn't cover an outlet, but we've actually seen it happen because of poor planning). The same can be said for basically anything else from door handles to heat ducts.
Following Surveying Plans & Communications
Trained installers will be comfortable following plans, notes, and drawings that tie in some form back to your initial designs. But FF&E elements are not typically included in construction design blueprints. More often, they're expressed as a general idea for perspective and scale.
So a collaborative effort between your design team, furniture manufacturer and install team needs to happen early on. Expert proactive communication can save your project in the end from a costly change order, and ensures long term success.
Moving & Assembling Your Products with Care
Should you choose an FF&E installation team, you can trust its members to:
Follow directives

Pay attention to detail

Efficiently unpack, assemble,

and clean up

Properly document, track, and report your furniture order
The heavy lifting of moving your products from A to B and then putting them together takes a special touch. You expect your guests to enjoy high-quality components that are free from nicks, scratches, and other blemishes incurred during transport and assembly.

It may seem easy but transferring orders from the delivery truck to the guestroom is fraught with danger. Each stairwell, elevator, narrow hallway, and door frame is an obstacle capable of damaging your product. An experienced installation team will know how to safely maneuver heavy materials through tight spaces.
FF&E Installation: The Final Step to Your Hotel Project Becoming Reality
You're expecting a shipment of stylish hotel casegoods furniture. Let's hope you won't encounter a logistics hiccup that sets the project behind schedule. (Just in case, here are some tips to improving your supply chain).
To sum it up, you should be planning and preparing for your installation at the very beginning of your hotel project, so it doesn't become an unnecessary obstacle at the very end. FF&E installation services can be your partner to finish out a smooth (cost-effective) hotel project.