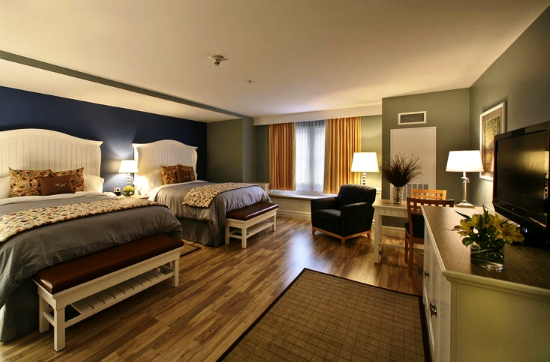 Experts at the esteemed PPG The Voice of Color program create design colorways based on a belief that every hue evokes an emotional response in an individual. Since hotel guests walk through your door with myriad personalities and life experiences, it can be challenging to know and choose the best colors for your hotel and your hotel furniture.
However, many travelers share common emotions and responses that are easily tapped into when incorporating the right colors in your hotel rooms, lobby and communal spaces.
Best Colors for Hotel Furniture
When sprucing up your hotel design, remember that the all-important color scheme extends beyond just choosing wall coverings, fabrics, curtains, and carpets.
Industry experts weigh in on some of the best color choices that are effective, strike the perfect balance between trendy and classic, and create that crucial "feel good" response for guests. Now try to imagine how you can incorporate these colors into your hotel project; perhaps an accent table or a unique upholstered luggage bench.
Night Watch Green
It's unlikely that you'll be redesigning your hotel rooms on an annual basis, so it's important to choose a color that has timeless appeal. PPG chooses a "color of the year" that is not only fresh and current but can blend with changing styles as time goes by.
For 2019, Night Watch Green rises above the rainbow of options for its deep ties to nature and nurture, and for its ability to be either a background or accent color.
The designers at PPG explain their choice in a way that is especially pertinent for travelers and hotel guests:
"In an ever-disruptive world, we want to escape to a quieter place –
one that's protective and beautiful. Night Watch gives us that pathway …
(it) can make you feel healthy, grounded and calm …"
Incorporating Night Watch Green is another great way to capitalize on the recent hospitality design trend of bringing the outdoors inside, and blurring the lines between outdoor and indoor spaces.
Ultra Violet
Pantone chose Ultra Violet as its color of the year for 2018, calling it a dramatically provocative purple shade that "communicates originality, ingenuity, and visionary thinking that points us toward the future."
This can be a great choice for hotels with business clientele and the increasing number of tech travelers involved in startup ventures. The color also alludes to other trends within the hospitality space, such as the wellness and mindfulness trends.
Pantone points this out in an observation that's pertinent for hotel designers:
"The color is often associated with mindfulness practices, which offer a higher ground to those seeking refuge from today's over-stimulated world. The use of purple-toned lighting in meditation spaces and other gathering places energizes the communities that gather there and inspire connection."
This color can be incorporated in design through FF&E colors, but also through the use of geodes in art and as a material for furniture.
Gen Z Yellow
It's tricky naming a color based on evolving demographics, but each new generation inevitably embraces certain trends that set the tone for design choices.
One of the emerging colors that's earned its place in trendsetting hotel décor is what's often dubbed "Gen Z Yellow." It's really less about the preferences of our newest "young adults" and more about refreshing the world's color palette every 10 years or so.
This color is vague, and can fall at color points ranging from sunny yellow, to golden, fluorescent, mustardy, canary, or even peachy yellow.
As a hotelier, you don't want to bombard your guests with a snazzy hue that dominates the entire space. With that in mind, think of Gen Z Yellow as an accent color for small bathrooms counters, side-table veneers, or contrasting drawer colors for desks, and custom dressers.
Best Finishes For Your Hotel Design
Just as crucial as nailing the right color pattern for a guest room is getting it right with custom hotel furniture -- which includes laminate materials for counters, desktops, shelving, veneer finishes, and even appliances. Each of these contributing factors can attribute to a positive emotional response from your guests the minute they cross that threshold.
Need Some Help With Design?
Involving a custom hotel furniture manufacturer who can be a part of your process from design to installation is the best way to ensure your design will become a reality. The right custom manufacturer, should provide detailed shop drawings and/or prototypes so you can see exactly what your final space will look like, even before you begin.