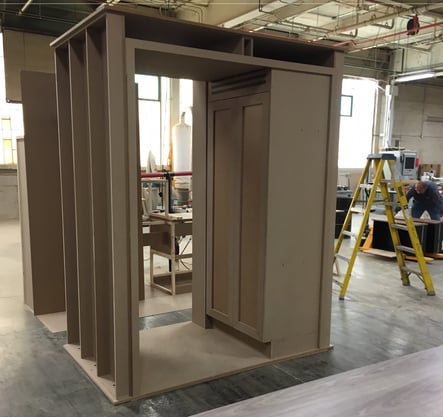 The furniture either works within your hotel design or it doesn't. Becoming aware of manufacturing issues after the final product arrives on site can hinder your project (costing you time and potentially tens of thousands of dollars):
Does it fit your dimension specs?

Is it even functional?
Be proactive. Avoid the hassle by choosing a manufacturer/vendor that uses hotel furniture "rapid prototyping" to test physical models for your design.
The process will be more collaborative and informative to ensure the pieces you order live up to your standards (and the customer's) in the end.
The Benefits of Hotel Furniture Rapid Prototyping
1. Preliminary Assessment
A hotel owner/company has chosen you as the best designer for the job. But in the early stages, you still might not know exactly what you need. Prototyping hotel furniture is:
It's a way to test the design (and even how it'll be put together down to the boring and hardware).
Consider it a trial run. If it doesn't work, go back to the drawing board for another perspective.
2. Physical Attributes
An experienced hospitality furniture manufacturer will use medium-density fiberboard (MDF), an inexpensive material that's smoother and more realistic than particle board. Yet, it's sturdy enough to serve as an accurate model of the pending product.
Test it in your space.
Is it easily maneuverable through obstacles (doorways, stairs, elevators, etc.) within your project?

Will the furniture achieve future

design efficiencies

, especially for cleaning staff and routine maintenance?

Will your crew's hardware work well for its assembly?
Something simple as pre-drilled hinge holes being situated 1/16" off spec will force an expensive redo. Wouldn't you rather troubleshoot potential issues on a sample than be blindsided by small -- yet critical -- details with the final shipment?
3. A Physical Advantage over 3D Drawings/CAD
You may be able to envision perfectly how a piece of furniture would look on your napkin sketch. A 3D drawing or CAD rendering helps with seeing the plan develop and tweaking dimensions.
You need a physical component to move your abstract another step before ordering the final product. It's one more perspective necessary to make your hotel project successful through due diligence.
4. Better Communication
Success also depends on seamless, professional communication up and down the chain of command and across all channels. That especially is true of your relationship with your hotel furniture manufacturer/vendor.
Requesting a rapid prototype adds more opportunity for connection. Even remotely from your project site you'll see elements of the prototype's development in the factory:
Size/scale/dimension

Potential shortcomings

Possible course corrections

Concept visualization
Build confidence in your own project with a real-time, back-and-forth discussion that actually brings results.
5. Engineering Response
A great hospitality furniture manufacturer should match the enthusiasm and investment in your project. Their engineers should have just as much riding on getting it done right as you do.
The rapid prototyping process works both ways. Your manufacturer/vendor may encounter steps in the process that equate to better service for you:
Reconsidering current practices/policies

Learning new best practices

Brainstorming solutions

Research and development

Adjusting to evolving needs
6. Eliminating Mistakes
The process of rapid prototyping hotel furniture combines these benefits to eventually arrive at an error-free product. Envision and experience the furniture's pitfalls before the final shipment.
You're ordering custom-made furniture. Even in the best scenarios, numerous variables from both the factory and your site could negatively impact your project.
Put yourself in the best position to address them.
---