The Boutique Design New York (BDNY) show is one of our favorite trade shows to attend and exhibit at each year.
This year you can find us at Booth #2402, showcasing another innovative guestroom casegoods design. Each year our goal is to align our booth with the boutique design trends that guests are demanding.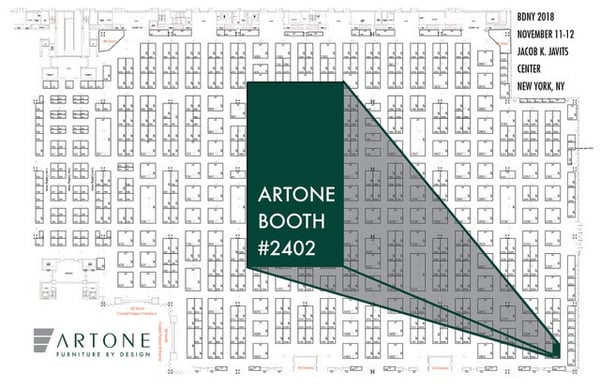 Boutique Hotel Trends We're Looking Forward to Seeing at BDNY
While we cannot see perfectly into the future, we have some ideas of the trends, styles, and designs that will be hot at this year's BDNY show.
We've compiled a list of everything we're on the look-out for, and we think will be the focal points of this year's show.
Color Trends
We think BDNY will be more colorful than ever this year, as the industry is making a brave move moving away from the grey-toned color schemes that we saw everywhere for a while.
We are now seeing (and getting requests for) a surge of warmer colors, rich pigments, and patterns on the way. PPG has already released their color of the year for 2019 -- Night Watch -- which may be an indication of what is to come. These colors will most likely be accented with bright colors, especially yellow, now that "Gen Z Yellow" is widely considered the new "Millennial Pink."
Making Guests Feel at Home
While "making guests feel at home" has been a theme in the hospitality industry since its inception, we have seen a greater push as of late to incorporate design that really goes above and beyond to give a homey feel.
This is called the "Home Suite Hotel" trend, and we began to see this last year with booths at BDNY that looked like actual bedrooms.
As we may see with the Tuxedo Kitchen, it will be interesting to see how many other residential design trends leak into the design trends of the hospitality world to capitalize on this emphasis of guests feeling at home.
Focus On Public Spaces
One thing is for sure, the trend of smaller guestrooms is not going anywhere.
Hoteliers are trying everything to get guests out of their rooms, and into other (more communal) spaces within their hotel. This is in line with the pressure to provide the ultimate guest journey and best experience possible, something that cannot be done if guests stay in their rooms all day.
Lobbies, restaurants, wellness centers, and other communal guest spaces will likely have a place at BDNY this year.
Bringing The Outside In
Designers are starting to blur the line between exterior and interior spaces. This means at BDNY we will most likely start to see:
More plants featured in guest spaces.
Nature tones, such as PPG's color of the year, being at the forefront of designs.
Artwork that is nature themed.
This will be especially included in boutique hotels that are in areas where the local environment is an incentive for guests to stay there.
American Made
We are beginning to see a focus on American-made manufacturing as a general trend in the U.S., and the hospitality industry is no exception.
Hotel owners are moving toward investing in American-made furniture, so we expect to see an emphasis placed on this at BDNY.
Multifunctional Furniture
As we mentioned before, guest rooms are getting smaller. This makes the need for multifunctional furniture more pronounced than ever.
Having smaller, more streamlined, functional, pieces helps to make smaller guest rooms feel just larger -- with floor space being saved. Designers will likely be placing a focus on custom pieces, that can be tailored to fit the look and feel of any boutique hotel room.
Materials
When it comes to casegoods, we can see certain materials rising above others:
Woods

-- There is a movement toward darker and warmer toned woods, such as walnut, to give a warm and rich feel to hotel rooms.
Metals

-- Incorporating metals into casegood designs has been and will continue to be major trend for this year. What has changed is the preference for aged metals over shiny and mixing metals; mixing metals is no longer considered a faux pas.
Stone --

Granite is no longer the most popular countertop, as engineered quartz is making a big splash due to its ease of being dyed, as well as its environmentally friendly quality. Marble running second a close second with its' beautifully veined look. Material choice is not the only trend here but the design in which it is being applied. Waterfall countertops are creating some of the lushest looks!
Fabrics

– Lush fabrics such as

velvet are trending in the hospitality design space right now, and we expect to see several booths featuring it at BDNY. Additionally, incorporating textiles in unexpected places will be a trend to look out for.
Fixtures
Similar to the trends in metals, we are seeing guest (and designer) preference moving away from using shiny metals on faucets, vanities, and other fixtures.
We expect to see matte black finishes being incorporated into more and more designs, and showcased at BDNY.
Technology
While technology isn't a new trend at BDNY, we are looking forward to seeing new technological advancements being incorporated into designs. Including:
Voice activated lighting.
Voice activated temperature.
AI incorporation into guest spaces.
Geodes
Pantone's 2018 color of the year is Ultra Violet. This color is deep, and it communicates the exploration of a greater galaxy and cosmos. We've seen designs that feature geodes springing up in both the residential and hospitality design spaces.
Geodes can also be found in casegoods, such as coffee tables and nightstands, as well as in guest space artwork.
We're looking forward to seeing the role that geodes play at BDNY.
We can't wait to see how all of these trends incorporated into the many booths at BDNY, and more importantly we're excited to participate in this year's design competition. Stay tuned to our social media for updates on our booth design, as well as more BDNY buzz.
To see our past booths at BDNY, check out our website gallery!