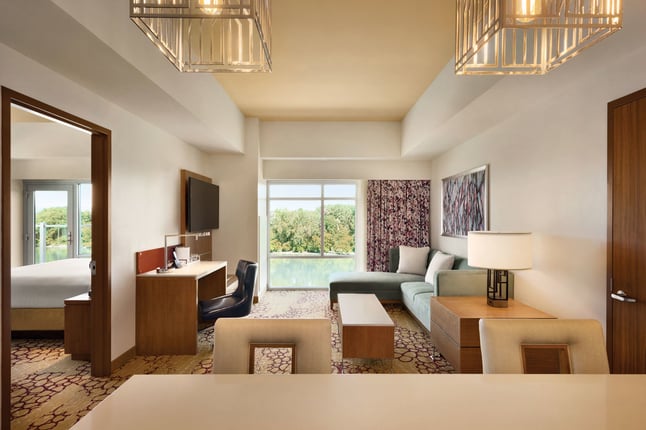 It was the first full year a hotelier sat in the Oval Office. The three-headed battle grew more intense between mainstream hotels, home-sharing companies, and online travel agencies. Hotel mergers, acquisitions, and soft brand openings dominated the market. Technology expanded further to improve the guest experience.
Indeed, 2017 was an eventful, transformative year for the hospitality industry. In many ways, it was an evolutionary year as hospitality brands looked to better position themselves for the future. Meanwhile, the industry also got back to design basics while expanding tech offerings for better service.
Here's what we learned.
Lessons from 2017: How Did the Hospitality Industry Evolve?
1. Branching Out and Diversifying
Hotels aren't just hotels anymore. Competing home-share companies like Airbnb and Homestay aren't just about home sharing anymore. And with pressure from OTAs, which now control booking for roughly 70% of the hospitality market, both hotels and home shares are trying to become travel agencies unto themselves.
In 2017, some aimed to suit the whole guest experience, organizing every detail from travel arrangements to accommodations to sightseeing.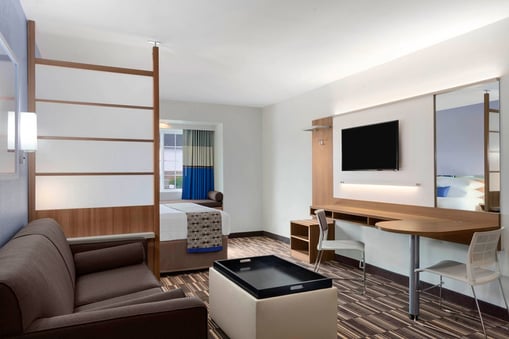 Wyndham Hotel & Resorts (with which we are an approved guestroom casegoods partner) launched its own independent soft brand and spin-off timeshare business. The international chain can now capitalize on a greater creative license as well as an option to attract vacationers wanting to lock down favorite getaway spots. Additionally, Wyndham's RCI division bolstered its alternative accommodations by purchasing Love Home Swap, one of the world's largest home-exchange programs.
So, the hospitality industry last year collectively branched out to attract more eyes, more clicks, more bookings, and more dollars.
2. Standing Together
In other cases, hotel brands consolidated or merged to battle the winds of change together. With pressures from home-sharing options and OTAs, larger brands either bought out less-successful ones or combined to magnify individual strengths.
It's a business model as old as time. Hospitality trends are no exception. Click here for a detailed look at the "era of consolidation."
3. Designing Home Away from Home
For the longest time, midscale hotel brands promoted design neutrality. Designers generally produced a simple aesthetic that appealed to the broadest range of style preferences.
In 2017 they returned home (figuratively speaking). Keeping with the mantra that simpler is better, hospitality designers sought a look and feel that said, "Home is where the heart is."
The trend toward understated elegance is likely to continue. Guests want to relax in "luxury" (stay tuned to find out what luxury means to today's traveler), with the reasonable expectation that they won't be overwhelmed by it. Bear in mind, simplicity doesn't mean you can't get creative. Check out these inspirational options.
4. Crafting the Millennial Experience
Ignore Millennials at your own peril. They're now the largest living generation, having surpassed Baby Boomers in 2015.
They're mostly adults now. They're smart. They're constantly connected. Some would say their tastes are fickle. They're educated. They have money to spend.
So how will they spend it? Forbes put it precisely: They have an "insatiable appetite for global enlightenment and wanderlust." Forget that they collectively shoulder the greatest student loan debt burden ever. Many Millennials double down on experiences, with little concern for cost, as they save up for luxuries on a Ramen noodle budget.
They spend most of their travel time exploring elsewhere. But when they return, make sure their guest rooms (even the furniture design) is a pleasant and connected experience, as well.
5. Promoting Health and Wellness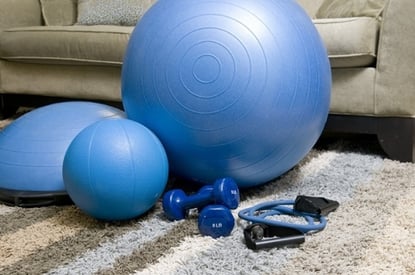 It's non-negotiable in modern hospitality design - especially for our good friends, the millennials. While it'd be best to eliminate the dark dungeon of a gym located in the bowels of your hotel. OK, so we know it's not that bad, but guests certainly prefer to exercise when they want and where they want.
Many simply want to work out in the privacy of their rooms. Give them the tools and accessories they need to do so. You can start by checking out this "wellness" collection for design inspiration.
6. Integrating Technology
The future is now. Last year saw a fevered push for anything techy to ease the guest experience - both necessary and extravagant. Would you like to be checked into a hotel by a robot dinosaur?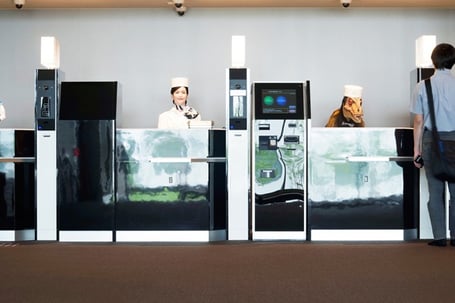 This Japanese hotel can make that happen.
More common, however, are technological advances aimed at catering to individual guests' needs. Some midscale-to-upscale hoteliers in 2017 began investing in voice-recognition software to request staff service or maintenance in real time.
If we know one thing for sure, automation will dominate the industry in future years.
So, What Did the Hospitality Industry Learn in 2017?
The 2017 economy was strong on the coattails of the former hotelier who became president. More Americans can now afford travel and accommodation. And when they get where they're going, they have certain expectations:
Technology

Health and wellness

Understated luxury

Customized experiences
Meanwhile, the triumvirate dominating the hospitality industry - mainstream hotels, home-sharing companies, and OTAs - continued a fight for supremacy. Expect more angling and evolving in 2018.