How often do hotel guests today actually use that huge walk-in wardrobe? That dresser? The minibar? How about even the nightside stand drawer?
If you said, "Not very often," you're absolutely right. If anything, hoteliers are streamlining or cutting things like that in lieu of furniture and accessories guests actually want. For guests, theirs is a world of near-constant technological demands and extreme efficiency.
Enter the world of multifunctional furniture.
Multifunctional Furniture in a Hotel Room Should Look Something Like This …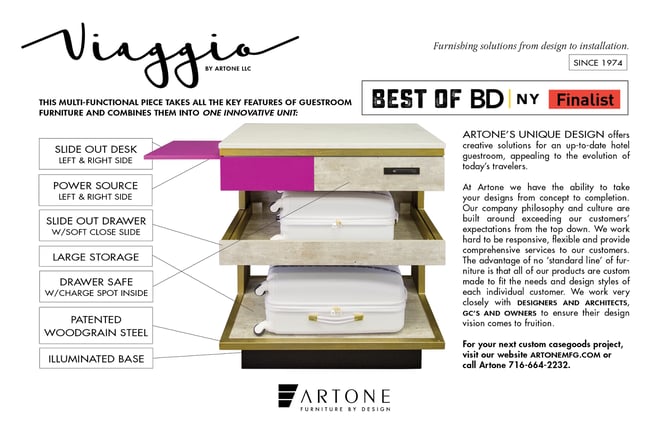 Smaller is Better
Size matters, but this time in favoring the more compact end of the spectrum. The average hotel room size has shrunk over the last few decades from about 375 sq. ft. to 325 sq. ft. - with new brands like Pod Hotels coming in at a minuscule 72 sq. ft.
What was the hospitality industry thinking? Smaller rooms equal more rooms for more revenue. How have guests reacted? Delightedly.
Guests typically seek unique travel experiences, business, or both - none of which are typically found in an 8 ft. tall wardrobe. Furniture and other FF&E components should be designed with this streamlined perspective in mind.
Outlets, Outlets, Everywhere
Whether they're traveling for work or play, 21st-century hotel guests often operate with multiple tech devices. They need outlets and data ports to charge and connect wherever they may be - from the bed to even the bathroom.
Whether they're a Millennial or Baby Boomer, no hotel guest should have to rip the mattress off the bed to find an accessible outlet.
Storage Isn't Dead
OK, we know we earlier said storage units like massive dressers and wardrobes today are rapidly falling into hospitality's past. While some still enjoy smaller versions of these casegoods furniture items, the property storage philosophy has simply changed.
How? People still travel with belongings, but they travel much lighter. They'd prefer not to unpack, opting instead to live conveniently out of a carry-on tote or small suitcase.
Your solution? Give them furniture with elevated racks off the floor to easily set and access their luggage.
A Place to Work
People in this fast-paced world tend to bring work with them everywhere they go. If it's not stored on a laptop or tablet, it's definitely buzzing in their pocket. While many tend to work wherever they may be - the bed, hotel lobby, car, or corner café - a multifunctional unit that can hold and charge tech devices as guests do work is an excellent option.
What luck, if it's a standing desk you've helped them meet their fitness goals that day.
'The Viaggio' - The Ideal All-In-One Unit
We've indeed created such a piece of multifunctional furniture. "The Viaggio" by Artone - meaning "travel" in Italian - was a product finalist at the Boutique Design NY Trade Fair in 2016.
Its lean, stylish, and functional design includes:
Dual-sided power sources and sitting/standing desktop workstations

An easily accessible slide-out rack for standard carry-on bags

A larger storage rack for midsize to large luggage

A room keycard-activated drawer safe for storing valuables (which also has a built-in charger)

A lighted night guide
Crafting "The Viaggio" took some creativity and a true understanding of what drives hotel guests today. Now, are you ready to design the next great multifunctional unit?