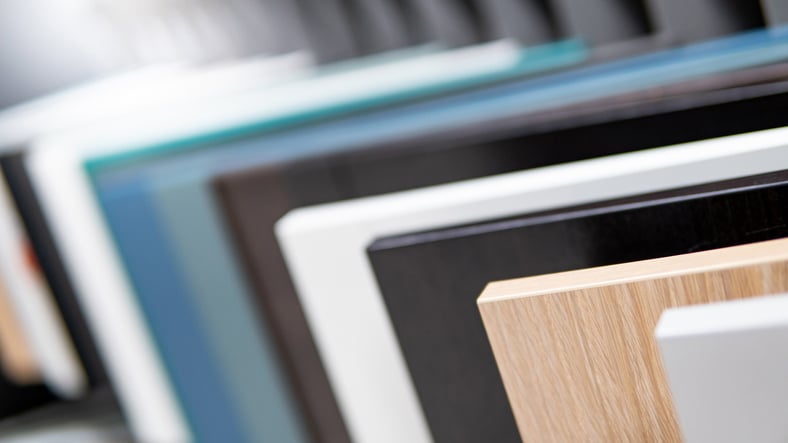 Regardless of a hotel's star rating, step into any guestroom and you'll undoubtedly find its casegoods and FF&E (fixtures, furniture & equipment) are made from a wide variety of materials. Suffice to say, laminate casegoods are almost a given in a guestroom or other part of a hotel.
Still, for as common and popular a material it is for hotel casegoods, laminate for casegoods does have a slight stigma. Largely based – we suspect – on past examples of applications and experience, laminates are often thought of as a weaker material that's a poor investment. The reality…that perception couldn't be further from the truth.
Through the evolution in manufacturing and material fabrication, laminates hold their own against any other material used in furniture production. What's more, they're also a cost-effective material choice that still delivers on ROI.
Laminate Casegood Myths & The Realities
Despite its versatility and functionality, laminate for hotel casegoods still – on occasion – has some misconceptions to overcome. In our experience, many of the misconceptions about laminates are closely related.
Let's clear the air on some of the most common misperceptions about laminates for hospitality FF&E.


Myth 1: Laminate Casegoods Aren't Durable
Compared to hospitality furniture casegoods made from more traditional materials (think: hardwoods), laminate furniture just doesn't have the strength and impact resistance. One good hit and a laminate casegood is easily damaged.
The Reality: Unlike the laminates of decades ago, modern laminates can be manufactured to be just as strong as other materials.
However, like other materials with different variations, not all laminates are made to take a hit or resist a scratch, and it's best to be strategic in aligning laminate type with application. For instance, low-pressure laminates (more on these later) are best suited for applications that don't see heavy use – e.g. the unexposed, vertical side of a case.
What's more, what you can't see in a laminate casegood makes a huge difference in its durability. Manufactured with a strong substrate – such as MDF, plywood, or marine-grade plywood – laminate hotel casegoods have no issue standing up to long-term, everyday use.


Myth 2: Laminate Can't Look Like Real Wood … or Any Other Material
Being manufactured, laminate is impossible to make look like a natural material. And laminate that resembles wood is a cheap imitation.
The Reality: With improvements in technology and manufacturing process in recent decades, there's very little laminate can't be made a close match to. When it comes to emulating natural woods, there's a wide variety of patterns, colors, and textures to choose from that make it easy to get a wood-like aesthetic.
Designed carefully, a laminate casegood made to look manufactured from natural wood does just that. The same goes for other materials commonly used in casegoods, such as stone, quartz, or marble – at first glance, it's almost impossible to tell the difference between a laminate and a naturally-occurring counterpart.


Myth 3: Laminate Has a Limited Selection of Styles
The laminates of today are no different than those of the 1960s and 70s – there are only a few matted, dull colors (burnt orange countertops, anyone?) to choose from.
The Reality: Laminate comes in a wide variety of colors, patterns, and textures. If there's a design aesthetic you're set on meeting with your casegoods project, there's a great chance you'll easily find a laminate that meets your need.


Myth 4: All Laminate is the Same
Another myth that's similar to many others about laminate hospitality casegoods – laminate is a one-size-fits-all material.
The Reality: Laminate is like any other material – there are different types of it, each meant for different applications.
In casegood manufacturing, the three most common laminate types are:
High-pressure laminate – AKA HPL, high-pressure laminate comprises between six and eight layers of resin-infused kraft paper bonded together under intense heat and pressure. Through manufacturing, HPL is made durable. That's why it's often used in casegoods and their surfaces that see heavy use.

Low-pressure laminate – AKA LPL and melamine board, low-pressure laminate is a thin laminate sheet (usually one or two layers thick) that's applied directly to a substrate. Lacking durability, it's often used on vertical surfaces – the part of a casegood that typically doesn't see much use.

3D laminate – AKA 3DL and formerly known as "Rigid Thermofoil,", is a PVC-based laminate. A flexible material, 3DL is bonded to an MDF core, easily taking its shape regardless of curves and soft edges.
Myth 5: Laminate Limits Casegood Design
This is one of our favorite myths – with laminate, you're casegoods design is stifled.
The Reality: This misconception couldn't be more untrue. Laminate is indeed a versatile material. It's easily integrated into hospitality furniture design the same as other materials. While some casegood designs may be a bit unconventional or go beyond standard manufacturing capabilities, an experienced hotel furniture manufacturer will have no problem meshing your design vision with material choice.

Myth 6: Laminate Hotel Casegoods Require Special Cleaning
To keep laminate finish furniture clean, you'll need to invest in material-specific cleaning products and train your housekeeping staff on new sanitation protocols.
The Reality: Now more than ever, guests are paying particular attention to the condition of their rooms. In short, an investment in laminate casegoods does not mean your staff will need to go especially to keep it clean.
To clean laminate furniture, simply use soap and water. Using a warm, wet microfiber cloth, wipe down the surface to remove dust and dirt. Follow up with a dry microfiber cloth to soak up any moisture left behind.
For tough stains, mix some mild soap with the warm water and scrub small areas or a small amount of non-ammonia-based glass cleaner.


Myth 7: Laminate Casegoods Don't Last as Long
An investment in laminate casegoods is an investment in a furnishing that you'll have to replace in no time.
The Reality: There is some truth in this misperception. But keep in mind: context is key.
Laminate furnishings that are on the extreme side of being easy on the wallet – say, ones that are mass-produced and sold at your favorite big-box retailer – aren't made to last. Their price point is a big indicator of the longevity of the piece. To put it plainly, products manufactured and sold on the cheap aren't made to last. Rather they're made to be replaced.
However, laminate casegoods thoughtfully designed and fabricated by a commercial manufacturer are made to meet their demands. Built with consideration for application and well maintained, a laminate casegood lasts as long as any other guestroom furnishing.


Creating Hotel Laminate Casegoods That Meet Your Vision
If there's one truth about hotel casegoods made with laminate, it's that the possibilities are almost endless.
The best way to get final laminated casegood products that meet all your needs and buck any misconceptions is to work with an experienced hospitality casegoods manufacturer.
Working closely together, you're able to create finished pieces that check all the boxes for value – they'll meet your design vision and perform & last as long as your need them without breaking the bank.
Resource: Hit the ground running when working with a hotel furniture manufacturer. Check out our blog, Value Engineering Your Hotel's Laminate Casegoods.

The Truth About Hotel Laminate Casegoods
Despite some misconceptions that persist, laminate hotel casegoods deliver on all fronts. When working with a custom hotel furniture manufacturer, it's not hard to design laminate FF&E that not only lasts long, but meets your design requirements.
When carefully designed, hotel furnishings made with laminate are a solid addition to any guestroom and well worth the investment.
Let's Get Started on Your Laminate Hotel Casegoods
Speak with a member of our Sales Team today!