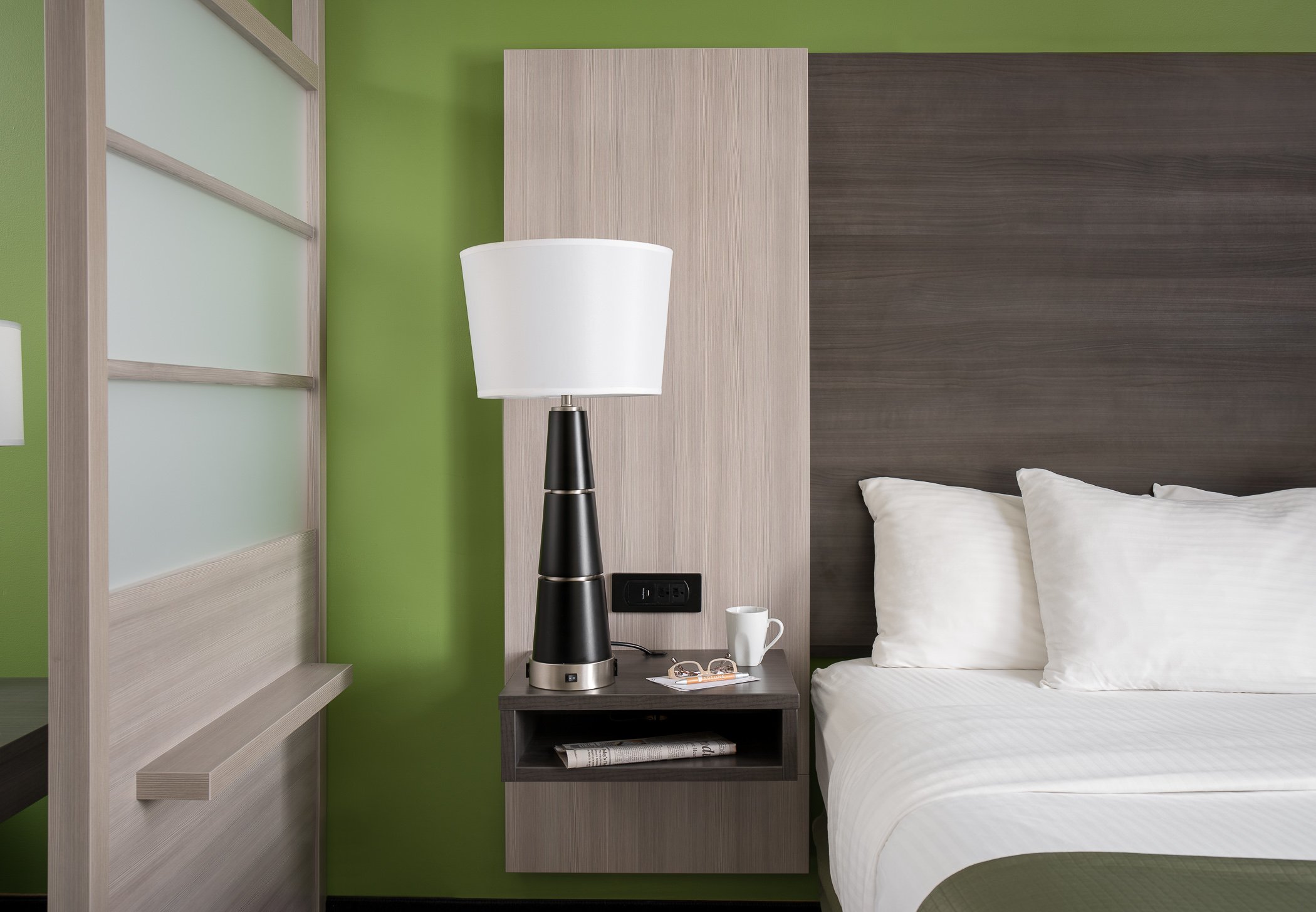 Regardless of the size and scope of a hotel project, furniture – especially pieces that are custom designed – is one of the biggest expenses.
As with any custom order, details matter. Hospitality laminate casegoods – whether they're for a guestroom or a common area – are no exception. Put simply, a hospitality contract furniture manufacturer needs as much information as possible about an order to make it a reality that syncs with a vision.
Being upfront and specific about the vision for your casegoods can mean the difference between receiving guestroom furnishings that deliver on all fronts or not. In addition, both you and your manufacturer won't waste time on needless back-and-forth conversations or risk creating casegoods that are just plain wrong.
With a detail-oriented approach from the onset of working with a hotel furniture company, the final laminate casegood products you receive will meet or exceed your – and your guests' – expectations.
What is Laminate for Hotel Casegoods?
A material that dates back more than a century and has seen many upgrades, laminate helps hotel casegoods go further without breaking a budget. Designed to look – and in some cases, feel – like other materials commonly used in furniture manufacturing, laminates are a cost-effective option for achieving an aesthetic in hospitality FF&E.
Made by applying a synthetic exterior layer to medium-density fiberboard, laminate furniture typically emulates wood in furniture. It's similar to wood veneer furniture, which uses natural wood.
A 100% manufactured product, laminate costs less than many natural materials and boasts several benefits, including:
Durability

Heat resistance

Scratch resistance
8 Things to Specify About Your Laminate Casegood Order
When working with a hospitality furniture company to design laminate casegoods, there are many details you'll need to share. Outside of manufacturer-specific requested information, you should provide your manufacturer with the following particulars about your order:
The basics

Laminate brand

Color

Finish

Grade

Other materials

Hardware & accents

Utilities & technology
1. The Basics
As with any hotel FF&E order, there are a few basic pieces of information your manufacturer needs about your laminate casegoods, including:
Casegood dimensions

Order size

Budget

Project timeline

The primary point of contact

Your installer

Your delivery partner (if the manufacturer doesn't handle shipping)
Beyond the basics, it's also a good idea to discuss the intended use of your casegoods. While ordering a desk may seem straightforward, there's a difference in the level of use it will see when it's placed in a guestroom vs. a business lounge.


2. Laminate Brand
Boasting cost-effectiveness, longevity, and ROI, laminate has become a popular material for hotel casegoods. As such, there are many different laminate manufacturers to choose from – each offering different benefits and price points.


3. Color
Decades ago, laminate came in a limited variety of colors – typically muted solids. That's not the case anymore. Now, laminates come in as broad a spectrum of colors as there is on the paint swatch wall at a hardware store.
If you have a specific color in mind for your laminate casegoods, be sure to provide its identification code to your manufacturer to ensure getting an exact match.


4. Finish
When it comes to finishes, laminates are even more similar to paints. here is a variety of laminate finishes – many of which share the same names as those for paint. Common laminate finishes include:
Matte

Gloss (low, medium, & high)

Smooth
Laminate finishes also go beyond surface-level appearance – they also come in a range of textures, many of which emulate other materials used in furniture manufacturing, including:
Scraped

Wood

Leather

Metallic
5. Laminate Grade
Laminates come in two grades – high pressure and low pressure – each best suited for different applications.
With its durability, high-pressure laminates (HPL) are used in applications expected to see a lot of use (think: the top of a dresser or desk). Low-pressure laminate (LPL), or melamine board, is used for decorative purposes as it does not offer the same level of impact resilience as HPL. You'll find LPL used in casegoods that won't be subjected to everyday wear and tear or in areas that are unexposed, such as the back of a dresser.
6. Materials
Not all laminate casegoods are made entirely with laminate. Some pieces are made with a combination of different materials. In addition to laminates, a headboard, for example, may also include upholstered cushioning or decorative metal grating.
Be as specific as possible with other preferred materials – for instance, if there's a certain brand of granite you'd like used for a countertop, your manufacturer needs to know that.


7. Hardware & Accents
Similar to material selection, accents and hardware also require a level of specificity for your manufacturer.
As both furniture components can bring improved functionality to a piece, they also can enhance its aesthetics, helping a piece to blend in seamlessly with the rest of a space or stand out. Consider a nightstand for example – in addition to HPL and LPL, a nightstand might also have stone tile integrated throughout the piece or have bright metal drawer knobs or handles as opposed to dark or wooden accouterments.
To better help your manufacturer integrate the appropriate accents and exposed hardware into your casegoods' design, discuss the aesthetics of the space they will be installed in. Such discussions help ensure you won't get a post-modern-looking casegood for a space with a French countryside motif.


8. Utilities & Technology
Casegood functionality is being pushed further than it ever has, as modern guestroom furnishings are serving multiple purposes.
Traditional hotel room elements, such as headboards, nightstands, and desks, are being redesigned to meet guests' evolving needs. You'll now find casegoods being outfitted with custom lighting elements and Bluetooth speakers to create guestroom ambiance. In addition, integrated outlets and USB ports are becoming a standard component in many casegoods for device charging convenience.
Hotel Laminate Casegoods: Maximizing Your Investment
A cost-effective option for hotel furniture, laminate casegoods are easily designed to meet any application with compromise.
However, to get laminate finish furniture that not only matches your vision but also provides a maximized return on investment, it's critical to provide your manufacturer with as much information as possible.
Ready to Start Your Laminate Casegoods Order?
Speak with a member of our team today!