Imagine you're walking into a hotel guest room. You insert your key card, get the green light, and turn the handle. Entering the space, you're quickly surrounded by familiar items: a bed with bedside tables, dressers or a wardrobe unit, a desk, and so on.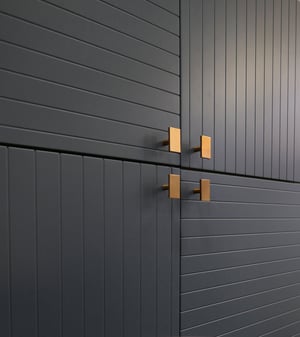 Guest rooms may be a familiar space, but have you ever wondered how they are created or how you might design one yourself?
What Gorgeous Hospitality Furnishing Are Made Of
Did you ever stop and wonder about the materials and manufacturing that go into making these furniture items used by business travelers, vacationers and visitors of all kinds? Would it surprise you to learn that 3D Laminate components can play an important role in each? Wait, wait, let's back up... do you know what 3D Laminate is?
Behind the Scenes of 3D Laminate
3D Laminate, also known as "3DL" and formerly known as "Rigid Thermofoil", is a PVC-based laminate. PVC is third-most widely used polymer in the world, and PVC-based 3DLs are commonly produced with 10% -15% recycled content.
Quality 3D Laminates typically contain modifiers for:
Increased impact resistance
Color pigments
Heat stabilizers
UV stabilizers.
In terms of color, pattern, and finish variety, the landscape of 3DL is vast -- covering trending matte and textured finishes, in-demand colors, classic woodgrains, realistic stone looks, luxe high gloss and much more. Because 3D Laminate is a flexible material, it is perfectly suited to the manufacturing process of membrane pressing.
Membrane Pressing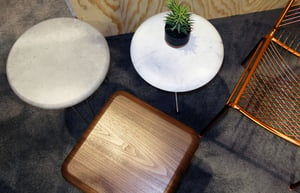 In the membrane pressing process, 3DL material is bonded to an MDF core using state-of-the-art machinery and a combination of glue, heat, and pressure.
The pressing process leaves the face and sides of a component seamless and free of edgebanding. Membrane pressed 3D Laminates also have a world of potential for curved shapes and soft edges, as well as decorative and functional routing.
Why 3DL Should Be the Hero of the Hospitality Industry
Now that you know a little more about 3DL and how components are made, let's get back to that guest room. 3D Laminates can be used to create numerous items you see in this space, including:
Cabinet doors
Drawer fronts
Desktops
Bedside table tops
Headboards
Wall panels
+ More
In addition to design versatility, 3D Laminates bring two other important components in hospitality furnishings: durability and longevity.
3DL makes tougher components that outlast other materials. To demonstrate these properties, let's take two superheroes of the 3D Laminate world into consideration:
1. SuperMattes
SuperMattes wow the senses with their silky-smooth surface and ultra-low sheen. One of the
hottest finishes right now, SuperMattes provide that very in-demand painted-look, but without the hang-ups associated with painted wood components.
Painted wood has many issues associated with it, such as:


Cracking and peeling due to environmental changes
Frequent touch ups needed for scratches and other marks
Vulnerable to water
Vulnerable to bacteria
SuperMatte components are free of joints that could crack or expand, and do not chip or peel like a painted wood door. SuperMattes are also easy to clean with just soap and water!
2. PerformEx 3DLs
PerformEx 3DLs resist and conceal signs of wear making them ideal for those hospitality surfaces that see repeated use like desktops, bedside tables, and coffee bars. In addition to the Hulked-up material itself, the key here is seamless membrane pressed construction. Components are free of edgebanding giving the option for soft, comfy curves and corners.
But being soft doesn't mean compromising on toughness. Made specifically for high performance, PerformEx 3DLs are tougher than other laminates and coated materials. While other laminates can crack after being pummeled by one too many coffee cups or ice buckets, PerformEx 3DLs do not crack; multiple layers ensure both the color and grain stay intact through abrasion, while other laminates can wear to the substrate under the same conditions.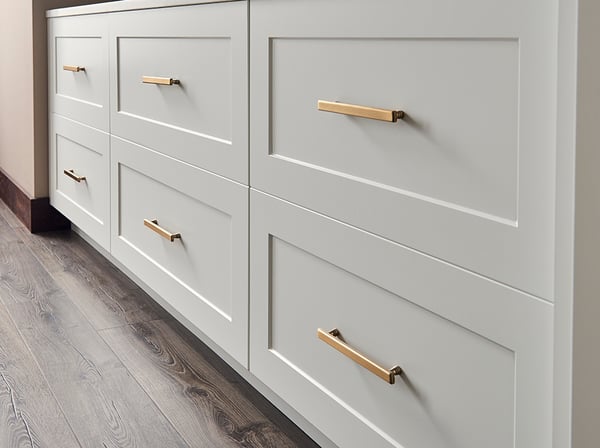 Hospitality Design Versatility Without Compromising on Style
As we take one final lap around our guest room, let's talk about the room's design style. Is it modern with clean lines and a classic color palette? Maybe it has a little glam or rustic flair. Whatever the style, any of these looks and many more are achievable in the wide world of 3D Laminates.
Once you break into this vast palette, the options for designing with 3DL components really begin to unfold. So, what do you say we deck out our guest room out in 3DL?
Tip 1: The Dresser Cabinets
Pair textured fronts in warm, rustic tones with tall wardrobe doors in a complementary neutral SuperMatte finish. These complementary tones in contrasting finishes will create the anchor of our room's design.

Tip 2: The Bed and Bedside Tables

Outfit the headboard panel in that same soft SuperMatte resting between coordinating bedside tables in a washed concrete PerformEx pattern. Adding the stone to our palette will help create more visual texture.
Tip 3: Desktop and Coffee Bar
Use the concrete pattern again on the desktop and coffee bar surface for component durability and design congruence.
Tip 4: Bath Vanity
Walk over to the bath vanity. Incorporate 3D laminate with rustic textures on the vanity drawer fronts. This ties you back to the dresser where we first began.
You'll now find yourself standing in the middle of a beautifully coordinated rustic-industrial space, and it's all thanks to designing with versatile 3D Laminates.
As we walk out of our guest room, we hope you're left with some great knowledge about 3D Laminates and the many design and performance benefits they have to offer hospitality spaces. So, the next time you find yourself unlocking that guest room door again, look around and see if you can spot any 3D Laminates—they can be found in more places than you might think.

Northern Contours is a 3D Laminate and Wood Veneer component manufacturer with over 25 years of industry experience. We serve a variety of customers on a custom and volume basis in Kitchen & Bath, Home Organization, Commercial Furniture, and Refacing markets. Manufacturing expertise in membrane pressing, miter folding, laminating & edgebanding, machining & routing, and 5-piece door assembly. We operate six facilities throughout the US and Canada for full coverage of North America.