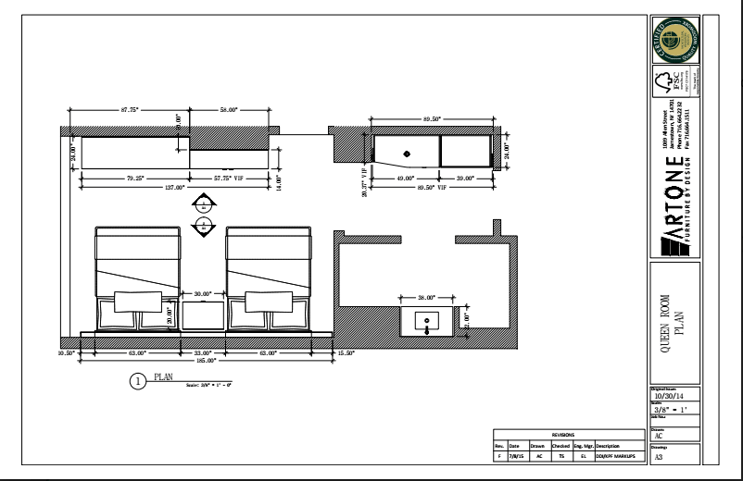 Your hotel room design plans started somewhere -- a photograph, inspiration from a recent trip, perhaps even a "napkin sketch," as we like to say. That's the first visualization of your hotel project coming to life.
If the rest of the process of producing great hotel designs was that simple, every hotel would be stunning.
But unfortunately, there are hang-ups that many hotel owners encounter between the design stage and the installation stage. Luckily, there's a pretty simple way to avoid these snags and ensure a captivating final hotel space.

The Key to great hotel room design? Drawings.
It sounds simple, but shop drawings can truly revolutionize the hotel furniture design, manufacturing, and installation process.
These drawings appear in many different ways, depending on what your project needs:
Scale/dimensional drawings

2D/3D drawings

CAD drafting

Rendering
The best part is, hotel shop drawings cost nothing when you're working with an experienced hotel furniture manufacturer. They will collaborate on great drawings and effectively communicate plans to complete your hotel room design flawlessly.
Phases of Hotel Shop Drawing Creation
As you move throughout the journey from design to installation, your shop drawings will move with you. The most important thing to keep in mind is starting the shop drawings early, and revisiting them often. This way, the drawings reflect where you are at each stage of the process, and any changes are marked accordingly.
Concept
This could be your napkin sketch or simply a thought you've been tossing around for a while. At this point, you likely have a general idea what your hotel room design plans entail.
Your may be deciding:
Color schemes

Materials

Style motifs

General blocking patterns
It's important to consider how your furniture will complement your design.
At this point, your drawings will probably just be a sketch on paper. Even though it might not seem like much, this is a great first step to bring to your manufacturer and express what your expectations are.
Drafting Details
After bringing your manufacturer a sketch, they will work with you to finalize scale and materials within the room layout. Drawings should not only depict the furniture's style, but also include easy-to-interpret dimensions.
You should begin feeling intimately aware of how your project will take shape.
2D/3D Drawings, CAD & Rendering
Spatial design is crucial. Both guests and hotel staff must be able to easily maneuver within and around your furniture arrangement.
A 2D drawing pictures your furniture from various angles. A 3D drawing adds depth and scale. CAD drafting and rendering then adds a virtual perspective and allows you to envision the furniture as it would appear in the space. You may also be required to formally present the designs to hotel management as they evolve.
Many software programs

also allow virtual walk-throughs of the plan in extreme detail

Some include different levels of sunlight and artificial light
Or take it a step further by requesting a rapid prototype, a trial mockup of your furniture built from inexpensive medium-density fiberboard (MDF). Test the piece for a physical perspective.
Implementation
Good drawings and renderings should detail how the furniture will look and fit in your hotel room design plans. Should any detail be incorrect, the issue can be fixed quickly before the shipment arrives for installation.
Designs call for absolute precision in:
Style

Aesthetics

Function

Safety
By ensuring these drawings are perfect prior to installation, there will be no snags when installation day arrives. Every piece will fit into the room flawlessly, ensuring no damage or wasted money.
Choose the Best Hotel Manufacturer to Function as a True Design Partner
Choose a hotel furniture manufacturer and vendor committed to your innovative plan's success by guaranteeing:
Interested in seeing what this looks like once the ball gets rolling on your project? Check out our eBook on the Hotel Furniture Manufacturing Production timeline, and know what to expect every step of the way: