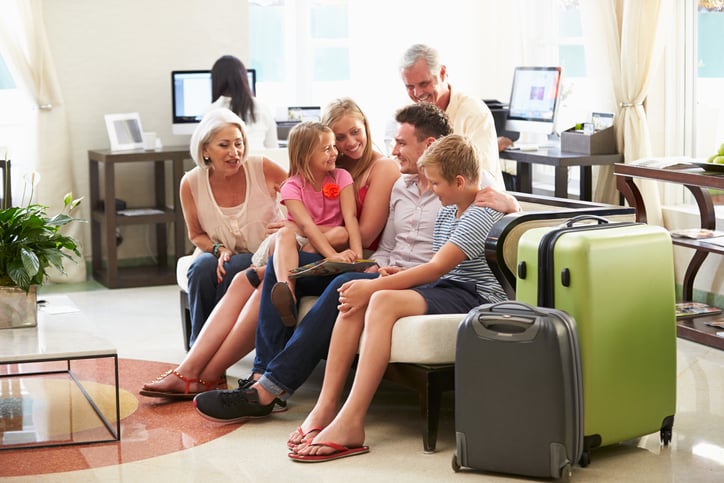 Exhausted from a cross-country trip, a grandfather checks into his hotel room in Boston and sits down on the bed. His two grandchildren are eager to hop in the pool, but he wants to take a minute to relax in the familiar surroundings.
Meanwhile, a young businesswoman checks into her hotel room in Seattle and immediately scans the place for cultural calling cards. She's traveling for work, but she really wants to explore what makes this hotel, within this modern city, so wonderfully unique.
Because these guests are all of different generations, it should come as no surprise that each has a different level of expectations for a comfortable hotel stay.
Modern hotel room design plays an important role in meeting guests' wants and needs. While it may seem like a tall order to create a facility that gives guests -- regardless of generation -- everything they expect, understanding what appeals to each demographic is key to finding a middle ground.


Hospitality Design Trends That Bridge Generational Gaps
No two guests are the same, especially when it comes to generational differences. But as research shows there are amenities that the young and old, and everyone in between, appreciate in hotel design.
Giving a broad base of guests everything they want within one design -- from tech accessories to trendy casegoods furniture -- is very possible by being conscientious of their expectations.
Let's look at the three generations who represent the majority of your guests.


Hospitality Interior Design Trends for Baby Boomers
Baby Boomers, which represent those born in America between 1945 and 1964, are travelers of refined taste. They know what makes them comfortable, and they gravitate toward familiar, predictable hospitality experiences. The last thing a baby boomer wants is an experience that leaves them feeling disappointed and wanting. That's why it's not uncommon for this generation to pick a hotel chain and stick with it for accommodations while traveling.
A few key traits to be aware of in baby boomers:
Most by now have retired or are approaching retirement

They have more than $2 trillion in spending power

They're likely to travel with children and grandchildren (making multigenerational delight all the more important)
That last point is critical. Since they're likely to be traveling with (and paying for) younger friends and family members, they want a hotel's design to include 21st-century amenities and creature comforts:
Easy-to-use, in-room technology (casting options, video games, etc.)

Close proximity to local dining and attractions

Health and wellness options


What Do Millennials Want From Hotel Design? Function
The millennial is loosely defined as those born between 1980 and 2000. They represent the largest generation in America right now. A key characteristic about millennials is that they're all about the experience. And they're keen to share what they've done and how it was with the world -- so don't let down this switched-on, online, on-demand generation.
The last generation to have an analog childhood has grown up. They have good money to spend on travel: Some $4,500 apiece on average annually. (Disregard that they collectively shoulder the greatest student loan burden ever.) It's essentially a life choice in their eyes.
When it comes to hotel design, millennial hotel trends are less about creature comforts as they are about time spent exploring their destination of choice. Let their guestroom (their temporary home base) serve as cultural inspiration from the moment they walk in or open their eyes. Decor and amenities must include regional aesthetics:
Local artwork

Regional themes (from mountain retreats and beachside resorts to urban ambiance)

Combined work/living/social spaces

Openness
This is where boutique hotel trends tend to shine, as their hotel bookings increase among millennials.
And, no, we did not forget the urgent necessity for technology with the most connected generation ever. At this point, it's simply implied. In addition to being a home base, their hotel room should be equipped to meet their technological needs, whether it's having chagrin ports in casegoods or using their smartphone to control lighting. And by adjusting your hotel's design for Millennials, you're effectively preparing for every future tech-geared generation.
Hospitality Design for the Generation in Between
Considered America's "Middle Child," Gen Xers are indeed the middle ground between baby boomers and millennials. In fact, your next hotel project's design may mean emphasizing what millenials and baby boomers want to meet Gen Xers' expectations.
Gen Xers, defined as those born from 1964 to roughly 1980, are arguably the most highly educated generation (at this point). Millions of them have earned their college degrees, sought further education, and are now reaping the career benefits.
As such, they're spending their hard-earned money on business travel and family experiences. But they're smart about how they spend it. They research, and then they research more (good reason for a great, eye-catching hotel marketing strategy).
Through that research, they're just as likely to choose the more economical "cookie-cutter" option as they are to book a pricier hotel with a unique design. Your best bet is to make the juice most worth their squeeze with hotel amenities that speak to the generations immediately before and after theirs.
Hospitality Design Trends in 2021 That Appeal to the Broadest Range of Generations
Blending comfort and familiarity with culture and technology is key to making a hotel that's as appealing to a recent retiree traveling with grandchildren to the career-driven 20-something on a business trip. With luck, you'll likely find that delighting guests of all generations isn't that hard to accomplish, and you'll begin to increase your hotel bookings in no time.
Finding Hotel Design Balance With Value Engineering
With value engineering it's easy to create hotel spaces that meet the needs of all your guests. Book a free consultation today: