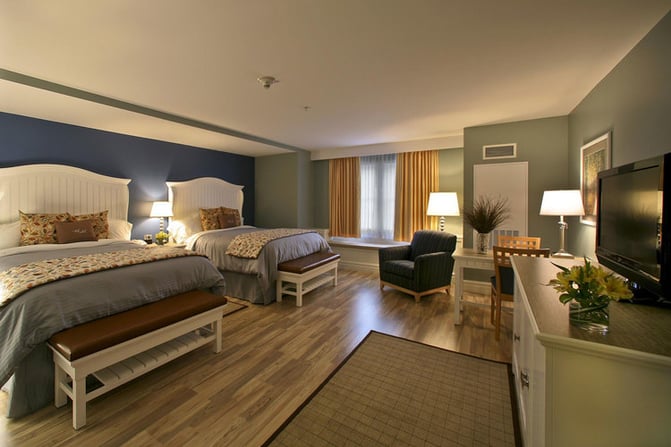 An elaborate process begins the moment you sketch your new hotel interior design inspiration. The furniture needed to fulfill your design must navigate the supply chain from your mind into reality (through manufacturing, delivery, and installation).
With Artone, a one-stop-shop hospitality casegoods manufacturer, you're ensuring top-notch supply chain transparency and efficiency. We've earlier addressed what can go wrong with hotel furniture supply chain breakdowns; now let's discuss what we do consistently to get it right.
1. Responsive Communication
We're with you from the initial consultation. Submit your order, and we'll be your partner from design to installation.
You'll know:
Budget impact

Honest, reasonable completion timeline

Design specs will be followed

Custom plan is secure

Our availability for further discussion
2. On-Site Consultation
Surveying is a key part of the job before installation. A devoted Project Manager (PM) can visit your hotel site (sometimes multiple times) to be the extra pair of eyes you need.
You need to know, well before the final shipment arrives, enough space is blocked out to accommodate:
Plumbing

Electrical wiring

HVAC

Safety precautions

And more
Our PM may see something you and your crews haven't. He or she would proactively recommend an order correction or another fix. You could then avoid a do-over that could cost man hours and potentially tens of thousands of dollars. Don't wait until it's too late.
3. Factory-To-Site Consultation
You may request a "rapid prototype" to test a physical model of the final product in your space. If so, you'll receive frequent updates and pictures of your prototype. A 3D drawing or CAD rendering is good for conceptualizing and visualizing your plan, but a prototype takes another step into reality once it reaches your site.
It would be made of medium-density fiberboard (MDF), which is a cost-effective material sturdy enough to accurately stand in as the real thing.
Does the prototype pass your test?
Dimensions

Spacing

Blocking

Boring for screws and hinges
4. Honest Feedback
Hotel ownership chose your designing prowess and judgment. We respect that. We'll also offer our opinion if an element of the design seems a bit off. Artone's Project Managers, factory management, sales associates, and leadership team members are happy to give an unbiased analysis.
5. On-Time Expectations
Perhaps a hospitality furniture vendor burned you in the past by blowing past a deadline. How much of the blame did you, the designer, ultimately share?
Fear no more. Our lead times are typically 6-8 weeks from approved designs to the final shipment, and we strive mightily ensure your pieces reach the site on time.
6. Delivery and Installation
Delivery and the option for installation are key benefits to choosing Artone as a one-stop-shop hotel furniture manufacturer. We work alongside our sister installation company, CFI of New York LLC, to make your project's final punchlist as smooth as possible.
7. Material Components
You know exactly what you're getting, whether you choose a laminate or wood veneer finish or any number of Artone's varied hospitality furnishing options. In addition to quality, you're assured your American-made product meets the following standards:
Safety

Environmental protection

Intellectual property rights
8. Product Protection
You must secure your project with vendor accountability. We offer 5-year warranties (the industry standard) on all our products, covering defects in materials and workmanship under normal use and conditions.
Supply Chain Transparency Makes Hotel Interior Design Easier
There's much to be done to finish your hotel interior design project:
On time

Within budget

Meeting quality standards
You can rely on our supply chain transparency to make the process easier.