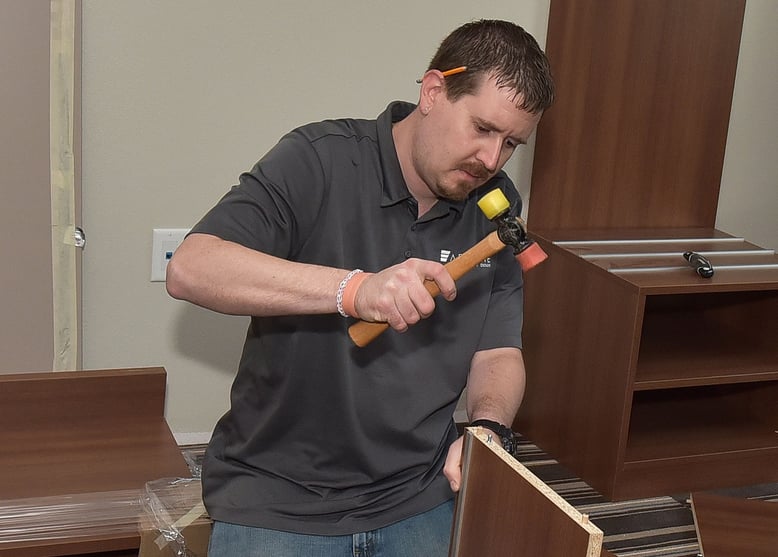 FF&E installation comprises 3 parts: furniture, fixtures, and equipment. Each is critical to completing the hotel design puzzle. An experienced furniture installation company will complement all parties involved to ensure a cooperative and successful project.
We've found that customers can save between 5% and 10% by choosing both furniture manufacturing and installation as a package. In those cases, the burden is taken off your shoulders and managed from the factory floor to the final on-site punch list.
On average, FF&E represents about 12-16% of total the financial investment of a standard hotel construction project. In the end, choosing a furniture manufacturer that can also tackle its part FF&E installation can be a great cost-trimming consideration, even after the initial investment.
A Seamless Relationship for Overall Quality
A responsive vendor will work seamlessly alongside hotel staff and other FF&E providers. Keeping in mind that your complete design involves numerous other factors is important to the overall success of the job. A simple oversight can cause a series of implications for the entire project:
Electrical

Cable/fiber optics

Plumbing

HVAC

Safety and ADA compliance



You're in the business of creating a comfortable and appealing atmosphere for travelers. Hotel furniture affects guests from different sensory perspectives. From seeing it to sleeping on it, guests also maneuver around the furniture to accomplish daily tasks - or even for their own safety.
Thus, placement can mean the difference between guests having a enjoyable experience or never booking again (remember: hotel guests want safe, unfettered access to electrical outlets, data ports, and other fixtures with minimal effort).
A successful project requires strong cooperation and communication to integrate each piece into an overall picture of quality. Failure to coordinate could mean lost time, lost/damaged product, and lost money.
Saving Hotel Construction Costs by Avoiding Rookie Mistakes
Moving your furniture from A to B carries inherent risks. Furniture can be heavy or awkward to move - or both.
Rookie mistakes with transportation and installation can sometimes result in your furniture suffering a range of damage possibilities:
Unsightly cosmetic nicks and scrapes

Severe structural damage, forcing a complete (and costly) factory re-do
Experience and planning, however, make easy work of moving and assembling your furniture around obstacles and cramped spaces.
A strong furniture manufacturing/installation team will also document the elements of your order and offer a standard 5-year warranty, should unavoidable errors occur.
Organizing Cost-Effective Delivery and Installation
Your finished furniture will likely reach the site as other trades are wrapping up elsewhere in the hotel. Disorganization can be costly.
An orderly hospitality casegoods manufacturer will assign a dedicated Project Manager (PM) to work with everyone involved to bolster logistics and communicate to ensure rooms are prepped for the installation of the furniture.
In addition to overseeing the fulfillment of your order in the factory, the PM can:
Coordinate delivery date(s) to optimize the site construction schedule
When it's in the install team's hands, they'll unload, transport, assemble, and clean up afterward.
Cooperative FF&E Installation Services Can Cut Hotel Construction Costs
You need many moving pieces to come together seamlessly to punch out a successful hotel project.
Don't let the furniture part of FF&E installation become a question mark. Choose an experienced installation team to avoid costly mistakes and cooperate with other hospitality services on-site.
Editor's Note: This blog post was originally published on October 19, 2017, but was updated on June 24, 2019 to reflect updated information.