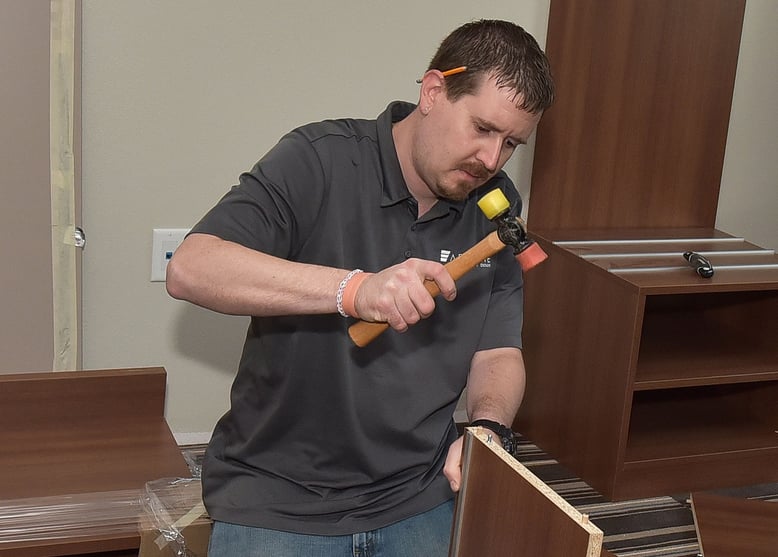 From a simple bathroom refresh in a guest room to a hotel lobby overhaul, there's nothing more infuriating than spending more money than you have to.
While hotel construction projects often represent at least a six-figure investment, even they can have budget limits. And even with a reserve money stash to address the "what-ifs," staying within budget is always the first choice.
On average, hotel FF&E (fixtures, furniture & equipment) represents 12-16% of the total investment of a standard hotel construction project. Choosing a hotel FF&E installer and manufacturer is a great way to cut costs or keep a budget in check.
How much can it cut costs?
We've found customers save 5-10% by going this route.
Optimizing Your Hotel Project's Budget Through FF&E Installation
One of the bigger components of a hotel construction project's budget, FF&E installation is an area that presents several opportunities for savings -- both immediate and long-term. Your installer can help you save on hotel FF&E costs through:
Delivery and installation

Layout

Careful handling
Delivery and Installation
Your finished hotel FF&E will likely reach your facility as other steps of the project are wrapping up. Disorganization can be costly -- even something such as a small delay can add up to thousands of dollars in unanticipated expenditures.
An experienced hospitality casegoods manufacturer will assign a dedicated project manager (PM) to work with everyone to streamline delivery and installation. They'll handle:
Scheduling

Logistics

Communication
In addition to overseeing order fulfillment in the factory, the PM should also visit your site ahead of time for surveying to get a lay of the land and map out internal delivery routes.
When your order's in the install team's hands, they'll unload, transport, assemble, and clean up afterward.


Placement
You're in the business of creating a comfortable and appealing atmosphere for travelers. Hotel furniture design affects guests from different sensory perspectives. From seeing it to sleeping on it, guests want FF&E that doesn't make them second-guess the convenience or safety of their stay.
Placement can mean the difference between guests having an enjoyable experience or never booking again. Remember: Hotel guests want safe, unfettered access to electrical outlets, data ports, and other fixtures with minimal effort.
Your FF&E placement should also be mindful of other elements in a space, including:
Electrical

Plumbing

HVAC

Safety and ADA compliance
A successful project requires strong cooperation and communication to integrate each piece into an overall picture of quality.


Careful Handling
Moving your FF&E from point A to point B carries inherent risks. Furnishings can be heavy or awkward to move -- or both.
Rookie mistakes with transportation and installation can result in your furniture suffering damage that can mean expensive repairs or redos, such as:
Unsightly nicks and scrapes

Severe structural damage
Experience and planning, however, make easy work of moving and assembling your furniture around obstacles and cramped spaces.
A cohesive furniture manufacturing/installation team will also document the elements of your order and offer a standard 5-year warranty, should unavoidable errors occur.
Hotel FF&E Installation to Keep Your Budget in the Black
A successful hotel project has many moving pieces that ultimately come together seamlessly.
Your FF&E installation shouldn't be a cost driver, nor should it be an impediment to other parts of your project. Choose an experienced installation team to avoid costly mistakes and cooperate with other hospitality services on-site.
Editor's Note: This blog post was originally published in October 2017 and was recently updated to reflect industry trends.