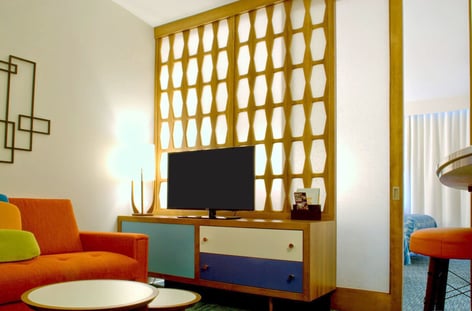 Hotel guests first see the building's exterior -- its architecture on the macro scale.
But no matter how ornately it's built, it only scratches the surface. Guests will spend the most time with their senses tuned to your hotel room design.
You can complement the room design with more aesthetic appeal to attract new visitors and coax old ones to return time and again. But keep in mind, less is more.
4 Hotel Room Design Trends for the 2017 and Beyond
1. MINIMALIST DECOR
Today's world is filled with distractions. Everyone moves a mile a minute in every direction -- with tech devices persistently chirping in our pockets.
Allow guests to retreat from the clutter (but, for goodness sake, make sure there's WiFi to stay connected).
Whether you're designing the next 5-star resort on the Las Vegas Strip or the newest installment of an economy hotel chain in Minnesota, the contemporary style is simpler is better.
No worries, you don't have to be boring. Here are 3 examples of how you can still be creative and trendy.
Trends in contemporary commercial furniture and style lean toward:
Straight-line design

Warm color schemes

Minimal workspace

Energy efficiency
Many hotel guests now value function over form. While still willing to be engulfed in luxury, they don't wish to be overwhelmed by it.
2. SPACE OPTIMIZATION
Hotel lobbies are no longer simply places to check in. Guestrooms are no longer simply places to sleep.
Space serves function. Office space is wherever people can stand, sit, or lie with a smart device. Communal space is anywhere people can socialize.
Give guests the tools to work and network wherever they may be:
Easily accessible WiFi (with a strong signal)

USB ports

Abundant electrical outlets

Multimedia hubs
Fill wide-open spaces with comfortable places for guests to work or to relax and chat. For aesthetics, consider the current trend of blending indoor and outdoor spaces.
3. LIGHTING
Hotel guests often complain about a lack of lighting. You want to install the optimum light output to ensure they can work, read, relax, and live.
The right amount of lighting can lift the ambiance for a range of human moods and feelings:
Serenity

Deep relaxation/meditation

Concentration

Physical comfort

Passion

And more
Use lighting at the correct angles and intensity levels to highlight architectural points of interest in your hotel project.
LED lights bring ROI and energy-efficient benefits very quickly. They greatly extend the life of the lighting in your hotel's guestrooms, corridors, lobby, and interior and exterior spaces.
An LED light can last for more than 5 years of continuous operation, as compared to only about 2 months with a conventional incandescent light.
LED lights also feature:
A range of

color temperatures

-- from cool (blue hues to make people more alert) to warm (red hues to make them more relaxed)

A high

CRI (color rendering index)

-- affecting how well colors are seen under varying light levels
Notably, fluorescent lights, while more efficient than incandescent, are still 50 percent less efficient than LED. Fluorescent lights also contain toxic mercury and must be disposed of properly -- for a fee.
4. DESIGN EFFICIENCY
You must also consider how your design will be maintained over time. Hotel guests won't be the only ones living with your work.
Hospitality service, maintenance, cleaning, and support staff will deal with your furniture and other design elements every day -- long after you and your crew have packed up and left.
Consider the following:
The guests' path and perceptions from the lobby and front desk to their guestrooms

The frequency maintenance staff and cleaners will work

with and around

your design

How the design and layout fit the interior architecture
Will the staff be able to easily move even the heaviest of your design elements? Is there room to clean and maneuver around and under them?
An experienced hotel manufacturer/vendor will help you implement these simple, function-over-form design aspects through installation and beyond.