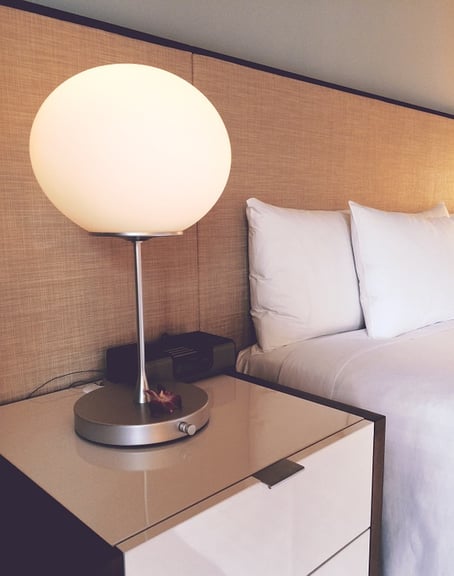 The days of the standard, run-of-the-mill hotel stay are coming to an end. Sure, there will always be economical options and roadside stops for guests who simply need a place to lay their heads. But hospitality trends today require character and personality to enhance the guest experience.
Customized hotel bedroom furniture plays an integral role in that guest satisfaction - and not just in terms of comfortability. Incorporating certain materials and accessories into your furniture is certain to delight guest senses and personalize their stay.
Materials & Accessories Hotel Guests Love in their Hotel Bedroom Furniture
1. Cultural Materials
A hotel guest in Nashville wants to feel like she's in Nashville. A guest in Seattle wants to feel like he's in Seattle.
With that in mind, you must craft a hospitality design that pays homage to regional styles and cultures. Materials and designs should emphasize local and regionally compatible items. For instance, decor including industrial steel work would likely seem out of place on the Florida Gulf Coast, while decor with tropical undertones wouldn't fit the true culture of Pittsburgh.
2. Metal Fixtures
It's long been common practice to adorn wooden furniture with metal fixtures, when applicable. Very subtle touches of brass, copper, or bronze can really spruce up a headboard or add a touch of class to a nightstand.
It's not just about enhancing looks with brass knobs or even gold trim, but rather accenting wooden furniture casegoods elements with the ideal metallic sheen for the desired ambiance. For example:
Wrought iron for a rustic or industrial appeal

Chrome for a futuristic look

Gold, silver, or bronze for upscale style
(Good news: While the new steel and aluminum tariffs may have slightly increased hotel construction and renovation costs, the prices of other precious and abundant metals could be cheaper by comparison.)
3. Technology
Yes, furniture can indeed be smart. In fact, in hospitality's never-ending search for the "hotel room of tomorrow," the industry brain trust has already stumbled upon such futuristic motifs today.
Hotel casegoods furniture can actually be manufactured with built-in tech items like:
Wireless charging

Outlets/data ports

LED/mood/circadian lighting
Taken a step further, the entire guest room can be conceptualized to enhance the experience with technology for both health and wellness and entertainment. Delight guests with 21st-century concepts (from touchscreen monitors in bathroom mirrors to voice-recognition and casting technology like Amazon Echo or Google Home).
4. Contemporary Laminate
Years ago, laminate was viewed as the painfully obvious economy option with few design options. That's no longer the case. Laminate and veneer are becoming incredible difficult to differentiate to the naked eye.
If you're working on a project that is demanding the look of real wood, but can't support the budget, you're in luck. An experienced, custom casegoods manufacturer will be able to value engineer a less-expensive option.
5. Three-Dimensional Laminate (3DL)
Let's take laminate a step further. Laminates are no longer just flat pieces of polyvinyl glued to wood. They can be manufactured to encompass three-dimensional shapes for a seamless fit around a medium-density fiberboard (MDF) base.
This 3D membrane covers the face and sides of a pieces of furniture like:
Headboards

Cabinet doors

Drawer facings

Nightstands

Wall panels

& More
3DL is durable and completely invulnerable to tearing or pulling apart from the base. What's more, it can be designed and manufactured to meet any diverse style.
6. Digital Printing on Veneer
Wood veneer is a beautiful upscale choice for its undeniably genuine hardwood look and feel. But veneer style isn't limited to just that. Digital printing can make your veneer fit any design scheme you choose.
Consider the aesthetic power of digitally printing any picture, text, or graphic on your furniture. Could it be an image of the rainforest or of the New York skyline? Or how about an attractive floral pattern?
Your hotel guests will be pleasantly surprised by the attention to detail.
7. 3D Printing
Furniture and fixtures that can't be easily created by standard means can easily come to life with 3D printing. As an example, consider statement pieces within a hospitality design that are so unique they could only be the work of a skilled artisan's hands.
Not necessarily.
3D printing can create such pieces, layer by layer with bioplastic, for a design without conventional restraints.
These Material & Accessory Options are Certain to Delight Hotel Guests (& Bring ROI)
You have just a few seconds to make a good impression upon hotel guests. In many ways, the materials and accessories within your hospitality design are as important as the furniture itself.
Consider these options in your customized hotel bedroom furniture options. They'll please your guests … and your bottom line.