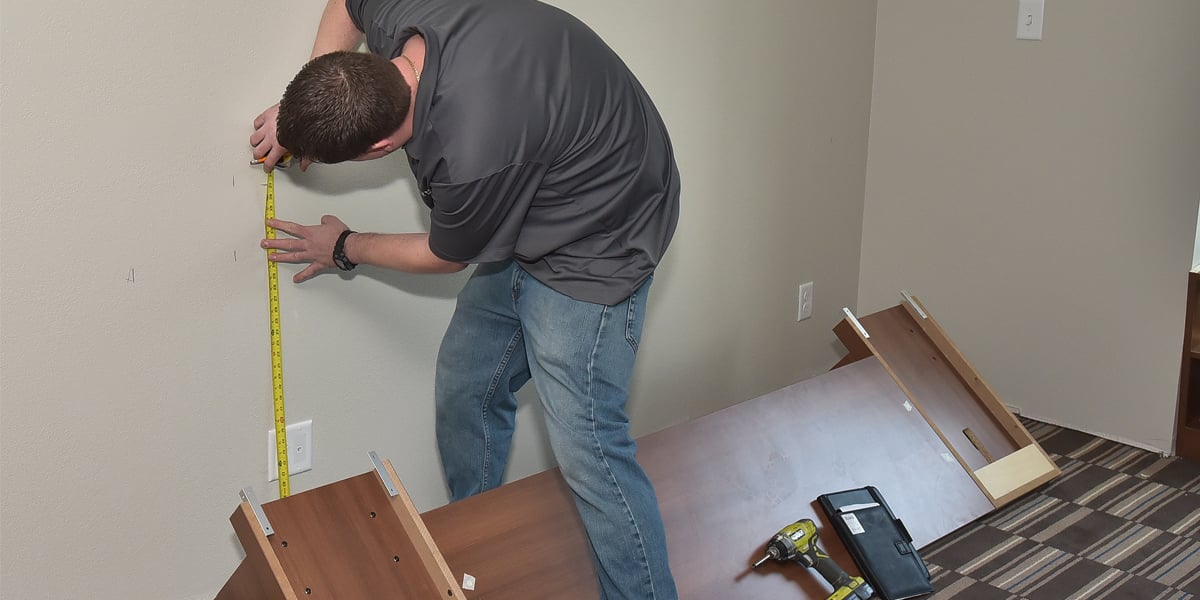 The final part of any hotel FF&E (fixtures, furniture & equipment) project is one of the most important: installation. It's the last leg of your order's journey to your hotel, and the last place you'd want anything to go wrong.
While placing some casegoods is easier than others (i.e. affixing a headboard to a wall vs. positioning a wardrobe), their installation requires the same attention to detail and careful handling as their manufacturing does.
Choosing a hotel FF&E installer isn't a decision that should be based on price or convenience -- as tempting as both of those factors are to stay within budget or schedule. Your casegoods represent a major investment. Having them put together on-site or installed is important to maintaining their quality from the beginning of their useful life at your hotel.
In hospitality FF&E procurement, manufacturing and installation go hand-in-hand. And both elements are best completed by the same entity.
Aligning Hotel FF&E Installation With Manufacturing
There's something to be said for keeping things simple, especially in a hotel construction, renovation, or refresh project.
While it's certainly possible to have your hotel casegoods installed by a third party separate from the manufacturer, there are four major disadvantages to this approach:
Logistics

Budget overages

Product familiarity

Increased damage risk
1. FF&E Logistics
Working with a third-party installer can be a logistical nightmare.
Rather than only dealing with your manufacturer, you'll now have to coordinate the production schedule and your project's timeline with the availability of an installer. Sometimes those things just don't sync up. And that's not to mention the schedule of construction crews if you're overseeing a hotel construction or renovation project.
Depending on the size of your order and your schedule, you may find yourself dealing with multiple casegoods installation companies to get the job done.
Working with a manufacturer that doubles as your casegoods installer lets you bypass juggling more schedules than necessary.


2. FF&E Budget Overages
Remember all those schedules you'd have to manage when working with a third-party installer? What happens when there's a setback in any one of them? You'll likely face a costly project delay and need to scramble to get your project back on track.
Working with a hotel FF&E installer and manufacturer opens your project up to consolidated expenses. Most casegoods manufacturers that offer installation include the additional service in their overall bid for the project -- usually at a discounted rate.


3. Product Familiarity
There's no one more familiar with your hotel casegoods than the manufacturer -- they were with your order from the beginning.
When it comes time to place your casegoods at their final destination or even put them together, a manufacturer/installer already knows what needs to happen. Unlike a third-party installer, there's no learning curve -- saving your project on labor costs and keeping it on schedule.


4. Increased Damage Risk
This disadvantage is simple math: When the number of points of contact for your casegoods increase, so too do the odds for damage.
A third-party installer represents an extra set of hands involved in the mix and more opportunities for accidental damage. And, unfortunately, some installers don't handle your order as carefully as your hospitality casegoods manufacturer would.
Vetting a Hotel Casegoods Manufacturer & Installer
All hotel furniture suppliers are different, and there's no set standard for those offering installation services. When evaluating a manufacturer for their installation capabilities, be sure to ask about:
Site visits: A site visit completed long before your casegoods are manufactured or arrive at your property saves time and money. Seeing where each product is installed and the paths to get there helps the installation process go smoothly. There's no lost time getting from point A to point B or positioning your furniture, nor is there risk of your order not making it through the front door.
Existing casegoods removal: Just like when you order a new couch, what happens to the old one you're getting rid of? Not every installer removes old casegoods or does so for free.
Packaging: What are your casegoods arriving in, and are you responsible for disposal of any packaging materials?


When a Third-Party FF&E Installer Is the Only Option
Though not all hospitality furniture companies offer installation as part of their service package, that doesn't mean you're out of luck. Some hospitality casegood manufacturers have third-party installation firms they've regularly worked with in the past. While a manufacturer's preferred third-party installer isn't the same as working directly with your FF&E supplier, it is the next best thing.
In instances where your casegoods manufacturer can't recommend a third-party installer, ask about any special requirements for putting together or placing your casegoods. This information should be shared up front with any potential installation partner.
Streamlining Your Project With an FF&E Manufacturer & Installer
While hiring a third-party hotel FF&E installer may seem like an easier and most economical option, there are risks you may end up paying for by going that route.
Working with a manufacturer that also installs your casegoods limits any issues impacting your project's schedule and budget while protecting the integrity of your new furnishings.
Keep Your Project on Track From the Beginning
Planning goes a long way in any hotel casegoods project. Download a copy of our Custom Hospitality Furniture Production Timeline for Scheduling, Planning, & Tracking to help you stay within your project's timeframe.