As the world continues to grapple with the COVID-19 pandemic, the safety and well-being of hospitality employees and customers remains first priority.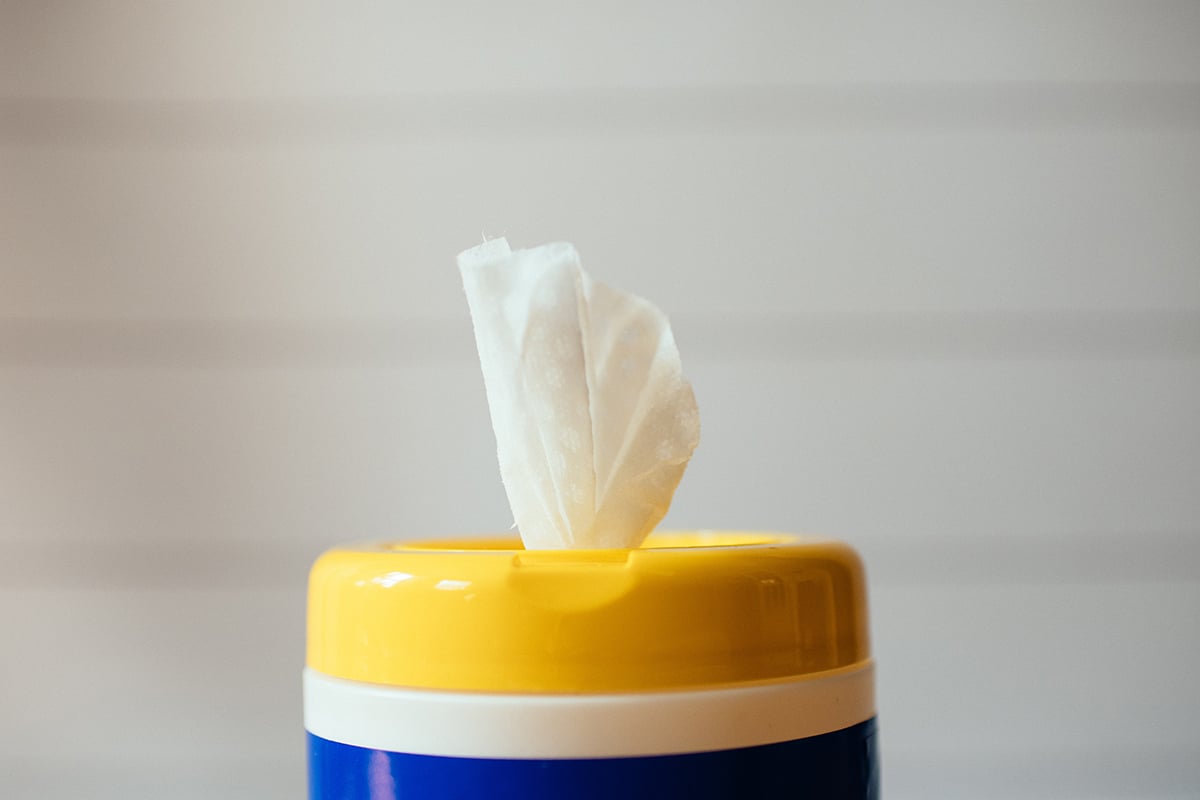 That's why hospitality casegoods manufacturers must also continue to take every necessary precaution to prevent coronavirus's spread.
Since the start of the pandemic, we've all seen a change in the hospitality community. Both guests and hoteliers are more worried than ever about safety. This shared concern will likely impact the industry for years to come.
As a New York State Essential Business and a hotel furniture manufacturer in the USA, here's how we feel your manufacturer should support you in protecting guest health and safety.
A Hospitality Furniture Manufacturers' New Normal
Let's start by first understanding how coronavirus is spread.
According to the CDC: "...transmission of SARS-CoV-2 to persons from surfaces contaminated with the virus has not been documented. Transmission of coronavirus occurs much more commonly through respiratory droplets than through objects and surfaces, like doorknobs, countertops, keyboards, toys, etc. Current evidence suggests that SARS-CoV-2 may remain viable for hours to days on surfaces made from a variety of materials. Cleaning of visibly dirty surfaces followed by disinfection is a best practice measure for prevention of COVID-19 and other viral respiratory illnesses in community settings."
Hotel industry casegoods suppliers must understand the role their products have in keeping your guests and staff safe.
Casegood products are some of the few material items that have decades-long longevity within your hotel. Hospitality casegoods have some of the highest-volume touchpoints.
That's why Artone supplies you with proper instructions for cleanliness and maintenance for standard wear-and-tear.
Protecting Our Employees, Customers & Community
Preventing the spread of COVID-19 starts with us. Artone has taken additional measures to confirm our facility meets (or exceeds) current health regulations.
Each day, our team members are required to read and acknowledge by signature a "COVID-19 Healthy Screening Assessment Questionnaire." This document outlines coronavirus symptoms and what team members should do if they start experiencing them.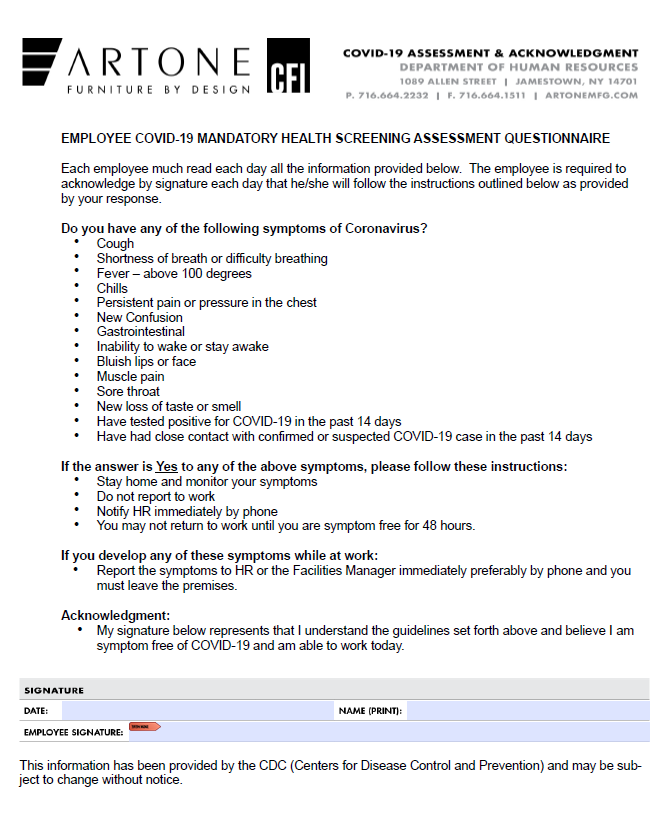 We have also hired additional staff to sanitize surfaces throughout our offices and manufacturing facility that are frequently touched, such as:
Doorknobs
Handrails
Bathroom fixtures
In addition, we have reinforced hygiene and exposure guidelines with our employees.
If we become aware an employee is ill or potentially exposed others to COVID-19, we immediately implement isolation and sanitization protocols, as well as begin necessary quarantines based on guidance from local health officials.
Research & Education
Before your casegoods leave our facility in Jamestown, NY, our team has done everything to ensure they meet health and safety standards.
Our team regularly investigates the latest-and-greatest materials for casegoods and trends for hotel room cleaning, such as:
Our research allows us to provide safer finished products and critical cleaning information to our customers.
A Domestic Hospitality Furniture Manufacturers' Promise
Though we are living in uncertain times, there's one silver lining in COVID-19 -- it's reinforced that guest safety is priority #1 in the hospitality industry
We remember and continue to focus on the things we can control that have a positive impact on bringing our country back to normalcy -- such as buying domestic products and supporting domestic manufacturing.
While our team is always keeping an eye on the future, we're committed to helping you have a positive impression on your guests today.
Want to learn more about how Artone casegoods can help you keep guests and staff safe? Schedule a complimentary value consultation with us today!