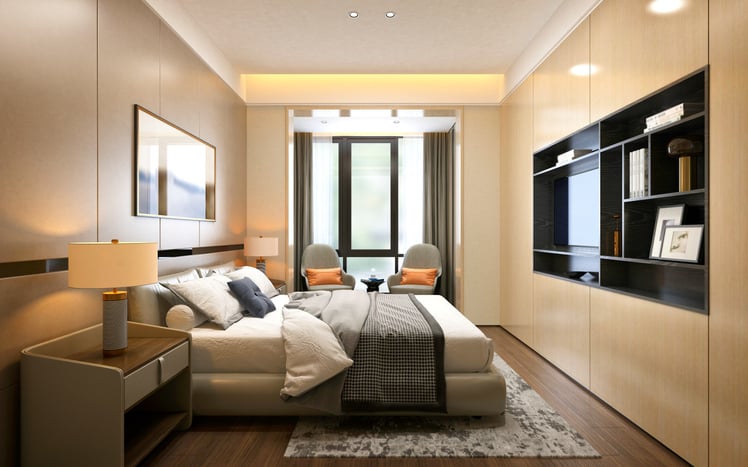 The world is reopening. And after nearly two years of an increasing sense of pent-up demand, guests are looking to travel again.
This year is projected to be one of the busiest years for the hotel and travel industry, as more people are feeling comfortable staying away from home.
While a hotel's cleanliness and amenities will always be a top concern, guests' desire to feel a connection with the area they're visiting also remains. What's more, guests are more interested in having a culturally well-rounded experience. In other words, traveling goes beyond checking a box for places to visit.
To that end, guests are no longer looking to stay in a hotel that feels sterile and utilitarian.
A hotel's design – including its fixtures, furniture & equipment (FF&E) – plays a big role in a traveler's experience and sense of place when traveling.
That's why more hotel room design trends have shifted to integrating regional and local influences into guestroom design.
Incorporating Location Into Your Hotel's Guestroom Design
Consider a traveler visiting New Orleans. Their long-overdue trip has been something they've been looking forward to, and a big reason for their visit is to experience the culture and history of the Big Easy.
Integrating location into a hotel's design goes beyond placing a few black and white photos of local historic landmarks throughout the facility (though that is certainly part of it).
To give guests a stay that helps them better connect to the locale they're visiting, keep these design tips in mind for your hotel guestrooms:


Color Palette
It's no great surprise that color impacts a guest's experience. Color is key trigger for emotion and memory.
When integrating location into a hotel's design, pay careful attention to color selection. The last thing a guest expects to see when staying at a hotel in a tropical climate are dark and muted colors – bright and soft colors are the ideal color palette. Conversely, dark and muted colors work better for hotels in other regions.
Materials
Some locations are defined largely by their architecture. Remember New Orlean's French Quarter? Many of the historic buildings there are characterized by their use of stucco, brick, and weatherboard. Or what about a lodge deep in the woods of the Northeast? Chances are you'll see plenty of rich, knotty wood.
Laminates are a great choice for hotel FF&E as they come in a wide variety of pattterns and finishes. Unlike 30 years ago, it's easy to find a laminate that matches materials, such as wood, or appears to have the same texture as stucco.
FF&E Design
From a headboard or countertop to an armoire or desk, a hotel room's FF&E can easily pay homage to a locale.
Similar to finding materials that mirror the look and feel of a community, hotel FF&E can share similar design traits. For instance, if many buildings have defined edges or blend in with nature, a guestroom's furnishings can, too. The same goes for hotel reception furniture design, too. In a sense, FF&E can bring visually impactful elements of a locale into a hotel room.
When creating FF&E or casegoods that celebrate a region, it's best to work directly with an experienced hospitality contract furniture manufacturer. In addition to their expertise in hotel furniture design, they're able to spend more time getting to know your project to meet its needs.
Resource: Learn how value engineering helps you get the most from your hotel FF&E:
Decor
One of the easiest – and most impactful – ways to incorporate regional influences into guestroom design is through decor. Usually, a room's decorations are among the first things a guest notices when stepping in for the first time.
Images of nearby landmarks, locally produced artwork, and adornments made by area craftsmen are simply ways to bring a hotel's hometown to its guestrooms.
Other Hotel Design Trends in 2022 to be Aware of
Whether you're opening a new facility or refreshing an existing hotel, here are three other hotel bedroom design trends that are impacting guestroom design:
In-Room Office Space
Many travelers aren't staying in a hotel for leisure – they're there on business. While a business lounge is an expectation for any hotel, many guests are looking for space inside their hotel rooms to work.
What makes a business traveler's stay better? A guestroom that has:
Multifunctional desks

Strategically placed outlets

Shelving & storage


Multipurpose Furniture
In recent years, hotel rooms have gotten smaller. For the hotel designer, this means doing more with less. A guestroom's FF&E can help easily overcome space limitations without having guests feel like the space is lacking. Multifunctional furniture helps bridge that gap.
For instance, desks can double as a storage space, and triple as a charging station, while smart headboards can have integrated flat screens that display images.
Open-Concept Layouts
While hotel rooms are becoming smaller, they're also becoming more open out of necessity. Many hotels are foregoing traditional storage options, such as closets or large casegoods. In addition, designers are carefully considering placement for casegoods that do make the cut. Where large dressers or wardrobes once stood is now an empty space. And the TV that was on top of the dresser? It's mounted to the wall on a multifunctional TV panel.
Hotel Room Design Trends for Location and Function
The return of regular occupancy rates is exciting – it's a sign of the beginning of the post-COVID era.
With guests coming back, helping them feel more immersed in an area is an important element of providing a quality stay. Through tactful guestroom design choices, a hotel room brings a locale to a traveler.
Bring Your Modern Hotel Room Ideas to Life
Our team is ready to get to work creating hotel casegoods that match your project's vision.