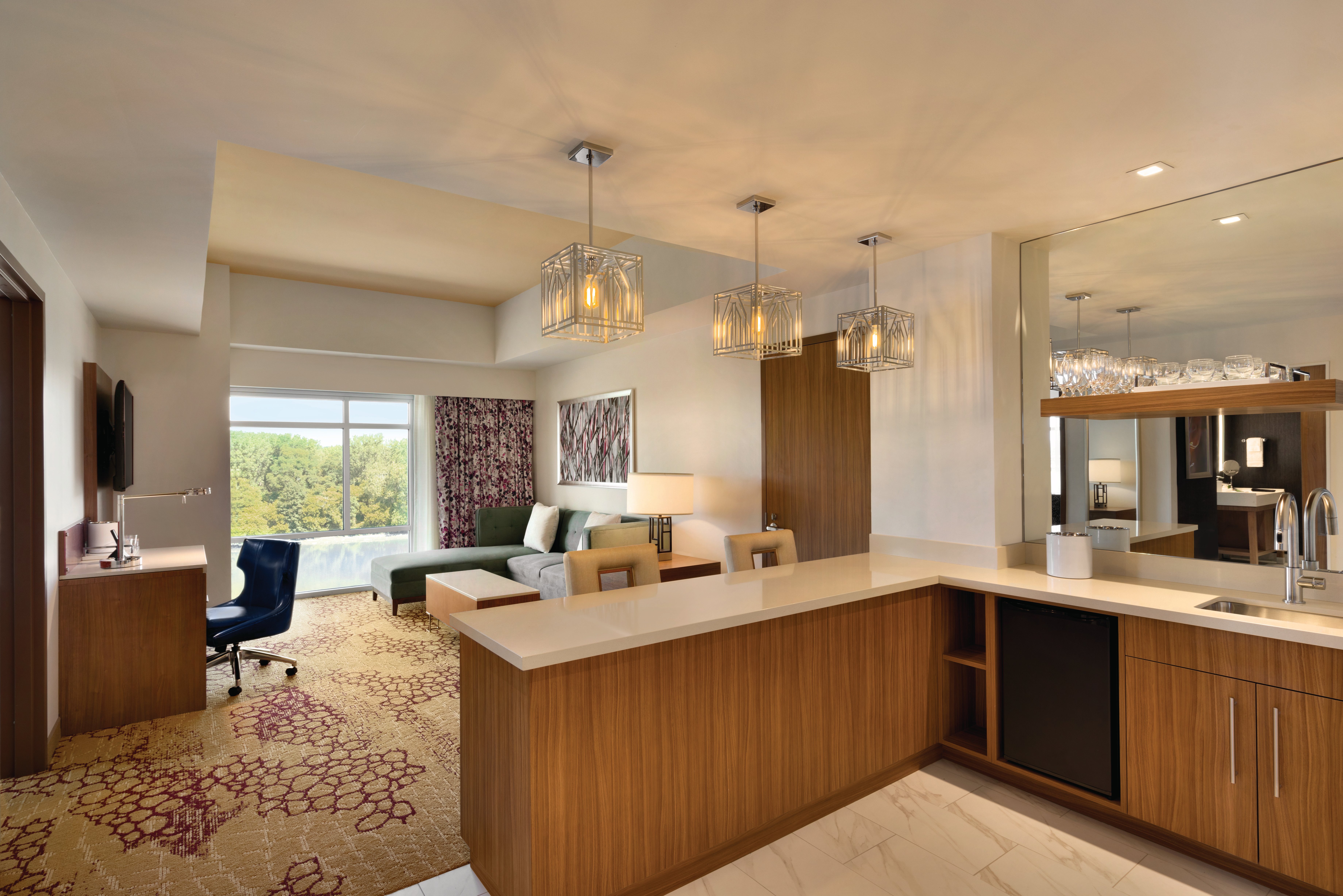 Veneer, laminate, textured laminate, solid wood, lions, tigers, and bears, oh my! The material options for hospitality cabinets may seem endless.
Choosing a material that looks good is only half of the battle when it comes to the of design hospitality cabinets and furniture. The appearance of these pieces is as important as its structural strength.
In the case of hotel cabinets, materials need to be able to withstand abuse from guests and staff and still look appealing -- over the course of many years! And these factors depend greatly on the materials used.
Best Materials for Hospitality Cabinets
Laminate
Wood Veneer
Solid Wood
Laminate
For years, laminates have carried the connotation of being the "cheaper," inferior material when it comes to hospitality. However, in recent years, laminates have made major advances; from color options to finishes, today it takes a trained eye to notice the difference between some laminates and wood finishes.
NOTE: the vast array of laminate textures are created during the pressing process with a stainless steel plate. Depending upon your style and design you there are many finish options to choose from.
Material Durability: Laminate is a man-made product comprising synthetic and natural materials (usually many layers of kraft paper saturated with phenolic resin and pressed under extreme pressure). The material is durable and tends to be heat- and scratch-resistant, making it a great long-term investment that's easier to care for.
Wood Veneer
Known in hospitality for its rich and more varied look. Veneer has been a staple in hospitality cabinets for years. It allows companies to use durable substrates like MDF or readily available, cheap hardwoods while giving cabinets a high end look; for less.
Material Durability: Wood veneer is a thin layer of genuine hardwood (usually around .6mm). Typically, veneer is bonded, or glued with adhesive, to a less-expensive surface (MDF, particle board, etc.). However, unlike laminate, veneer is sensitive to water and can get serious damage from condensation. Veneer is also sensitive to hot plates or cups, which can cause it to blister and damage the finish.
Solid Wood
By definition, solid wood refers to natural lumber (examples: oak, cherry, walnut, etc.). When you hear someone say, "these are solid wood cabinets" that means they consist of wood only. While "engineered wood" cabinets (a.k.a composite wood) consist of a a mixture of real wood, veneers, fibers, resin and adhesives. Understanding the difference is important.
If the decision on hospitality cabinets was driven by appearance and style alone, solid wood is unparalleled. It is the bar the other materials strive to resemble.
Material Durability: Just as different wood types have different aesthetic qualities they also bear differences in durability. For instance, red oak is stronger than white oak; however, white oak is more commonly specified because it is better looking.
Overall, solid wood is impressively strong and sturdy. However, one must also consider, solid wood, in its natural state has a tendency to expand and contract with changes in temperature and humidity. Warping and cracking can be even more noticeable when the wood is painted.
Making The Right Choice
Solid wood is obvious winner when it comes to cabinets, right? Not necessarily.
When designing or purchasing hospitality cabinets it is important to take into consideration their end use. If you are looking to buy something that will last for decades, solid wood is the right decision. Within a hospitality environment, however, furniture and cabinetry are often designed to appeal to current market trends; so choosing (and investing in) solid wood may not make the most sense long-term.
Only you can make the right choice for your hotel. Choosing to work with a manufacturer well-versed in all aspects of hospitality cabinets, materials, and construction in an investment worth making.