"A 2018 forecast performance by CBRE projects(paywall) that Boutique-Lifestyle properties are set to enjoy the greatest gains in RevPAR (revenue per available room) as well as the highest ADR (average daily rate) during the year. That's great news for owners, investors and developers."
In addition to design trends, advances in innovations like social media and technology, as well as major players taking stakes in the game, we've seen the lines - previously defined in hospitality - become arcane.
But what are these trends that will factor into a hotels inevitable success or failure?
3 Crucial Boutique Hotel Industry Trends To Keep an Eye On
Here are the three key trends that experts are watching closely:
Travelers vs. Influencers
Technology
Collabs
How will they change the industry?
How Social Media Influencers "Influence" Travel Decisions
Another term (or job opportunity) dubbed by the millennial generation -- "Influencer." Millennials find peers that they relate to/are inspired by "influencers." In the social media community, influencers begin to build engaged audiences (i.e. followers) by creating/posting content relevant to their life.
A recent survey completed by Global Web Index put "influencer influence" under the microscope to examine to what extent they affect consumer decisions and purchases.
The findings show a whopping, when consumers are asked, which categories of celebrities or personalities they follow online, food stood out as the top response (45%). Followed closely by beauty and fashion.
"When it comes to influencer marketing it's actually among the more niche, research-heavy topics like personal finance and travel where influencers appear most impactful; around half of those who follow influencers in these areas say that their purchase decisions are affected by this type of content."
"As influencers themselves become more sophisticated, so too do their audiences." So, in order to remain relevant (or successful) social media travel influencers must create content that is practical, relatable, and honest.
Technology
Being "boutique" means is the promise of a personalization. And in today's tech-driven society hoteliers must adopt technology - in various forms - to help facilitate a positive overall guest experiences; from the moment a guest arrives to the second they depart.
Nobody knows for certain where boutique hotel technology trends will be 20-30 years down the line. But, one this is for certain, guest-centric will reign supreme.

Hotel guests today crave technology for both efficiency and entertainment. Implementing these hotel technology trends certainly requires an upfront investment, and understandable so, you want to make sure you're investing in the right pieces (ones that will yield a return in guest satisfaction and dollar signs).
Collabs
Brand partnerships are one the latest trends taking over the hospitality space. From high-end clothing designers to retailers, travel adventure companies and celebrities; everyone is jumping on the "boutique" bandwagon. Boutique hotels across the world are coming to fruition as like-minded brands join forces to create and offer a unique experience to their target guests.
Example of collab properties include:
The Mark Hotel - Located in the heart of the prestigious Madison Avenue, guests of The Mark Hotel are pampered from the moment they arrive. "The hotel's fashion-conscious guests can travel to and from luxury department store Bergdorf Goodmanin a complimentary Bergdorf Goodman Express pedicab."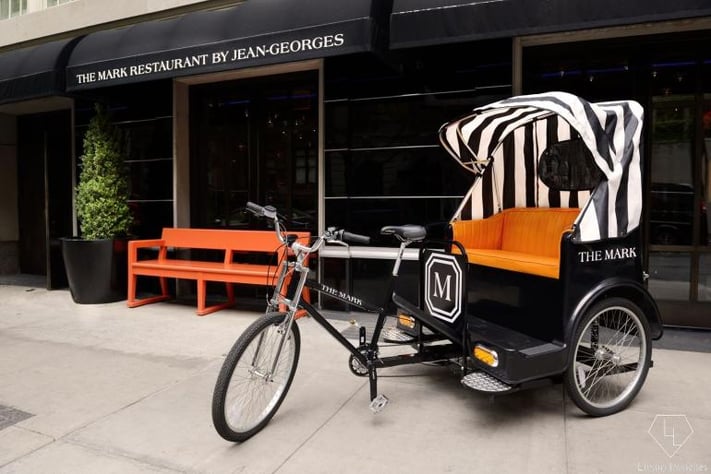 The hotel also houses the Frédéric Fekkai Hair Salon, a food menu created by world-renowned, Michelin-starred chef Jean-Georges Vongerichten, and shoes can be buffed to a mirror-like sheen at the on-property John Lobb Shoeshine Kiosk.
2.Margaritaville - this iconic chain hotel originated from the famous Jimmy Buffett hit song - "Margaritaville". For Parrothead's (i.e. Buffet fans), the hotel pays homage to Buffett's laid-back lifestyle full of; boating, fly fishing, flip flops and friends who are both rock stars and deck hands.
And, who knows, maybe Jimmy infused some subliminal messaging into his lyrics to speak to his future hotel guests, "wastin' away again in Margaritaville."
Determining Trend or Fade
The primary difference between a boutique hotel industry trend and a boutique hotel industry fad is that trends have the potential to be long-term influencers on the market. Trends have a much longer lifespan than fads. In fact, they can continue to be fashionable for years and even decades.
Determining which trends will lend themselves to your hotel's success is in your hands to decide.