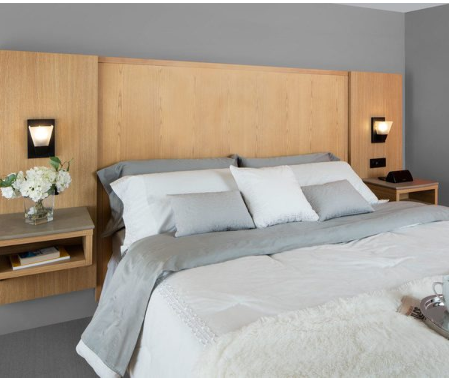 Throughout the years we've seen designers in the hospitality industry go for what's trendy, only to find out the material they choose to incorporate within their design cannot hold up to the rough and bumpy life of being in a hotel room with guests.
That's why in addition to beauty, the best materials for hotel casegoods (or any commercial, high-traffic space) should also be extremely durable to withstand nearly constant use and the occasional rearrangement.
Hotel Casegoods: Make the Most Out of Your Investment
Casegoods are a significant investment for any hotel, and you want to protect that investment.
Although sometimes the more durable material may be the more expensive one, ultimately if you are getting more years out of your casegoods than you would by choosing the cheaper material -- you are saving both time and money.
The following is a guide designed to help buyers make the right choices for their particular hotels.
Laminate: High-Pressure vs. Low-Pressure
Laminate is available in two types: high pressure and low pressure. Horizontal elements, such as desktops, are made of high-pressure laminate. Elements in design that are vertical -- like the sides of the dresser, for example – are often low pressure.
The biggest difference between the two is impact resistance. If you have surfaces that you know see a lot of guest interaction (think suitcases being plopped on top of them) it is generally best to go with high-pressure laminate.
However, it is most cost effective to purchase low-pressure laminates whenever possible, so don't waste your money springing for high-pressure on vertical surfaces; especially vertical surfaces you know will have minimal-to-no guest contact.
Veneer
While we are seeing laminates (specifically textured laminates) specified more often in hotel guestroom casegood projects, veneer is often the preferred/ "go-to" choice by many designers. Ultimately, it's important to let your project's scale and long-term needs dictate the choice. Wood veneer provides you with a strong, "upscale look" for the most genuine look and feel, short of solid hardwood.
Veneer products will generally carry a higher price tag because more effort goes into constructing veneer pieces, so they are usually priced higher than laminate alternatives.
From Wood to Metal
Think of how often you've seen solid wood hotel casegoods with nicks, scratches, stains, and other damage after just a short amount of time in a guest room. It's probably seen more often than not, and because of this, recently, we have seen a transition from the use of solid wood (used most often on legs, cabinet surrounds, etc.) to metal.
Not only is metal more durable, it offers an edgier and unexpected design element that elevates a hotel room and impresses guests.
PVC Edge Banding
The edges of furniture take a great deal of abuse -- they are constantly being knocked and bumped into with suitcases, strollers, briefcases, and anything else you could think of.
The hospitality industry has seen a transition away from a solid wood edge with designers and hotel owners preferring a hardier material that will not chip, crack, and dent.
The material of choice these days is PVC for its higher impact resistance, increased durability, and improved sustainability.
Quartz
Quartz, and other non-porous materials like granite, are showing up on more minibars, bathroom vanities and even nightstands.
Though laminates were often used in these applications previously, there's been a progression toward non-porous materials that are harder and smoother -- making them more durable. The less porous the material, the more it is resistant to water and other moisture that can seep into the casegood and cause irreparable damage.
Marble is another popular material for modern hotel casegoods, though it is considerably more expensive compared to quartz.
3DL
Previously known as rigid thermofoil, 3D laminate is often shortened to simply, 3DL. A thermally-fused laminate with a PVC base, this material often contains up to 15 percent recycled content. The healthcare industry has embraced 3DL because there are no seams to trap bacteria.
3DL offers plenty of advantages for the hospitality industry as well. In addition to its increased impact resistance, this material provides a versatility that translates to a wealth of applications including wall panels, drawer fronts, headboards, desktops and much more.
Designed for durability and longevity, components made with 3DL don't have joints or seams that could invite moisture or bacteria to enter. They are also simple to clean and maintain.
Hotel Casegoods: Choosing the Right Material for Your Design
Whether you're perusing design elements in an effect to update your hotel or you're outfitting a brand-new establishment, keep this hotel casegood materials guide handy to help you choose those elements that deliver (and stay within your budget) the beauty, durability and longevity you need.