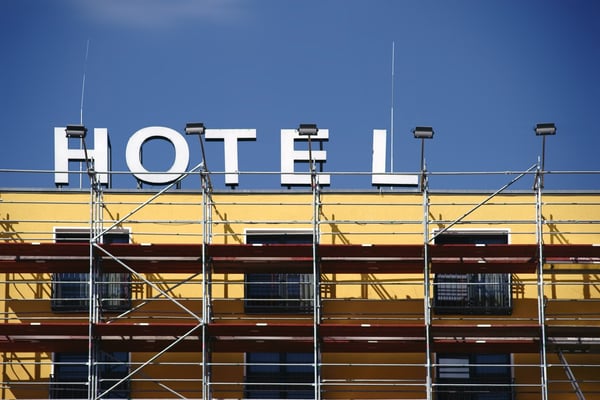 "Cost is no object."
That's a statement you probably will never hear from a client trying to figure out a hotel renovation cost per room budget. Cost is a key factor (if not THE key factor) when deciding not only what changes to make to the room, but what furniture to buy.
Cost, though important, shouldn't be unpredictable. This guide aims to help you predict cost, even in areas that seem impossible to foresee.
What Hotel Renovation Costs Per Room Should Be:
So, how do we calculate the estimated cost? Well, the experts have it all figured out -- and all it takes is a little research to tap into their minds.

They'll tell you there's a renovation cycle that begins around a five-star hotel's third to sixth year, averages $8,000 to $12,000 per room, and works its way up until -- after about 50 years -- it costs approximately $100,000 a room.

This is how average full-room renovation costs broke down for hotels classified as two- through five-star in 2017. As a reference, in the six-part classification below, boutique hotels fall between midscale and luxury.
Economy: $4,310 - $5,963
Midscale: $9,033 - $12,470
Upscale: $14,972 - $20,253
Upper Upscale: $20,241 - $27,118
Luxury: $33,390 - $46,149
Where The Prices Come From:
To take just furniture as an example, renovation prices can vary considerably. That's one reason the per-room costs are stated in ranges. For example, a bed and night stand combination alone can range from $700 to $3,000. Additionally, a dresser, TV stand, and desk combination ranges between $1,000 and $5,000.
It's important to weigh all your options when it comes purchasing furnishings for your guestroom.
Educate yourself. Make sure you have a good understanding of all of the areas your cost should fall into depending on the kind of hotel you're renovating. If you plan appropriately, what could possibly go wrong?
Areas Where Renovation Cost Per Room Can Be Unpredictable:
You can see how expenditures can grow if you don't take a broad view. Establishing the price of the furniture is only one step. If it's custom, you still have the manufacturing process and lead times to consider. And no matter what, you must be considering installation. With all this in mind, consider these budget-busting hazards:
Choosing an inexperienced hospitality furniture manufacturer

Material Choices

Falling behind schedule

Inadequate furniture packaging and labeling



Any one of these errors can lead to wasted time—and time, after all, is money.
How to Keep Furniture Costs in Line with Your Budget:
Choosing the right manufacturer, understanding material lead times, meeting all required deadlines, and ensuring proper labeling help bring about the most economical and least stress-inducing outcomes.

These are some ways to avoid the hazards:

Do your homework.

Check out the manufacturer. Read case studies. Pay a visit and tour the facilities. Ask for references and follow up on them.
Stay on top of the process.

Check in regularly and find out what you can do to help things move along smoothly. The goal is to stay on schedule with no compromise on quality.
Review the packaging and labeling procedure well before the products are ready to ship.

Provide the labeling information that you know will guarantee that each piece goes to the right place. Specify packaging that fully protects the furniture, so you don't have to waste time with repairs or replacement.
Controlling the furniture portion of the hotel renovation cost per room is a team effort for the hotel and the furniture manufacturer. Choosing a custom hotel furniture manufacturer can help mitigate the unexpected costs, and ensure your renovation affects both your budget and your style.

For more details on timeline considerations when it comes to picking a hotel manufacturer for your hotel renovation, check out our production guide and streamline your project management:
Editor's Note: This blog post was originally published on June 1st, 2018 and was edited on July 8th of 2019 to reflect updated information.