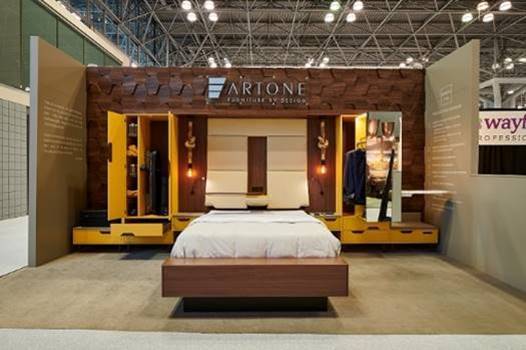 The annual Boutique Design Trade Fair in New York City is one of our favorite shows to attend every year. This year's BDNY fair had double the traffic of previous years, making it the can't miss event of the boutique hotel industry.
BDNY has always been a favorite of ours not only because we get the chance to see new products and designs from other industry members, but we love the chance to display new designs of our own.
This year our booth was titled FORMA, which means "Form" in Italian. We focused on appealing to today's jet setting travelers through functional, modern design.
A

n In-Depth Look At

FORMA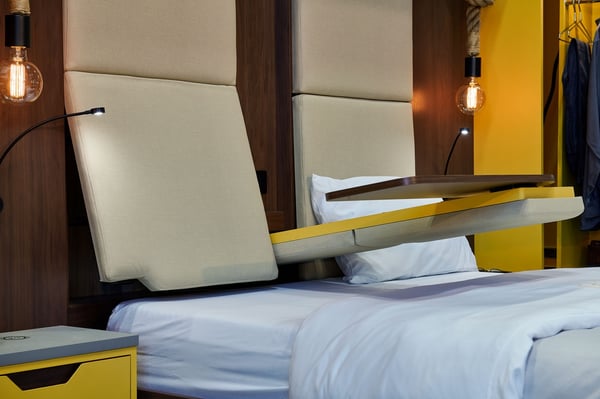 FORMA itself is a new innovation hospitality wall unit that features an upholstered headboard that is equipped with a drop-down, swivel top desk, and adjustable back rest, and reading lights.
Check out this video to see FORMA in action!
In addition to the headboard unit that offers a creative alternative to working in bed, this design offers:
A pull out wardrobe

Fitness unit

Ample storage space

Locking drawer safe

Wireless charging nightstands

Luggage benches

End of bed bench
Thank You To Our Partners
Our FORMA booth would not have been possible without the help of:
Webber Knapp who supplied the mechanism for the adjustable headboard.

Lumicor who provided the dimensional wall product "Kuvio."

Eclipse who provided the mattress used in our display.
Each of these companies offered a unique element to our display and elevated the overall modern design concept necessary for today's on-the-go travelers.
Want to Experience FORMA?
Our FORMA booth display featuring the new headboard piece can be viewed in our Showroom located inside our newly renovated manufacturing facility in Jamestown, New York.
If you stop by, you'll also have the chance to see our 2016 and 2017 designs that were finalist displays at past BDNY fairs.
Next Stop -- NEWH Miami
We're already looking forward to our next show, the NEWH Leadership Conference and Product Showcase in Miami at the JW Marriott Marquis.
The show takes place February 7th-9th, and you can register now to attend!
If you're headed to the show, be sure to stop by booth #200 to see our display.