"Anytime that you can make a guest feel like a place that they are staying in is specifically tailored to them, that spells success," says Miguel Baeza, partner at hospitality design firm Hirsch Bedner Associates, in a recent article for the US News & World Report.
Gone are the days where you walk into a hotel room and see the typical/stale hotel guestroom design. In 2019, decorating a hotel room has become a delicate dance between customization and the guest experience.
What Areas Should You Focus On When Decorating Your Hotel Rooms?
It's About Balance
"Marie Kondo" Your Design
BTOI - Bring The Outdoors In
A Headboard & So Much More
1. The health & wellness trend really took off as a result of the rise in millennial travel. Hotel guests are demanding healthy options during their stays, and not only in the common areas (like the fitness center and restaurant), but in the guestroom as well.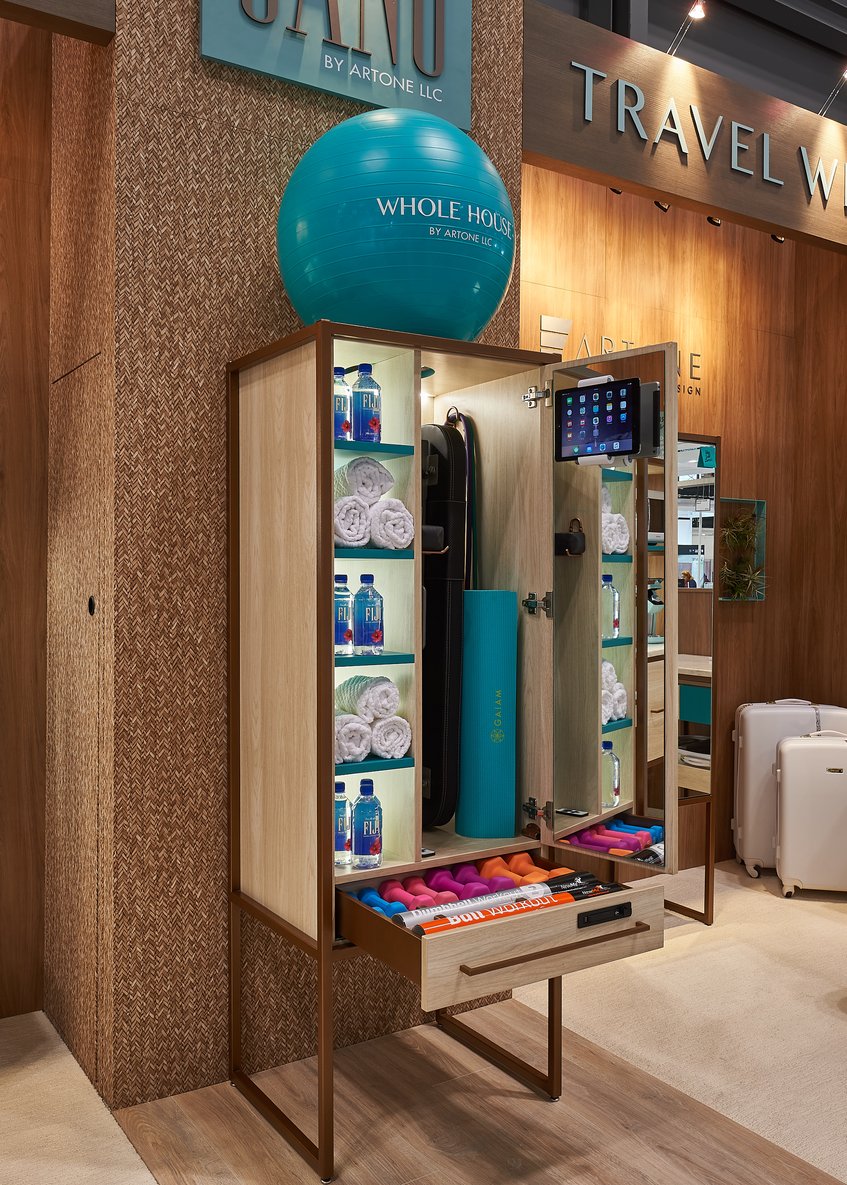 (Source: SANO Collection, Boutique Design New York 2017)
2. Another hotel design trend driven by the millennial/gen-y traveler is "zero clutter."
When it comes to the furniture in guestrooms it reflect two things – proper function and visual appeal. The younger generation of travelers prefer the simplicity that comes with open designs and multifunctional furniture.
There is no longer a need to provide a closed off closets - think open shelving or follow in Marriott's Moxy design and use pegs/hooks on the wall.
(Source: Marriott Moxy)
3. Biophilia design, which "suggests that humans possess an innate tendency to seek connections with nature and other forms of life." In 2019, it will become important to infuse natural, organic materials and colors into your design. We are technology-driven society that craves relaxation and a space to disconnect.
When planning your natural guestroom elements consider:
Natural lighting
Living walls
A healthy connection with the natural world
AirPlantMan by Josh Rosen will give you to ability to create living walls of decorative accent plants that require very little upkeep.
(Source: AirPlant Man)
4. The bed is considered by many to be the most influential piece of furniture with any guestroom design.
When you're decorating a hotel room, a headboard gives you the opportunity to make a visual statement as well as serve a functional purpose.
(Source: FORMA Collection, Boutique Design New York 2018)
5. Considering wall color when decorating a hotel room may be one of the most (if not THE most) important and impactful decisions you make. The room color sets the tone for the experience you want your guest to walk away with having.
Here are some general guidelines and things to consider:
Yellow - Stimulates creativity and energy
Orange - Exudes excitement
Red - Evokes passion
Blue - Offers a sense of calmness and serenity
Green - Synonymous with health and freshness
White - Represents purity and cleanliness
Black - Elicites classic sophistication
Brown - Speaks to durability and strength
Source: blackbeardesign.com
How to Bring Your Design to Life
And more specifically, the perfect guestroom casegoods collection to compliment your design. Our team of guestroom casegoods experts are always here to help walk you through every project.
Our free shop drawings ensure all the dimensions are correct before the furniture is installed, eliminating any hassle.