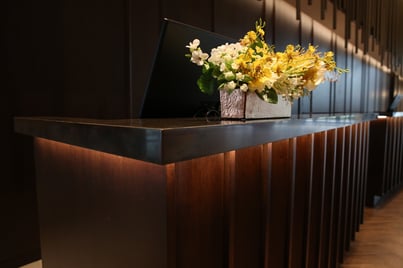 Every hotel owner knows that marketing is the driving force of the strategy to keep occupancy rates high, and revenue increasing. But "marketing" does not always have to mean fancy techniques that are hard to understand.
In fact, there are a few things hotel owners can capitalize on to build their marketing strategy, and bookings, that do not require a team of experts.
Hotel Marketing Basics
Not to minimize the complexities of good marketing, but a successful hotel program can be boiled down to three basics:
Developing and maintaining a strong website

Using online resources

Creating wow factors
Now comes the tough part: diving into all of those facets and learning how to optimize them for your hotel.
We've put together tips to keep in mind:
Work the Website
Every hotel needs a website, not one website for an entire chain but one for each location. Why? Because each location is different.
A website should reflect not only the personality of the hotel but also the feel of the community or area. A hotel in the French Quarter of New Orleans should have a distinctly different website from a hotel in Minneapolis, Minnesota.
Even if guests have to be in one or the other city, there's still significant competition. The hotel that highlights the attractiveness of the community is likely to win.
But the larger purpose of the website is to make it easy for guests who like what they see to book their stay. This means including an easy-to-use booking engine.
Other website features might include:
Calendar of events for the surrounding community.

Incentives for staying, such as reduced rates for days when bookings tend to be low.

Attention to search engine optimization to move the website up in the search engine rankings so potential guests can find it quickly.

A focus on wow factors—anything that sets the hotel apart from the rest, such as a gift basket of treats in each room.

Recommendations from travel experts and guests.

A blog that discusses hotel activities, community activities, travel tips, etc.

Social media links, such as Twitter, Facebook, YouTube and FourSquare.
One more essential in any hotel website is to include plenty of photos showing the furniture in the guest rooms and throughout the facility. Attractive furniture goes a long way toward providing the look and feel potential guests search for.
Find Help From Other Sources
A hotel's website isn't the only online tool it has. The hotel's internet connection offers access to many travel websites, blogs and other methods of communication.
The trick is to find the right combination of sites and finding the best way to market through them with advertising or by providing information.
Some important considerations include:
Does the travel site address the needs of the hotel's target audience so that audience is more likely to respond?

Is the site known to be reputable, reliable and safe?

If the outlet is a blog, is the writer well respected with a significant following
Closely monitoring and responding to reviews -- both positive and negative -- on key hotel industry sources is another great way to boost marketing and PR efforts.
Win with WOW
Differentiation is the magic potion of marketing—as long as the difference is positive. Once a hotel sets itself apart for providing some guest-pleasing item or service, booking will go up.
Here is one area where good marketing tactics come together. WOW works only when potential guests know it exists. So it's important to use the website and online advertising to get the word out.
That in-room sauna needs some hype to eventually become a word-of-mouth phenomenon.
Don't Forget the Most Important Rule
And what is that? Service is king. Customer service will trump everything, whether it's good or bad.
Guests might respond to an incentive, but if the stay isn't enjoyable because of bad service, the guest won't be back, and the word-of-mouth won't be good.