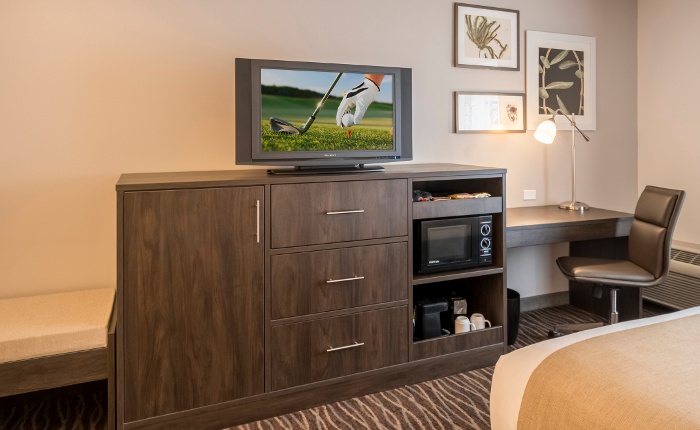 Two of the most common materials used in hospitality casegoods, wood veneer and laminate furniture pieces are favorite options for hotel owners and designers.
A cost-saving alternative to traditional wooden furniture, both furniture types support aesthetics or versatility.
Differences of opinion and preference are common when it comes to deciding between laminate and wood veneer for modern hospitality furniture. Ultimately, it's important to let your project's scale and long-term needs coupled with hotel guest expectations dictate the choice.
What is Laminate Furniture?
Laminate casegoods are a man-made product comprising synthetic and natural materials (usually many layers of craft paper saturated with phenolic resin and pressed under extreme pressure).
Laminate furniture can be made to give the appearance of a finished, natural wood product. It's durable and tends to be heat- and scratch-resistant, making it a great long-term investment that's easier to care for. It's also easier to produce laminate products, making the price of laminate furniture usually more economical.
While it's still subject to some wear and tear that's expected for every piece of hotel furniture over time, its synthetic properties typically last much longer than the average 8-year hotel renovation cycle. Because of its longer lifecycle and durability, laminate casegoods are viewed as a much more sound investment.
There are two kinds of laminate used in making casegoods: high-pressure and low-pressure. The difference is not in how the laminates are made but in how they're attached to a substrate.
High-pressure laminate (HPL) is used more frequently than low-pressure laminate (LPL). Like natural wood, high-pressure laminate expands and contracts with humidity. This behavior, along with high impact resistance, makes HPLs an ideal choice for applications requiring durability.
Low-pressure laminate, which is also known as direct-pressure laminate and melamine board, lacks HPL's durability and strength. Thus it's made for low-impact applications (often on vertical surfaces). Hotel casegoods made with low-pressure laminate also cost less than those manufactured HPL.
What is Wood Veneer Furniture?
While wood veneer furniture also uses a layering technique, but it swaps out the man-made surfacing for thin -- in some cases, even paper thin -- sheets of real wood. This allows companies to use durable substrates, such as medium density fiberboard or particle board, while giving the finished piece a high-end look.
A veneered dresser may have a rubberwood or poplar wood frame, for example, but also use a layer of real wood, such as a "knotty" veneer like a burled oak, for an eye-catching appearance of swirls and color variations.
Wood is naturally more susceptible to dings and scratches than popular man-made materials, and the thin cut of the veneer makes this even more prominent.
That's why wood veneer-finished furniture tends to be a better fit for placement in high-end commercial applications, where foot traffic and handling (doors being opened, drawers being closed) isn't extremely frequent.
How to Tell the Difference Between Laminate and Veneer Casegoods
While both furniture types are manufactured with man-made materials, wood veneer casegoods are covered in a layer of real wood. And that's where the major distinction lies.
Unlike laminate furniture, wood veneer furniture maintains the authentic appearance and feel of a casegood made from hardwood. Even though a wood veneer piece does involve man-made materials, at face value it still features small indentations, nuances, and texture of real wood.
Should I Buy Laminate or Veneer Furniture?
While looks obviously factor into hospitality furniture design, durability should be a core concern if you want to get your money's worth.
Hotels are high-traffic facilities, with some areas used more than others -- think the difference between a guest room vs. an on-site conference center.
You'll need to carefully assess the needs of your business in terms of storage, wear and tear, and longevity. Consider:
How long do I expect this piece to last?

How likely am I to change the decor or color palette before then?

How many pieces do I need, overall?

Will my chosen material work for my volume and budget?

What kind of turnaround time do I need?
How to Clean Laminate & Wood Veneer Hotel Furniture
Regardless of how and where your laminate or wood veneer furniture is used, you'll still be cleaning it -- especially now in the COVID-19 era. Here are some tips to make sure your cleaning efforts keep your casegoods looking as good as they did the day they were delivered.


Cleaning Laminate Casegoods
The first step in cleaning laminate furniture is to dust it regularly. This stops particles from accumulating and keeps guest allergies at bay.
Because laminate is not porous like wood, typical furniture polishes will not clean it. Believe it or not, the best way to clean laminate furniture is with soap and water. Using a warm, wet microfiber cloth, wipe down the surface to remove dust and dirt. Follow up with a dry microfiber cloth to soak up any moisture left behind.
For tough stains, mix some mild soap with the warm water and scrub small areas or a small amount of non-ammonia-based glass cleaner.
To further maintain laminate furniture and keep it looking its best:
Keep it out of direct sunlight to avoid fading

Avoid exposure to water of any type

Be careful with hot or cold drinks, as permanent rings can form and ruin the furniture


Cleaning Wood Veneer Furniture
Keeping wood veneer furniture clean follows many of the same rules as laminate furniture.
Like laminate furniture, the key to keeping wood veneer furniture clean is dusting it on a regular basis and avoiding abrasive cleaners and polishes that cause wax build-up.
Wood veneer furniture is sensitive to water and can be seriously damaged by condensation. It's also susceptible to hot plates and cups, which can cause it to blister and damage the finish.
For the best cleaning results, use soap and water for cleaning with a microfiber cloth that will pick up dust particles instead of just pushing them around. Be sure to thoroughly dry a veneer surface to prevent water damage.
To repair small scratches on veneer furniture, simply apply oil polish to the area and massage with a soft microfiber cloth until the scratch fades away.


What to Avoid When Cleaning Laminate and Wood Veneer Furniture
The most important cleaning tip for veneer and laminate is to avoid using ammonia-based cleaners. Ammonia is a harsh chemical and can cause lasting or irreparable surface damage to both types of furniture.
The Best Way to Care for Hotel Furniture? Ask Your Manufacturer
The casegood you choose for your hotel makes a big difference for guest experience.
The overall appearance of your furniture can set the stage for guests to have a positive first impression of your hotel.
When considering wood veneer vs. laminate, both help you make a good impression without breaking the bank.
Take a Deeper Dive Into the World of Wood Veneer and Laminate Pieces
Download our Veneer Vs. Laminate Consideration Guide for Hospitality Casegoods. Just click on the image below to get your copy!