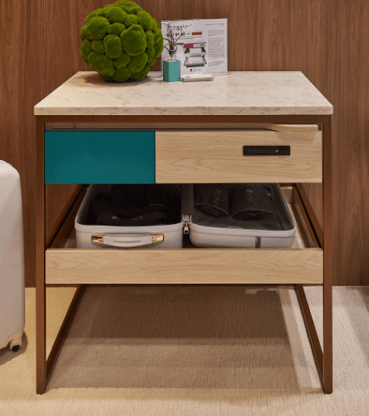 The end goal of any furniture design is two fold: durability to remain attractive for as long as possible, and a compelling style that elevates decor. That's why material choice is so important - it's the one aspect that falls squarely in both camps.
You may have heard about laminate surfaces or veneer finishes on dressers, tables, headboards, and other furniture pieces, but what do those terms mean, exactly?
Knowing the difference could have a big impact on your budget - both now and in the future.
What is Laminate Furniture?
Laminate, as the name suggests, covers a furniture surface in a thin, durable layer of man made material. This can be in solid colors, but usually appears as wood grain. Laminate has come a long way due to advancements in the last 5 years, and comes in so many textures that it is hard to distinguish laminate from natural veneer.
Laminate is used to save on costs - it's easier to source and install, as manufacturers don't need to "work around" naturally occurring textures like knots or grain.
This is also why it's a more durable choice over veneer - it creates a smooth surface that stands up to wear and tear and wipes clean easily.
Laminate is a familiar "go to" for industrial, hospitality, or retail displays, where a lot of mileage through tactile contact is likely.
What is Wood Veneer Furniture?
While veneer furniture still uses a layering technique, it swaps out the man-made surfacing for thin - in some cases, even paper thin - sheets of real wood. This allows companies to use durable substrates like MDF or readily available, cheap hardwoods while giving the finished piece a high end look.
A veneered dresser may have a rubberwood or poplar wood frame, for example, but use a "knotty" veneer like a burled oak for an eye-catching appearance of swirls and color variations.
Wood is naturally more susceptible to dings and scratches than popular man made materials, and the thin cut of the veneer makes this even more prominent.
That's why veneer-finished furniture tends to be a better fit for placement in high-end commercial applications, where foot traffic and handling - doors being opened, drawers being closed, and so on - isn't extremely frequent.
Should I Buy Laminate or Veneer Furniture?
While looks obviously factor in to commercial furniture design, durability should be a core concern if you want to get your budget's worth.
You'll need to carefully assess the needs of your business in terms of storage, wear and tear, and longevity. Ask questions such as:
How long do I expect this piece to last?

How likely am I to change decor or color palette before then?

How many pieces do I need, overall?

Will my chosen material work for my volume and budget?

What kind of turnaround time do I need?
Too many questions to consider? Check out our full Veneer vs. Laminate eBook guide.