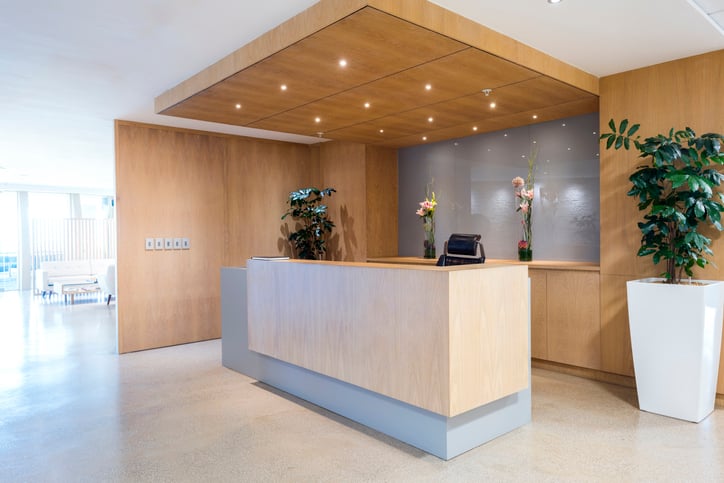 By appearances, it doesn't look any different than the materials it's designed after. And thanks to modern manufacturing techniques and technology, it holds its own on the performance and longevity fronts.
Laminates for hospitality FF&E are an increasingly popular material choice. In addition to being a budget-friendly option for hotel casegoods, laminate pieces have a comparable lifespan and durability.
Whether your facility needs new front desk countertops or multi-purpose guestroom furnishings, there are only two types of laminates to choose from: high-pressure and low-pressure laminates.
As with comparing any other materials used in hotel furnishings, understanding the finer points of high-pressure vs. low-pressure laminates is critical for making the right selection for your order.
High-Pressure Vs. Low-Pressure Laminates
While both are used to give hospitality FF&E an aesthetically pleasing appearance that compliments a design scheme, high-pressure and low-pressure laminates are distinctly different from one another.
Let's take a closer look at both.


High-Pressure Laminate & its Applications
Considered one of the most durable surface materials, high-pressure laminate (HPL) is made to last.
With integrity rooted in its manufacturing, high-pressure laminate comprises between six and eight layers of resin-infused kraft paper bonded together under intense heat and pressure (1,000-1,500 psi of pressure at 280-320 ℉). The core is later covered with its decorative pattern and coated with a clear protective overlay.
Compared to its low-pressure counterpart, HPL offers a high level of impact and abrasion resistance, meaning it better withstands accidental bumps, dings, and scrapes.
High-pressure laminates are ideal for applications in high-traffic areas and horizontal surfaces or in items that see heavy use. You'll often find HPL used in:
Countertops

Dresser tops

High-touch surfaces


Low-Pressure Laminate & its Applications
In many respects, low-pressure laminate (LPL) is the polar opposite of HPL.
LPL (also known as direct-pressure laminate and melamine board), represents one or two layers of decorative kraft paper that's pressed onto a substrate, such as particleboard, at much lower pressures and temperatures (29-435 psi at 335-375 ℉).
Requiring fewer materials and less effort to manufacture, LPL is the more cost-effective laminate option. Without the same level of durability and strength as HPL, LPL is made for low-impact applications, often used on vertical surfaces.
Still low-pressure laminate has its place in FF&E manufacturing. In fact, it's used about as much as HPL. In hotel FF&E, you'll find LPL used for:
Casegood side & back panels

Headboards

Shelving
Choosing the Right Laminate Finish Furniture for Your Hotel FF&E
Though two laminate types may seem limiting for an FF&E project, that's far from reality. In fact, the available options for HPL and LPL are almost limitless.
Thanks to advances in manufacturing, laminates have come a long way in recent years. Just like paint selection at your local hardware store, laminates come in a wide variety of colors, sheens, and finishes. Odds are there is a laminate that matches your design vision.
When choosing laminates for hotel casegoods and other furnishings, it's best to discuss the options with your hospitality contract furniture manufacturer. Not only can an experienced hospitality casegoods manufacturer help you find the right style of laminate, but they can also make sure you get the best value for your project.
The most budget-conscious laminate furniture is designed with the application in mind. In other words, a manufacturer should be creating fixtures and furniture that use the appropriate type of laminate in the right places.
For instance, a dresser does not need to be made solely with HPL. Its unexposed areas and sides are perfect for LPL, as the chances for damage are extremely low. However, HPL is a must for the piece's horizontal surfaces (the areas guests are likely to touch or set items on).
A pre-production site visit goes a long way to ensure your casegoods are designed to meet the demands of use in your hotel.
Through careful design, laminate furnishings leave little to be desired as they don't sacrifice quality or performance.
High-Pressure Vs. Low-Pressure Laminates for Hotel FF&E ROI
A versatile material, laminates are proving themselves as a worthwhile option for hotel FF&E.
With careful design and appropriate selection, integrating HPL and LPL into a piece helps it deliver expected performance without breaking an FF&E budget.
How do Laminates Stack up Against Veneers?
Find out! Download The Ultimate Veneer Vs. Laminate Consideration Guide for Hospitality Casegoods eBook: