Making sure there is a clear line of communication between you and your manufacturer is key to ensuring the finished product is perfect every time.
Luckily, there is an easy step-by-step process for you to follow -- making communicating and coordinating with your manufacturer effortless!
Understand Custom Hotel Furniture Manufacturing Trends
From a site visit to the design stage to the installation stage, you want to make sure every nuance of the product is communicated. This ultimately means understanding several elements of manufacturing that can affect your project, and knowing how to ask about them. These include:
Making sure your specs are clear to the manufacturer.

Understanding a reasonable timeline for each stage of the manufacturing process.

Knowing the most efficient way to communicate with your manufacturer so you remain in the loop throughout production.

Understanding every element that needs to be included in your drawing, and the best way to give this drawing to the manufacturer.
Follow Along with the Production Timeline
In general, you should know what to expect week-by-week from your manufacturer. While it is always a good rule of thumb to "expect the unexpected" and factor in any slight snags during production, this timeline is a good general outline of your domestic, 8 week custom hotel furniture production process: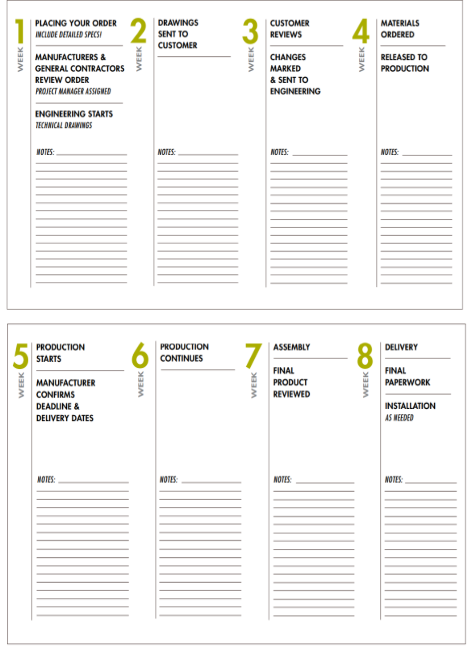 The Design Side of the Process:
The above outline is a great way for you to understand exactly what is going on in the shop with your product. Along almost every step of the way, there are a variety of deliverables and duties to ensure final production perfection that include:
Answering questions that come up about the design.

Double (even triple!) checking specs.

Keeping in touch with the manufacturer.

+ More.
To find out more about how you and your manufacturer can seamlessly work together to produce a perfect piece of custom hotel furniture including details at each step of the timeline, download our Production Timeline: For Scheduling, Planning & Tracking for free!