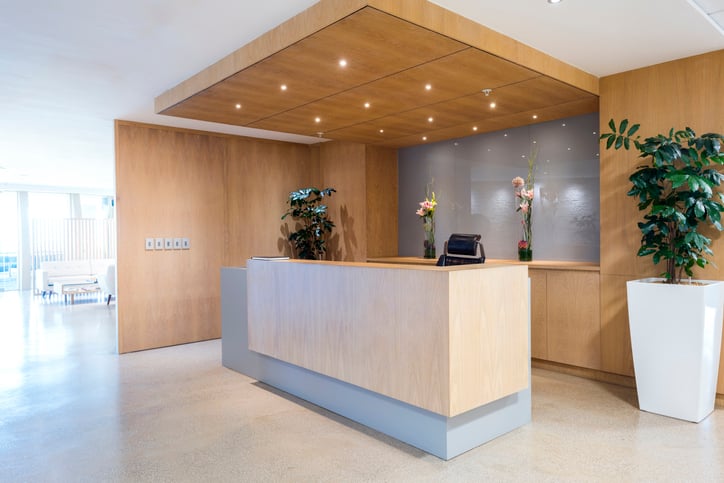 Whether you're redesigning a hotel or building a brand-new one, hospitality casegoods are a substantial portion of any project's budget.
A major purchase of hospitality furniture isn't one you'll want to make twice.
Easily customized to meet your design vision and able to stand up to normal wear-and-tear, laminate furniture is both a long-lasting and cost-effective choice for hotel casegoods.
Like any other type of hospitality furniture, laminate FF&E (fixtures, furniture, and equipment) requires proper care and maintenance, starting the day it comes off the assembly line.
A Brief Overview of Laminate Casegoods
Designed to look and function as casegoods made from hardwoods, laminate furniture is a durable and cost-effective alternative.
Made by applying a synthetic exterior layer to medium-density fiberboard, laminate furniture has the look and feel of traditional wood furniture. It's similar to wood veneer furniture, which, as its name indicates, uses natural wood.
Man-made products that cost less than furniture made strictly from wood, laminate casegoods boast a long useful life because they're:
Durable

Heat resistant

Hard to scratch
What's more, laminate furniture is easy to clean (more on that later) -- a must, even in a post-COVID era.
Laminate furniture is an investment in casegoods that stands up to frequent use and won't deplete an FF&E budget.


Where Laminate Furniture Maintenance Starts
Maintenance and upkeep of laminate casegoods starts long before your hotel furniture arrives at your facility.
Your hotel casegoods supplier is the first caretaker of your laminate furniture.
In most cases, after a piece of furniture is manufactured, it spends time in storage. When selecting a hotel casegoods manufacturer, make sure it has the capabilities to keep your laminate casegoods safe. Ask about:
Protection: Will the casegood(s) be stored in close proximity to others? If so, will it be in boxes or covered to prevent chips, dings, gashes, or outright breakages?
Climate control: Keeping furniture in a temperature-stable environments free from direct exposure to sunlight or humidity ensures your laminate hotel FF&E doesn't:
Getting your laminate casegoods from the manufacturer to your facility is not without its risks for damage, too. Just like careless storage, shipping without the proper precautions can mean a delivery of damaged goods.
Just like at the storage facility, it's up to your hotel furniture supplier to ensure your casegoods are protected as they make their way to you. To head off any issues while in transit, touch base with your supplier on how they plan to ship your order -- protective coverings are a must.


Care & Upkeep of Laminate Furniture On-Site
Though durable, laminate furniture does require regular upkeep, just like any other hotel casegood.
In the wake of the COVID pandemic, more guests are concerned for their health and safety -- especially when traveling.
Laminate furniture is easy to clean and sanitize.
Simply wipe down laminate casegoods with a wet microfiber cloth doused in soap and water. For stubborn stains or buildup, a little bit of elbow grease and a non-ammonia-based glass cleaner will do the trick. Wipe up any excess moisture with a dry microfiber towel.
When cleaning laminate furniture, the worst thing you can use is an ammonia-based product. A harsh chemical, ammonia causes irreversible surface damage to laminate furniture.
In addition to regular cleaning, you should also make sure your laminate furniture is:
Kept out of direct sunlight (to prevent fading)

Has limited exposure to water (to prevent permanent water spots)


My Laminate Furniture is Damaged. Now What?
Whether it's a headboard or an armoire, hotel casegoods are meant to be used. But with use comes opportunity for damage.
When a piece of laminate furniture is damaged, don't fret -- it can usually be repaired. Most likely, your hotel casegoods supplier is able to fix the piece.
Minor cosmetic damage -- chips and scratches -- are easily fixed with a furniture crayon. With its color-matched wax resin, a furniture crayon fills unwanted imprints to match the rest of the laminate surface. It's almost as if the damage never occurred.
For more serious damage, such as deep gouges or a surface-level break, the affected portion of the laminate piece is replaceable. A more involved repair will involve sending the piece back to your manufacturer.
Even if your casegoods are in a spot where they'll almost never be touched, it's still a good idea to work with a hotel furniture manufacturer that offers warranties on its work. A warranty -- regardless of duration -- is peace of mind for the unexpected.
Laminate Furniture: A Sound Investment
Made to maximize your investment in hotel casegoods without breaking your FF&E budget, lamninated furniture delivers. With proper care and upkeep from the very beginning, your laminate casegoods go the distance for as long as you'll need them.
Curious to learn more about veneer vs. laminate furniture?
Download our guide and dig in!