From industry trends...to cost analysis...and guest expectations, we've covered it all when it comes to the differences between boutique hotels vs. chain hotels.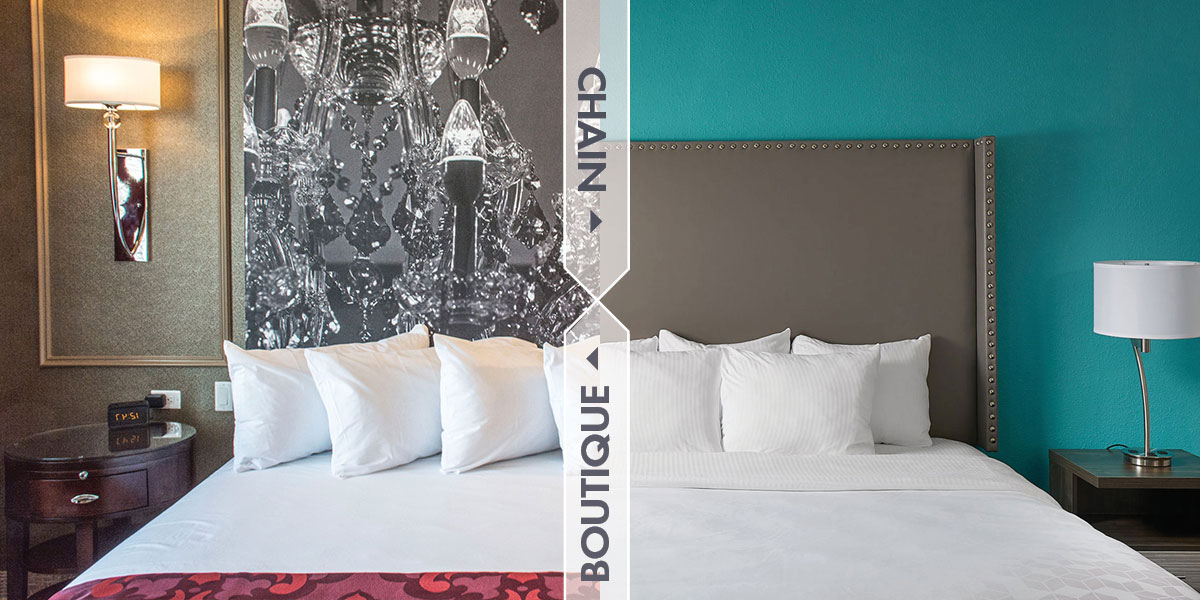 As a manufacturer, we are often brought into a project late in the game; often times after the design phase is complete. Now you may be wondering why that matters. Well, simply put, the design must be brought to life.
Staying on top of industry trends, like guest-centric design, is vital to the success of a project. But, did you know you also need to stay on top of manufacturing trends to bring your designs to life? This is to serve as a quick reference guide, outlining important features that you should consider in your boutique or chain hotel hotel casegoods design.
The Design Goals and Procedures Are Different
While branded properties typically follow standard remodeling requirements in terms of the colors, materials, and overall look to be achieved. A more traditional hotel renovation project that follows a pre-approved Property Improvement Plan (PIP).The design goal for chain hotels is consistency: consistency of the brands image, so no matter where in the country, or world, a guest chooses to stay they will receive exactly what they're expecting - typically nothing more, but definitely nothing less.
Boutique hotels on the other hand take a completely eccentric approach. Boutique hotels have a customized and more flexible project design protocol. Focus on design is often tailored to the market/audience the hotel is working to capture. For instance, there may be a lot of local design infusion - promoting the location of the property.
You must also consider that the customization of design could result in materials that are harder to find and specialized labor may be required, which could result in longer completion times.
More Bang For Your Buck
When it comes down to it, boutique hotels offer many of the same amenities that bigger hotel chains boast. The biggest difference is, the goal of boutique hotels is to bring customers the luxuries of what is offered at hotel chains but in a more intimate environment.
Generally speaking, boutique hotels cost roughly 10 to 20 percent less than the larger branded properties; depending on the location and amenities offered. With boutique hotels, you will get more value for your money, with luxurious experiences at a lower cost.
Boutique Hotels vs. Chain Hotels: What Really Matters.
A well-designed guest room will alleviate most of the stress your guest will experience after a day(s) of travel. Fortunately, you can offer your guests some very basic, common sense furnishings to create a room that any guest will appreciate.
Comfortable Bed
Ample Light
Luggage Bench
A Comfortable Seat
1. A Comfortable Bed
Arguably, the most important thing you can provide for a guest is a comfortable place to lay their head. To let your guests rest easy, provide them with a good mattress, lighting, plush bedding, and access to power to charge their devices.
2. Ample Lighting
It is important to have easy access to ample lighting. There should be lighting by the bed to read, watching tv, and work. Guests should be able to turn on a light upon entering the room, so they're able to quickly asses their surroundings.
An added bonus, provide a nightlight. Hotel rooms are often unfamiliar surroundings, and accidents can (and likely will happen) when your guests can't see well enough to find their way in the dark.
3. A Luggage Bench
The luggage bench has become a multi-functional fixture in the guestroom.
In today's modern hotel, it is very convenient for packing or unpacking. A well-designed luggage bench can also come in handy even if you cannot provide enough storage. It can also serve as an additional surface for seating.
4. A Comfortable Seat
Who doesn't love a comfy chair where you can kick your feet up?
Design a cozy space where your guest can retreat, read a book, or just sit quietly.
Work With A Manufacturer Who Will Make Your Job Easy
Do you still have questions about design-driven hotel furniture manufacturing? Or, are you struggling with HOW to bring a specific design to life? Can't seem to meet your budget and you need value-engineering options?
WE CAN HELP.
Schedule a complimentary 30-minute consultation.