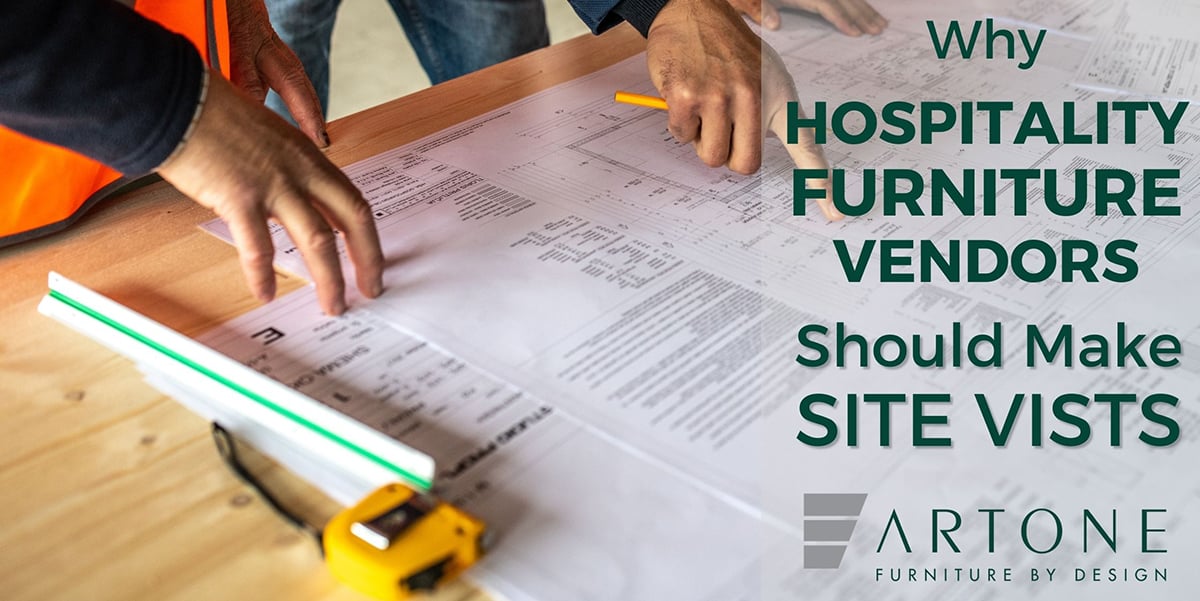 Hotel renovation and new construction projects are complex. They're also time-sensitive and budget-driven. Getting it right the first time is critical for a successful completion of a project that's on-time and on-budget.
Hospitality furniture vendors recognize this. They know how costly a small mismeasurement can be -- no one wants to receive a product that is too small or can't even fit through the door.
That's why it's not uncommon for hospitality casegood manufacturers to stop by the job site before getting to work on your FF&E (fixtures, furniture, and equipment). During a site visit, a furniture vendor is able to see the facility first-hand and take measurements they're confident to manufacture products you'll love from the moment you receive them.
What to Expect During a Hospitality Furniture Vendor's Site Visit
Site visits are involved. During a pre-manufacturing trip to your property, a vendor tours a hotel building, inspecting rooms with a fine-toothed comb. They'll take careful measures of the spaces your casegoods are going in and note where utilities are, such as:
Electrical
Blocking
Plumbing
To make sure the hotel casegoods are able to get to where they're going inside the building, they'll also measure where casegoods pass through en-route to their final destination, such as:
Hallways
Stairwells
Elevators
Doors
The information gathered is compared against approved product specifications (or drawings) as a tool to complete a full, detailed set of field measurements. The plans also include elevations and floorplans of each room where the casegoods end up.
The 5 Necessities for a Successful Site Inspection
Coming away from a site visit with a defined set of field measurements provides the foundation for a successful project. How does a hospitality furniture vendor get these measurements? With these five tools:
Proper forms and gear
Pens and pencils
Site plans
Measuring tools
Video/image-capturing devices
1. Proper Gear & Forms
When traveling to a job site, a vendor comes prepared for construction -- they'll probably bring a hard hat. You should always confirm with the project's contractor what additional safety gear and precautions must be taken prior to the vendor's arrival. Remember: Safety first.
Most casegoods companies have standard forms that must be completed while on-site that detail out measurements and important notes for each guest room. This paperwork is key to creating the final set of field measurements for the casegoods furniture manufacturer.
2. Pens & Pencils
Just like when you were in school you should come prepared with several writing instruments. Losing a pen or pencil while field measuring is almost inevitable, always carry a few spares.
Pro Tip: During site visits, our team sketches existing site conditions (walls, plumbing, etc.) in pencil and the dimensions in ink.
3. Existing Site Plans
Like #1 and #2, a successful site visit is all about the preparations. Whether you're building a new hotel or renovating an existing facility, providing your vendor with the existing site plans ensures an efficient visit. Having the existing site plans also allows the vendor to have another layer of verification of their own measurements or identify potential discrepancies.
4. Measuring Tools
A tape measure goes a long way in getting the dimensions of a space. It's no wonder they're a standard part of any toolbelt.
To get measurements with pinpoint accuracy, a laser measuring tool takes things to the next level. With two clicks of a button, a vendor is able to capture the exact dimensions of a space.
Pro Tip: As convenient as laser measuring devices are, nothing will ever completely replace a good old-fashioned tape measure. The classic measuring tool comes in especially handy if you find yourself without replacement batteries or a charger.
5. Image-Capturing Devices
(A Smart Phone
)
A picture's worth 1,000 words. This is especially true when conducting site visits -- pictures give a visual of a space -- something that's invaluable for vendors trying to make a 2d rendering of an actual space.
Most electronic devices made within the last five years take images with a sufficient, quality resolution.
The most important rule -- and we cannot stress this enough -- for taking photos while gathering field measurements: The vendor should take more photos than they think they'll need.

Hotel Casegood Design with Installation in Mind
A site visit goes a long way in any hotel project involving casegoods. Spending the time to get measurements on site ensures hospitality FF&E is manufactured to size and doesn't add budget overages or cause delays when delivered.
For hotel furniture vendors, information from field measurements allows them to begin building furniture that can be installed with confidence.
At Artone we hold "10:15" meetings where our team of Project Managers and Engineers review our projects and what makes the most sense for building a client's casegoods.
Learn more about how our processes set your project up for success with a complimentary value engineering consultation. Schedule yours today!