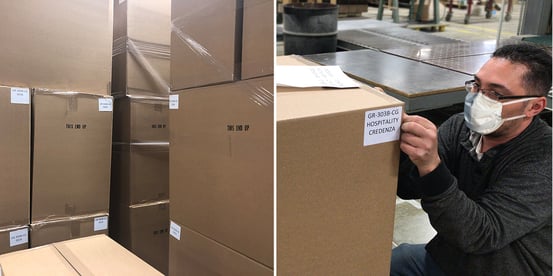 In a perfect world, you'd be ready to receive your order of hotel casegoods as soon as it was ready. Your hotel furniture would be carefully loaded onto trucks and taken directly to your property. And a crew would be waiting on-site at your property to place and install it.
In reality, that's not always the case -- sometimes projects get delayed.
Regardless of the reason, you might not be ready to receive your new hotel furniture as originally planned. That means your order is likely headed to storage for a while until you're ready for its delivery and installation. And if your hotel furniture vendor is unable to hang onto it, your casegoods will end up in storage somewhere -- most likely with a third party.
An often-overlooked element of a hotel project and FF&E (fixtures, furniture, and equipment) budget, third-party storage can significantly impact your bottom line.
The Simple Math of FF&E Storage
In a sense, a hotel project's FF&E budget is like solving a giant math problem you already know the solution to.
Going into the project, you already have the final figure you can spend on hotel casegoods. And you've found a hospitality furniture vendor you can count on like a good calculator.
Things become tricky when the unknowns of FF&E procurement -- such as off-site storage with a third party -- enter the equation. Suddenly, solving for "X" isn't so simple.
Third-party FF&E storage has a compounding effect on a hotel furniture project in three key variables, including:
Costs

Logistics

Damage potential


Variable 1: Costs
An absolute with third-party storage is additional expenses.
Not only are there the costs to move your order twice (from the manufacturer to the storage facility, and from the storage facility to your property), there's also the matter of storage fees.
Every day your casegoods are in someone else's hands is more money out of your pocket.
For orders held for weeks -- or even months -- storage fees add up and increase your project's FF&E costs significantly.
While some hotel casegoods manufacturers do offer storage options, most only provide them for free for a limited time. After that grace period, they'll start charging a premium for the space your casegoods are occupying.


Variable 2: Logistics
With a third-party storage provider in the mix, your casegoods no longer have a straight shot from your manufacturer to your door. Now, there's at least another stop on your order's journey.
And that's not to mention finding a storage facility capable of keeping your hotel furniture -- it can be tough to find a facility that has enough space to accomodate large orders. In some instances, large orders end up being stored at multiple facilities with varying rates.
The storage provider probably won't be the same entity making the final delivery -- you'll likely need to find a moving company to get your casegoods from point A to point B. That means additional coordination and expenses added to your FF&E procurement budget.


Variable 3: Damage Potential
This variable is a multiplication exercise, of sorts: The double handling of an order doubles the chances for damage. In other words, there's greater risk for damage when there are more touchpoints from the manufacturer to your hotel.
The exponential increase in danger isn't just a matter of more people handling your casegoods. It also comes from how it's stored.
Hotel casegoods in storage are affected by their environment. If kept in a facility that's not climate-controlled, your furniture may:
If not packaged with the proper protection, contact with other items in storage may cause damage to your order, such as:
Chips

Gashes

Dents

Outright breakages
Depending on the terms of your agreement with the storage provider, you may end up shouldering the repair costs -- another unnecessary expense to your budget.
What's more, those same damages from the environment or proximity in storage are also a risk with transportation.
Avoiding Unnecessary FF&E Storage Arithmetic
While there's no way to predict the unexpected in a hotel project, you can be prepared for it.
The simplest way to avoid FF&E storage problems is by partnering with a hospitality casegoods manufacturer that offers convenience -- especially through a delay.
From the beginning of your relationship, your casegoods furniture manufacturer should be on the same page as you. It should work within your schedule and budget. But most importantly, it should understand that project timelines are subject to change.
When evaluating potential hospitality casegoods manufacturers, make sure to ask about their storage capabilities and options. Should something come up that prevents you from accepting your order, you'll avoid a logistical nightmare -- or frantically recalculating an FF&E budget like the last problem on a math test with 10 seconds left on the teacher's timer.
Hotel Casegoods Procurement Should Never Hold Up Your Project
Your hotel casegoods order should be set to arrive exactly when you're ready for them. Download our Custom Hospitality Furniture Production Timeline for Scheduling, Planning, and Tracking to sync your hospitality FF&E's production with the rest of your project.