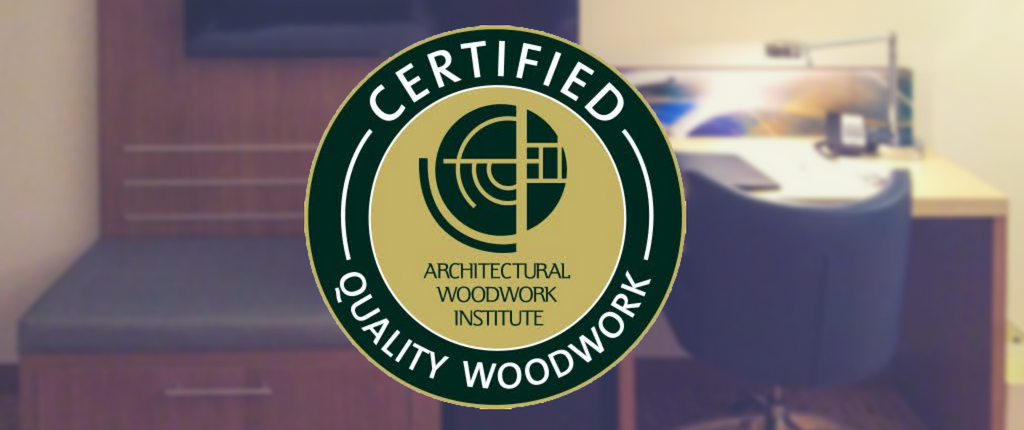 Your hotel furniture design needs to meet modern guest expectations. It also needs to fulfill your vision while meeting industry standards for functionality and aesthetics. This AWS hotel furniture design checklist is your key to success.
The Architectural Woodwork Institute (AWI) is the leading expert on wood product quality, and the gatekeeper of functional and aesthetic woodwork standards across industries.
All of your wood-based hotel furniture designs - including furniture, casegoods, and finishings - should conform to these standards for the comfort and safety of your guests.
How Do Architectural Woodwork Standards (AWS) Apply to My Hotel Furniture Design?
AWS provide the bare minimum criteria for the concept, design, fabrication, finishing and installation of wood-based hotel furniture.
The purpose of these standards is to help designers to specify hotel furniture and casework that meets the functional and aesthetic requirements of their hotel project.
Quality standards are different based on the Grades of Work you choose:
Economy Grade

specs mean you're getting the minimum requirements for workmanship, materials, or installation.

Typically applies to wood products that are out of public view, so your hospitality furniture should not fall into this category.

Custom Grade

is specified for most high-quality wooden hotel furniture. Custom-level specs give a designer more wiggle room in their concept.

Premium Grade

is reserved for high-use and high-profile furniture and casegoods. Specifying Premium Grade woodwork means you're getting the highest quality materials, production, and/or installation.
AWS standards also provide helpful information on:
Scope

Design best practices

Useful materials/products you may not be familiar with

Suggestions for processes and materials if you don't have base specs

Minimum material, fabrication, and assembly requirements

Minimum installation requirements

Ways to verify compliance with these standards
To ensure the quality of your hotel furniture (or check it post-production), you can present AWS standards as guidelines for your manufacturer.
As an AWI certified vendor, our hospitality furniture & casegoods conform to these standards by default. However, if your vendor is not AWI certified, there's no guarantee your furniture will meet the same standards.
Improve Your Hotel Furniture Design & Enhance Guest Experience [CHECKLIST]
Want your guests to leave happy? Run through the checklist below when you contract with a hotel furniture manufacturer. This ensures your furniture meets both minimum industry standards, your vision, AND modern guest expectations.
If your project is already complete, feel free to use this checklist as a post-mortem review!
| | |
| --- | --- |
| AWS Quality Checklist For Hospitality Furniture | ✓ |
| Vendor | |
| My vendor is AWS pre-qualified | |
| My vendor participates in AWS Compliance Programs and will provide status reports throughout the project | |
| Concept | |
| Budget constraints have been communicated up front | |
| I have reviewed material choices with vendor and received guidance on possible changes for cost savings and/or workmanship quality improvements | |
| My vendor has provided information on proper care and storage of my hotel furniture based on material choice | |
| I have discussed hotel furniture installation with my vendor & considered installation in my design | |
| Specifications | |
| Language used in specifications is clear and detailed (e.g. "AND" vs. "OR" usage) | |
| Special requirements or unusual applications are noted in the specifications | |
| Hotel furniture specifications match their Grade of Work | |
| Casework that needs refinishing, refacing, or refurbishing has been indicated | |
| Hospitality Furniture & Casework Drawings | |
| Casework construction type has been indicated | |
| If using Cabinet Design Series numbers, there is a floor plan specifying each design number and relative dimensions | |
| If not using Cabinet Design Series numbers, elevations include all following items: | |
| Basic overall dimensions | |
| Dimensions of items with a predetermined/controlled size | |
| Dimensions for installation of items/equipment | |
| Sliding or hinged doors specified (if hinged, swing is also specified) | |
| Thickness of cabinet doors is noted if thicker than 19mm | |
| Requirements for installation of unusual equipment | |
| If/where locks need to be installed | |
| Shelving: location, fixed or adjustable, material, load capacity | |
| Type of countertop | |
Want to know more about enhancing guest experience and ensuring hospitality furniture quality? Check out the resources below!