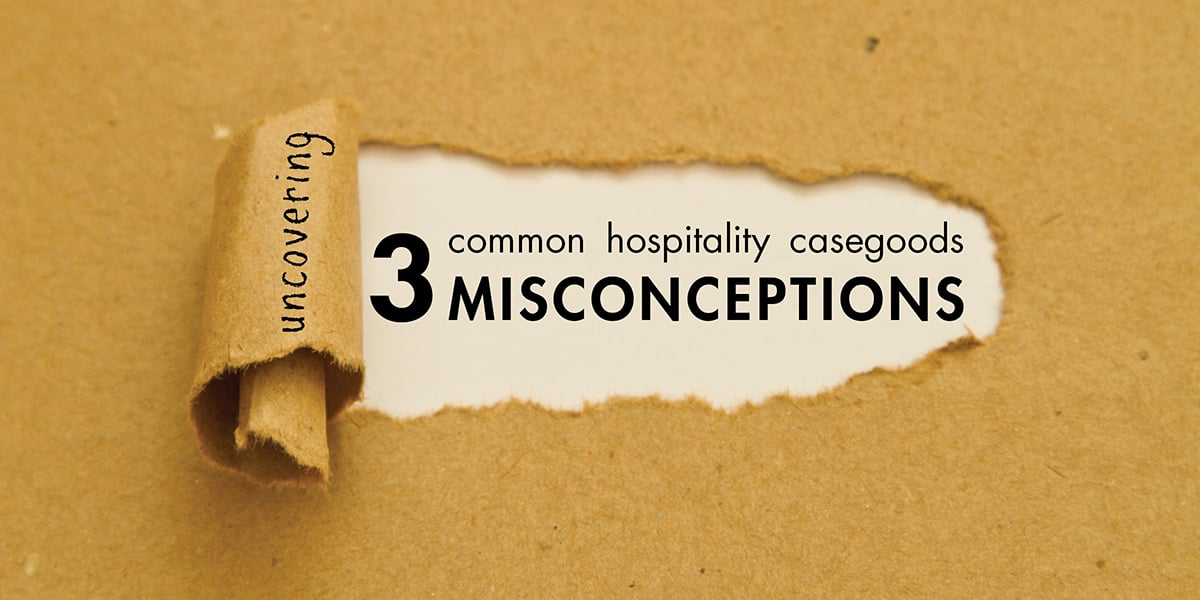 We've been in casegoods business for nearly 50 years, so you could say "we've been around the block" a few times. And when it comes to misconceptions with the hotel casegoods market, believe us, WE'VE.HEARD.IT.ALL.
So, we've decided it's time to set the record straight:
First Things First: What Are Casegoods in Hotels?
Before we address some of the specific misconceptions we hear surrounding casegoods, let's establish what we define as casegoods in hotels.
As we discussed in a previous blog post, casegoods "The answer is fairly simple, the majority of hotel casegoods share one common component, that can vary in size and shape and it can be a bottom, top, side, back, door or drawer; it's a panel."
For a more detailed look at what makes a casegood a casegood, what materials casegoods can be comprised of, and how to procure casegoods, you can revisit that blog here.
Now that we are all on the same page about how to define a hotel casegood, let's address some of the other gray areas surrounding this topic.
Misconception #1: Custom Design is Expensive
This is the most common misconception among our potential customers. More specifically, that "American-made product is more expensive than imported." The truth is, if all factors are considered (freight, lead times, and materials) American-made product can actually become a competitive, if not less-expensive option.
Of course, you should also take into consideration these factors that can drastically impact your price:
Materials
Finishes
Order Quantity
As American manufacturing companies refine their production process and new laws are passed that enforce strict regulations on imported product, manufacturers are able to pass cost-savings down to buyers in the form of cost-effective product prices.
Misconception #2: We Should Expect To Wait for Our Product
8-weeks is the typical lead time required to engineer, manufacturer, and ship our custom hospitality casegoods to our customers. So, the "I need it yesterday!" claim becomes a lot more realistic.
For most custom casegood manufacturers, the longest lead time in our production calendar is often the materials. Why? Materials (like laminate, veneer, and stone) are purchased, as needed, based upon the specified selections of the customer; we don't keep an inventory.
Misconception #3: The Process Is Too Complicated
Artone is with you through the entire life of the project and beyond. From our Sales team to our Project Managers, Engineers to Installation crew -- we will work with you to answer any questions or requests you may have. As is the case with many custom applications, we anticipate that we will come across unexpected obstacles during the course of the project and we are prepared to help in any way we can.
While buying domestic has its list of advantages one thing stands out among the rest - ease of communication.
Artone's factory experts and on-site Project Managers will work hand-in-hand with you and your contracting crews to ensure your innovative design exceeds specifications. Even if your design involves outside-the-box furniture customization, Artone will ensure the pieces of your puzzle fit together seamlessly.
The Knowledge Center: Hotel Casegoods and More
We hope this has been helpful in answering some common questions that may arise regarding hotel casegoods. Our goal is to not only be your choice for custom hospitality casegoods, but also to serve you as a resource on questions surrounding the manufacturing process.
While our opinions are our own, we do base them on facts and decades of experience.
*Artone is an AMERICAN MADE furniture manufacturer with a company philosophy and culture built around exceeding our customer's needs. From the top down we strive to be responsive, flexible, ensure the highest product quality and provide comprehensive service through the entire life of the project and beyond.