NOTE: The focus of this blog is on mobility and accessibility considerations for those hotel guests in wheelchairs. To read about other disability accommodations that hotels can, and should, provide -- check out our previous post on ADA requirements.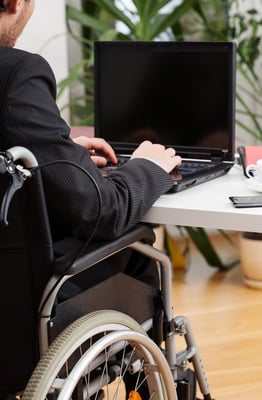 About 3.3 million people in the U.S. use wheelchairs. The Americans with Disabilities Act was passed, in part, to make traveling accommodations accessible to those millions who need it.
But, accommodating guests who require access goes beyond simply providing spaces that are accessible -- the spaces should be attractive, comfortable, and intuitive.
Growth in travel among wheelchair users has led to the development of websites geared toward their needs. One of these sites highlights a few of the many problems they still face when staying in hotels:
Only one bed in accessible rooms.





Weak or unstable shower seats.





Inaccessible beds.





Too much furniture for ease of movement.
A good number of these problems can be solved by working with a manufacturer who has an eye toward ADA guidelines, attention to local codes, and an understanding of guests are requesting.
The ADA: State and Local Codes, and Accessible Hotel Furniture
Hoteliers need to know the regulations for accommodating people with all disabilities. The guidelines were laid out in 2010, and effective as of March 15, 2012. The regulations cover everything from parking lots and entrances, to signage and electronics, as well as room features.
But knowing the ADA guidelines doesn't necessarily do the job.
Local and state codes also come into play and must be coordinated with the ADA. These codes can vary widely, so it's a mistake to rely only on the ADA and a one-size-fits-all approach.
Common Accessibility Design Challenges:
Many hotels (and their guests) share the need for certain kinds of furniture: beds, vanities, built-in wardrobes, and desks in each room.
Making these items accessible requires design that suits people in wheelchairs. This means placing accessible hotel furniture at the forefront of hotel design, rather than thinking about it as secondary.
A custom hotel furniture manufacturer can supply samples, prototypes, and detailed drawings that will illustrate ADA compliance issues, thereby saving you time and money.
Furniture and Features to Focus On:
While it is true that all state and local codes vary when it comes to ADA guidelines, there are some areas within guest rooms that commonly require special design.
Beds
The ADA does not contain specific guidelines for bed design -- they have to be usable by people with disabilities and meet general non-discrimination rules.
Disability Rights Education & Defense Fund offers some ideas:
The distance from the floor to the top of the mattress should be 20-23 inches.





Frames should be easily removed, so the bed can be lowered.





Adjustable legs or risers should be available.





A ceiling transfer lift should be included in at least one accessible room.
Vanities
To be accessible, vanities require omitting some standard features, and focusing carefully on measurements. For example:
There should be no under-sink cabinet unless it allows room for knee space.





The sink should be no more the 34 inches high at the rim and have 27 inches of clearance for knees if approached from the front.





The vanity should be made of sturdy material to bear the weight of a person who leans on it.





There should be storage space available for linens and personal items.





Any drawers should be low and pull out all the way.





The best, but more expensive, feature would be adjustable height to accommodate anyone.
Desks
Wheelchairs and the people who use them are not the same size, so desk specifications are mostly listed in minimums.
While it is impossible to pin down the perfect numbers for desks featured in hospitality spaces, the following figures mark a good place to start, according to Karman Healthcare:
30-inch-wide leg space





19-inch-deep leg space





27-inch-high clearance for knee space under the table
Built-in Wardrobes
These important room features can be "deep" or "shallow."
Each offers challenges, but there are solutions. For instance:
A shallow wardrobe

(smaller than 48 inches wide by 30 inches deep) won't allow a wheelchair to enter all the way. It has to be approached from the side. In this case, any obstruction that keeps the chair away from the wardrobe can be no deeper than 10 inches. Any rod or shelving can be no higher than 48 inches.




Deep wardrobes

(larger than 48 inches wide by 30 inches deep) do allow full entry by a wheelchair. These areas must allow for a five-foot turning space so wheelchair users don't get trapped.
Think Ahead for Attractive Accessible Rooms
The best first step toward a better stay for people in wheelchairs is to talk to a custom hotel furniture manufacturer about accessible hotel furniture. Hotels can and should heed guests calls for improvement when it comes to ADA design requirements and become known as a place that welcomes every guest.